Welcome to Takarazuka / A Farce in Pigalle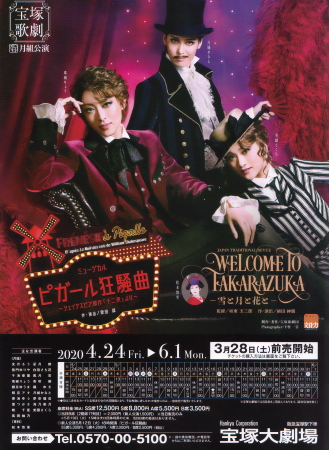 Picture Credit: Zaraphena | Official Chirashi
English Title:
Welcome to Takarazuka -Snow and Moon and Flower- / A Farce in Pigalle (Frénésie à Pigalle)
Japanese Title:
WELCOME TO TAKARAZUKA -雪と月と花と- / ピガール狂騒曲
Romanized Title:
Welcome to Takarazuka -Yuki to Tsuki to Hana to- / Pigaaru Kyousoukyoku
Troupe:
Moon
Year:
2020-2021
Performances:
Takarazuka Grand Theater, 09/25 - 11/01; Tokyo Takarazuka Theater, 11/21 - 01/03
[1]
Shinjin Kouen Performances:
n/a (CANCELED)
Welcome to Takarazuka:
Based On:
"Beauty of the Four Seasons" (雪月花)
Author/Director:
Ueda Shinji
Supervising Director:
Bandou Tamasaburou
Composer:
Yoshida Yuuko
Choreographer:
Hanayagi Juou
,
Yamamura Tomogorou
,
Hanayagi Jusuke
Conductor (Orchestra Recording):
Yoshida Yuuko
Hatsubutaisei Greeting Coordinator:
Ritsu Tomomi
Choral Conductor:
Chiaki Shin
A Farce in Pigalle:
Based On:
Shakespeare's "Twelfth Night"
Author/Director:
Harada Ryou
Composer:
Tama Shouichi
Choreographer:
Hayama Kiyomi
,
Masaki Rino
,
AYAKO
,
Momoka Sari
,
Conductor (Orchestra Recording):
Sasada Aiichirou
Shinjin Kouen Director:
n/a
Available on Blu-Ray:
Yes (
release date 12/22/20
)
Available on DVD:
Yes (
release date 12/22/20
)
DVD Scene/Music Cut:
No
(
Before it was cancelled, shinjin kouen roles were announced. See here for the original chart with shinjin kouen roles.
)
Other Cast:
Matsumoto Yuri
(Senka,
Welcome to Takarazuka
only),
Kousaki Ran
,
Kaede Yuki
,
Sakurana Ai
,
Himesaki Mirei
,
Urara Senri
,
Kiyoka Ran
,
Souma Seren
,
Asahi Tsubasa
,
Momoka Yuki
,
Sorashiro Yuu
,
Hisumi Rin
,
Yoshino Yurika
,
Hanatoki Maika
,
Koumi Natsuho
,
Amana Ruria
,
Nanano Ari
,
Ookusu Tera
,
Issei Kei
,
Maya Yutaka
,
Ayaji Yurika
,
Haon Mika
,
Ruou Ria
,
Sou Yuuki
,
Manoa Mio
,
Mariya Sonata
,
Amano Kaguya
,
Mahiro Ren
,
Saaya Ichigo
,
Miumi Sora
,
Ichihane Meru
,
Natsunagi Seia
,
Tsukino Daia
,
Uta Chizuru
,
Nanashiro Miyabi
,
Asaka Yurara
,
Shizune Hotaru
,
Maki Teruto
,
Haruki Reo
,
Kanaha Mio
,
Mizushiro Aoi
Tokyo only:
Kazuma Asano
,
Ichino Rin
,
Hanahime Manon
,
Suzumiya Ranna
,
Mio Ayuto
,
Ranka Miri
,
Oose Ibuki
,
Ayano Yuzu
Due to COVID-19 concerns, the number of actresses on stage at a time has been reduced. The younger cast members will be split into two groups, "A days" and "B days".
Takarazuka Grand Theater
| | |
| --- | --- |
| A Days Schedule | B Days Schedule |
| 9/25-9/29 | 10/1-10/5 |
| 10/6-10/11 | 10/12-10/18 |
| 10/19-10/25 | 10/26-11/1 |
Tokyo Takarazuka Theater
| | |
| --- | --- |
| A Days Schedule | B Days Schedule |
| 12/13- 1/3 | 11/20-12/9 |
※ The
Hatsubutaisei
assigned to Moon Troupe from Class 106 will appear in all performances in Takarazuka (with the rest of their class) before switching to an A/B cast schedule for Tokyo performances.
† From the 1:30PM performance on 12/17 to the final performance on 1/3/21,
Nanano Ari
and
Saaya Ichigo
will be appearing as substitutes for
Maya Yutaka
.
WARNING!! MAY CONTAIN SPOILERS!!
Japan Traditional Revue
"Welcome to Takarazuka"
The spirituality of the Japanese people is based on the beauty of the seasons. The theme for this Takarazuka revue show comes from the beauty of those four seasons. Takarazuka Revue traditions of combining Western music with Japanese dance is one of its charms, and here we use beloved, well-known songs to spread that charm to even more people. Kabuki legend Bando Tamasaburo will be supervising director of this show, his first collaboration with the Takarazuka Revue.
---
Musical
"A Farce in Pigalle"
(
Source: Takarazuka Homepage
)
The year is 1900. The city, Paris. This era will come to be known nostalgically as the Belle Époque, and with the Paris Exposition drawing a massive crowd, people are excited about the arrival of the new century. The Moulin Rouge, a red windmill at the foot of Montmartre, is a symbol of this era. It is known as the top music hall in Paris, but with the novel revue theatres drawing away the customers, the Moulin Rouge is falling on hard times. The impresario Charles Zidler plans to revitalize the hall by casting a particular woman as the lead in the new revue. Her name: Gabrielle Colette. Gabrielle, the wife of the popular writer Henry Gauthier-Villars (Willy), possesses incredible beauty that makes one feel it to be a terrible waste for her to remain the wife of one writer, and is considered as the model of Willy's most famous work Claudine. If such a woman could be convinced to appear at the Moulin Rouge, it would be the talk of Paris and draw throngs, but how could she possibly be persuaded?
Just when Charles is wrestling with this problem, a young man comes to visit the Moulin Rouge. This man calls himself "Jacques Valette," and begs to be allowed to work at this dreamlike place. Charles orders Jacques, who says he is prepared to do anything, to go and persuade Gabrielle, and promises to hire him as a secretary if he can accomplish this. Jacques heads straight to Gabrielle, but in truth ... he has a secret. He ... is a woman! His real name is Jeanne, and he hides his true identity and dresses in drag for a particular reason.
Unaware of this, Gabrielle, upon Jacques's visit, falls in love with him at first sight. Willy's novels are actually all written by Gabrielle, and, tired of being used when it is convenient, she is living apart from her husband. Jacques, who has a freshness totally removed from the men of the streets and a certain mysterious, "neutral" charm, is incredibly attractive to Gabrielle, and Gabrielle, who is smitten, agrees to appear on stage on one condition: that Jacques play opposite her. She also insists that she wants to try a duet dance that passionately expresses the love of a man and a woman. Jacques, afraid of being found out as a woman, categorically refuses, but overcome by Charles's urgency, he concedes, as long as he can wear a mask and only their hands touch.
Rehearsals begin, and day after day Gabrielle nurses the torch she carries for Jacques. Jacques, on the other hand, loves the Moulin Rouge with all his heart, and starts to find himself falling for Charles, who talks to him of his dreams like a starry-eyed youth, and is finally unable to keep his nature as a woman a secret.
It is the opening night of the latest revue, La Vie Parisienne. Just as Charles had planned, a crowd forms in the theatre. Among the crowd is a man who bears an uncanny resemblance to Jacques. He is Victor Ballenberg, the heir to a prestigious Belgian noble family who has traveled to Paris because he believes it to be where he can find his paternal half-sister. Victor is entranced by Gabrielle's great beauty, and fixes his gaze on the stage. But then an unforeseen incident occurs just at the height of the performance...! With Jacques and Gabrielle, and now Victor as well, being drawn in, the whole world of the Moulin Rouge is about to be turned on its head! But how is this story to end...!?
None yet.
| | | | |
| --- | --- | --- | --- |
| Poster | DVD | VHS | CD |
| None Yet | None Yet | None Yet | None Yet |
Footnotes:
Originally scheduled to run 04/24 - 06/01 in the Grand Theater, and 06/19 - 07/26 in the Tokyo Theater, Welcome to Takarazuka -Snow and Moon and Flower- / A Farce in Pigalle (Frénésie à Pigalle) has been cancelled, possibly to be rescheduled, due to COVID-19. As of 07/21 Welcome to Takarazuka -Snow and Moon and Flower- / A Farce in Pigalle (Frénésie à Pigalle) has been rescheduled after the previous cancellation due to COVID-19.