The Poem of Love and Revolution / Mr. Swing!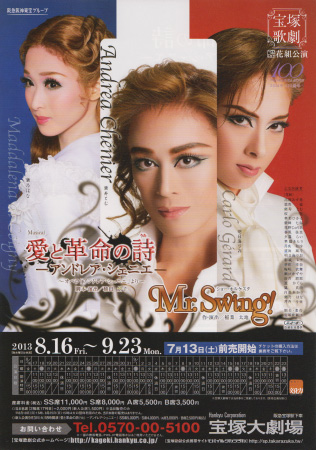 Picture Credit: Zaraphena | official chirashi
English Title:
The Poem of Love and Revolution ~Andrea Chénier~ / Mr. Swing!
Japanese Title:
愛と革命の詩(うた)-アンドレア・シェニエ-/Mr. Swing!
Romanized Title:
Ai to Kakumei no Uta -Andorea Shenie- / Mr. Swing!
Troupe:
Flower
Year:
2013
Performances:
Takarazuka Grand Theater, 08/16 - 09/23; Tokyo Takarazuka Theater, 10/11 - 11/17
Shinjin Kouen Performances:
Takarazuka Grand Theater, 09/03; Tokyo Takarazuka Theater, 10/24
The Poem of Love and Revolution:
Based On:
opera
Andrea Chénier
by Umberto Giordano
Author / Director:
Ueda Keiko
Composer:
Yoshida Yuuko
,
Kai Masato
Choreographer:
Miori Yumino
,
Oishi Yuka
Conductor (Takarazuka):
Conductor (Tokyo):
Misaki Megumi
Shinjin Kouen Director:
Ueda Keiko
Mr. Swing!:
Author / Director:
Inaba Daichi
Composer:
Choreographer:
Conductor (Takarazuka):
Conductor (Tokyo):
Available on DVD:
Yes (
release date 10/15/13
)
DVD Scene/Music Cuts:
No
(1) Will not be performing in
Mr.Swing!
(both runs) and
Andre Chenier
(Tokyo run, from 10/31).
Haruhana Kirara
will take her role since then.
Other Cast:
Mebuki Yukina
,
Ryou Kagura
,
Shiraki Akari
,
Kachou Shiho
,
Haruhana Kirara
,
Marika Yume
,
Hidaka Daichi
,
Kazusa Yoshiki
,
Saho Yukari
,
Nagisa Seina
,
Hanana Mio
,
Niina Kaho
,
Yumehana Ran
,
Sachika Seira
,
Mahou Tsugumi
,
Kotoka Chino
,
Ouma Shion
,
Hina Ririka
,
Hizuki Yume
,
Ouka Rina
Ken-1 Group C:
Hanaki Maia
,
Aren Touma
,
Amaji Sora
,
Wakakusa Moeka
,
Takamine Jun
,
Sakurara Karan
,
Nanase Miki
,
Hiumi Arisa
,
Riou Jun
WARNING!! MAY CONTAIN SPOILERS!!
The Poem of Love and Revolution
This is the story of a poet who lived at the time of the French Revolution.
The poet's name was Andrea Chénier. He lived and died amongst love and bloodshed. The numerous words of truth spun by this revolutionary poet became poems for eternity. Even today, they continue to shine light on the hopes that rest in people's hearts.
It is July 14, 1789, and a shadow is cast over the feudal system that has continued for hundreds of years. France, racked by political instability, is on the eve of a revolution. The masses, disgruntled and angered at their unreasonable treatment at the hands of the aristocracy, rise up to the point of igniting. The aristocracy, who make no attempt to come to terms with the social unrest, continue to defend their way of life, as it has always been. An extravagant evening party is about to unfold at the estate of Count Coigny on the outskirts of Paris. The servants of the house busily go about their work, preparing for the feast. One of them, Carlo Gérard, develops a growing sense of dissatisfaction toward this inequitable society that discriminates against him based on his social status. He admires the idea of egalitarianism among the people, as espoused by Rousseau. Meanwhile, he is secretly in love with the Count's daughter, Maddalena de Coigny. She is inflicted with a sense of emptiness from being made up daily like a dress-up doll, and she waits impatiently for the day when true love comes calling. At that time, the guests arrive one after another and start to mingle, and Andrea Chénier appears at the estate. He may write poetry that is harshly critical of aristocratic society, but he is also a recognized poet, and in reality he is ashamed to be mixing with the people at the estate. He wishes for the day when he can live his life with a spirit that is free to wander. Andrea, Maddalena and Gérard have each been placed in different circumstances. Yet that evening, the three, who each harbor the hope for freedom of the human spirit, will come face to face with each other, on the occurrence of a huge historical event that will announce the death of the feudal system. This will be known as the French Revolution, which will begin with the occupation by the masses of the Bastille prison. Andrea's idealism and sense of mission are on fire at the beginning of this struggle to create an egalitarian society, while Gérard lines up to join the revolution, weapon in hand. Furthermore, the revolution forces the young woman Maddalena into the life of a wanderer.
The tidal wave of the times, when everyone believes that the ideal kind of society has arrived, will in time move in the wrong direction. Ironically, Andrea and Maddalena will be joined together by a thing called love. Idealism, which has been pushed to the forefront of reality, is toying with Gérard's life. Before long, a raging torrent that provides an omen of the tragedy to come will overwhelm all three of them.
---
Mr. Swing
Cool and passionate to the extreme. The rhythm emerges with dynamic movement, as the stage heats up, hotter and hotter. This is Mr. Swing!
Ranju Tomu
, now on the crest of a wave, opens the show together with the Flower Troupe, which is filled to the brim with individuality, as the "orquesta" (orchestra) plays fast and furiously.
During a duet dance in Mr. Swing, Ranju Tomu's partner will be a switch role, scheduled as follows:
Grand Theater
08/16 - 08/29 -
Seto Kazuya
08/30 - 09/12 -
Serika Toa
09/13 - 09/23 -
Yuzuka Rei
Tokyo Theater
10/11 - 10/14, 11/9 - 11/17 -
Seto Kazuya
10/16 - 10/27 -
Serika Toa
10/29 - 11/8 -
Yuzuka Rei
2013/03/11: Due to injury, Otohane Emi will be absent from Mr.Swing! till the end of the Tokyo run.
Marei Sayana was to perform but it was later announced that she will be absent from the Takarazuka run due to injury.
Mahou Tsugumi will be absent from the Grand Theater run since 08/18 (11 a.m. performance) due to injury.
None yet.
| | | | |
| --- | --- | --- | --- |
| Poster | DVD | VHS | CD |
| None Yet | None Yet | None Yet | None Yet |