The Diamond as Big as the Ritz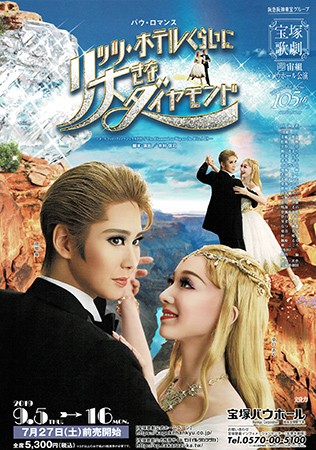 Scan from personal collection | Official chirashi
English Title:
The Diamond as Big as the Ritz
Japanese Title:
リッツ・ホテルくらいに大きなダイヤモンド
Romanized Title:
Rittsu Hoteru Kurai ni Ookina Daiyamondo
Troupe:
Cosmos
Year:
2019
Performances:
Bow Hall, 09/05 - 09/16
Based On:
the novella of the same name by F. Scott Fitzgerald
Author / Director:
Kimura Shinji
Composer:
Hasegawa Masahiro
,
Teshima Kyouko
Choreographer:
Hayama Kiyomi
,
Masaki Rino
,
Momoka Sari
Available on DVD:
No
Available on Blu-Ray:
No
DVD Scene/Music Cuts:
n/a
WARNING!! MAY CONTAIN SPOILERS!!
Summary from
Wikipedia
:
John T. Unger, a teenager from the Mississippi River town of Hades, is sent to a private boarding school near Boston. During the summer he visits the homes of his classmates, the majority of whom are from wealthy families.
In the middle of his sophomore year, a young man named Percy Washington is placed in Unger's dorm. He rarely speaks, and when he does, it is only to Unger. Percy invites Unger to his home for the summer, the location of which he only states as being "in the West." Unger accepts.
During the train ride Percy boasts that his father is "by far the richest man in the world", and boasts that his father "has a diamond bigger than the Ritz-Carlton Hotel."
Unger later learns that he is in Montana, in the "only five square miles of land in the country that's never been surveyed," and Percy's boasts turn out to be true.
Percy's ancestry traces back to both George Washington and Lord Baltimore. His grandfather, Fitz-Norman Culpepper Washington, decided to leave Virginia and head west with his slaves to enter the sheep and cattle ranching business. However, on his claim he discovered not only a diamond mine, but a mountain consisting of one solid diamond.
Washington immediately finds himself in a quandary; the value of diamonds multiplied by the sheer number available for him to mine would make him the richest man ever to live, but, based on the economic law of supply, the sheer number of diamonds, if ever discovered by outsiders, would drive their value to near zero, thus making him a pauper.
He immediately hatches a plan, whereby his brother reads to the African-American slaves a fabricated proclamation by General Nathan Bedford Forrest that the South had defeated the North in the American Civil War, thus keeping them in perpetual slavery. Washington travels the world selling only a few diamonds at a time, in order to avoid flooding the market, but enough to give him enormous wealth.
The Washington family goes to appalling lengths in order to keep their diamond a secret. Airmen who stray into the area are shot down, captured, and kept in a dungeon. People who visit are killed and their parents told that they have succumbed to an illness while staying there.
John falls in love with Percy's sister, Kismine, who accidentally lets slip that John too will be killed before he is allowed to leave. That night, aeroplanes launch an attack on the property, being told by an escaped Italian language teacher. Percy's father offers a bribe to God, "the greatest diamond in the world", but God refuses. John, Kismine, and Jasmine, another sister, escape while Percy and his mother and father choose to blow up the mountain rather than leave it in the hands of others. Penniless, the three survivors are left to ponder their fate.
Any other interesting or important stuff.
None yet.
| | | | |
| --- | --- | --- | --- |
| Poster | DVD | VHS | CD |
| None Yet | None Yet | None Yet | None Yet |