Snowy Landscape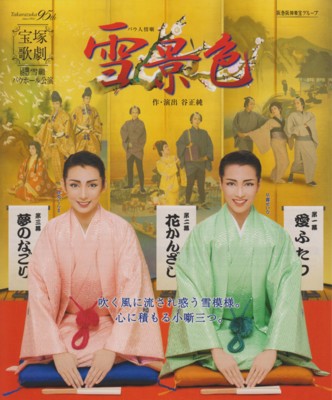 Picture Credit:
lokai
/ official flyer
English Title:
Snowy Landscape
Japanese Title:
雪景色
Romanized Title:
Yukigeshiki
Troupe:
Snow
Year:
2009
Performances:
Bow Hall, 11/19 - 11/29; Nippon Seinenkan, 12/04 - 12/10
Director:
Tani Masazumi
Composer:
Choreographer:
Conductor:
Available on DVD:
Yes (
release date 7/27/2012
)
NOTE: Romanizations may contain errors. Feel free to contribute corrections.
Others:
Shiranagi Suzu
,
Oosumi Rei
,
Momohana Hina
,
Asei Itsuki
,
Suzuran Maaya
,
Rudou Masa
,
Subaru Hanaka
,
Daiki Ryou
,
Tsukishiro Kanato
† Where a name appears more than once, it is a role-switch between two or three actresses
WARNING!! MAY CONTAIN SPOILERS!!
An "ombinus novel" composed of three acts: Act I
Ai Futatsu
(Two Loves), Act II
Hana Kanzashi
(Flowered Hairpin), Act III
Yume no Nagori
(Vestiges of a Dream).
"Ai Futatsu" uses the story "Komamonoya Koshirou" from the Kyoto-style oral folk tradition known as
rakugo
as a base — a side-splitting human comedy about people whose lives are overturned by one misunderstanding.
"Hana Kanzashi" is a human drama about young people who sacrifice themselves for the sake of the people they love.
"Yume no Nagori" is a drama told through dance of two brothers who suffer love for the same woman.
Performed as a role-switching contest between Sagiri Seina and Saou Kurama as they travel through lifelike stories from Edo to Kyoto.
Asahi Stage Gallery
None yet.
| | | | |
| --- | --- | --- | --- |
| Poster | DVD | VHS | CD |
| None Yet | None Yet | None Yet | None Yet |