The Rose of Versailles: Fersen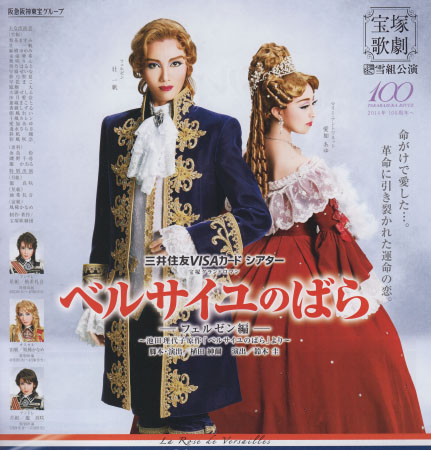 Picture Credit: Zaraphena | Official Chirashi
English Title:
The Rose of Versailles: Fersen
Japanese Title:
ベルサイユのばら -フェルゼン編-
Romanized Title:
Berusaiyu no Bara -Feruzen Hen-
Troupe:
Snow
Year:
2013
Performances:
Takarazuka Grand Theater, 04/19 - 05/27; Tokyo Takarazuka Theater, 06/14 - 07/21
Shinjin Kouen Performances:
Takarazuka Grand Theater, 05/07; Tokyo Takarazuka Theater, 06/27
Based On:
Manga by Riyoko Ikeda
Author/Director:
Ueda Shinji
Director:
Suzuki Kei
Composer:
Yoshida Yuuko
,
Terada Takio
,
Irie Kaoru
,
Kuratomi Shinichi
,
Kawasaki Tsuneo
,
Hirao Masaaki
Choreographer:
Hayama Kiyomi
,
Shou Sumire
,
Wakao Risa
,
Oka Masami
,
Kita Hiroshi
Conductor (Takarazuka):
Shiota Akihiro
Conductor - Act 1 (Tokyo):
Izawa Ichirou
Conductor - Act 2 (Tokyo):
Kiyokawa Tomomi
Shinjin Kouen Director:
Kashihata Aiko
Available on DVD:
Yes (
release date 07/19/13
), (Yuzuki Reon & Ouki Kaname -
release date 09/27/13
), (
Ryuu Masaki - release date 09/27/13
)
DVD Scene/Music Cuts:
No
† Special cast appearances will only take place in the Grand Theater. See below for schedule.
Other cast:
Himehana Yukino
,
Karen Emiri
,
Sara Anna
,
Arisa Hitomi
,
Yumenoka Mai
,
Kanami Sena
,
Senami Haya
Ken-1 Group A (Tokyo):
Misono Sakura
,
Sumikaze Nagi
,
Irodori Michiru
,
Maihina Kanon
,
Wakato Ritsu
,
Hinata Haruki
,
Rinno Shizuka
,
Amano Kiyora
,
Hayato Reo
,
Manazuki Kou
WARNING!! MAY CONTAIN SPOILERS!!
The time is the late 18th century. The Bourbon Dynasty, which had long boasted of eternal glory, starts to show signs of fading, and the Treasury has become seriously depleted due to the extravagance of the Queen, Marie Antoinette. The relationship between the Palace and the public, which is suffering from heavy taxation and insurrection spreading throughout the country, grows strained with each passing day. It is only a matter of time before the state makes a show of force against the mobs.
The Imperial Court confronts another grave problem, which seems set to rock the Bourbon Dynasty: Queen Antoinette and Swedish Count Hans Axel von Fersen are having an illicit affair. Antoinette, who is bound by the conventions and rituals of the Palace, and Fersen, a student from overseas, fell in love as soon as they first met, and they have since been having secret trysts. However, the seriousness of the current situation escalates just as rumors of the pair's love affair reaches the ears of King Louis XVI.
Despite being aware that his actions are absolutely unacceptable, Fersen continues to go back and forth to the Palace, absorbed in the desire to be warm and close with the Queen. But one night, someone blocks his path. This is Oscar François de Jarjayes, who was born a girl but raised since childhood to become a soldier, and she has since placed her loyalty with the Queen as Commander of the Imperial Guard. Oscar suggests that Fersen return home to Sweden, as his departure from France could help lift the state from its current plight, which would in itself be in the Queen's best interest. However, Fersen stubbornly refuses, saying that he can not separate himself from the Queen, who relies on him exclusively. Yet after much distress and also aware that the Queen is in dire straits, Fersen eventually decides to return to his country, realizing that stepping aside would, in its own way, be an act of true love.
Around this time, the streets of Paris are awash in starving citizens. Aware of the great poverty, Oscar starts to develop doubts over her duties, which are conducted for the sake of the aristocracy who lead such idle lives. André Grandier, who secretly idolized Oscar while a child, appreciates how she has thrown herself into the upheaval, and renews his determination to continue protecting her in the event something happens along the way.
Fersen, who has made preparations to return home, visits the Palace to tell Antoinette of his intention of leaving her. Knowing that the day she had dreaded has come, she is overcome with sadness. Fersen is also struck by the sadness of a broken heart as he thinks of all the days the couple spent together. Yet Fersen's determination remains unshaken, as he departs to his native country with the memory of the Queen etched in his heart.
Even after returning home, Fersen prays for the safety of Antoinette and the peace and security of the Bourbon Dynasty. Yet against these wishes, France's plight takes a turn for the worse, and uprisings by the mobs assembled in Paris start to take on the form of revolution.
None yet.
| | | | |
| --- | --- | --- | --- |
| Poster | DVD | VHS | CD |
| None Yet | None Yet | None Yet | None Yet |