Memories of Barcelona / Nice Guy!!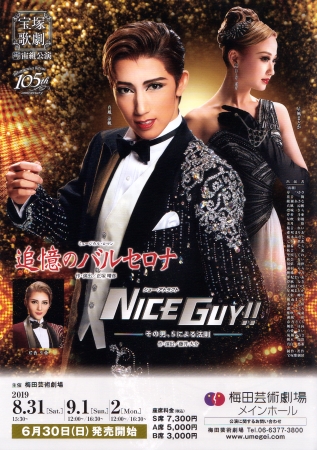 Picture Credit: zaraphena / official chirashi
English Title:
Memories of Barcelona / Nice Guy!!
Japanese Title:
追憶のバルセロナ / NICE GUY!!
Romanized Title:
Tsuioku no Baruserona / Nice Guy!!
Troupe:
Cosmos
Year:
2019
Performances:
National Tour, 08/31 - 09/23
Memories of Barcelona
:
Author / Director:
Masatsuka Haruhiko
Composer:
Takahashi Kuni
,
Miyahara Tooru
Choreographer:
Iga Yuuko
,
Hirasawa Satoshi
Conductor:
Nice Guy!!
:
Author / Director:
Fujii Daisuke
Composer:
Aoki Tomoko
,
Teshima Kyouko
Choreographer:
Hayama Kiyomi
,
Miori Yumino
,
Wakao Risa
,
Hirasawa Satoshi
,
KAZUMI-BOY
Conductor:
Available on DVD:
TBA
Available on Blu-Ray:
TBA
DVD Scene/Music Cuts:
TBA
Role
Cast
Francisco Austoria, the only son of the Austorias, a noble family of Catalonia
Makaze Suzuho
Isabel, a young gypsy woman
Hoshikaze Madoka
Antonio Jimenez, Francisco's best friend
Serika Toa
Roberto, the gypsy leader
Captain Jean Christophe, the captain of the French guards
Llago, Christophe's subordinate
Asenoile, the commander of the French army
Leopoldo Austoria, Francisco's father
Teresa Austoria, Francisco's mother
Cecilia Olivares, Francisco's fiancee
Baron Olivares, Cecilia's father
Lucretia, Cecilia's mother
Feijo, a servant of the Austorias
Miguel, a gypsy
Ensenada, a gypsy
Alvarado, a gypsy
Fernando, a gypsy
Angelo, a gypsy
Mendosa, a gypsy
Angelica, a gypsy
Esmeralda, a gypsy
Rosalind, a gypsy
Bianca, a gypsy
Rosa, a gypsy
Cara, a gypsy
Clementina, a gypsy
Gabriella, a gypsy
Marietta, a gypsy
Robert, a French soldier
Roger, a French soldier
Philippe, a French soldier
Juliette, a woman in town
Moreno, a shop owner
Maria, a woman in town
Zelda, a woman in town
Battlo, a man in town
Gracian, a man in town
Chiquita
Townsman 1
Townsman 2
Other Cast:
Kotobuki Tsukasa
,
Kanon Mai
,
Ayase Akina
,
Rinjou Kira
,
Hoshibuki Ayato
,
Mitsuki Haruka
,
Sakurane Rei
,
Aisaki Maria
,
Sakuragi Minato
,
Nanao Maki
,
Kazuki Sora
,
Akine Hikaru
,
Risaki Shigure
,
Akina Rui
,
Rui Makise
,
Haruha Rara
,
Homare Seri
,
Hanaki Maia
,
Sumikaze Nagi
,
Amase Hatsuhi
,
Amairo Mineri
,
Konan Makoto
,
Mizune Shiho
,
Koko Sakura
,
Ibuki Yuuha
,
Kokaze Haku
,
Haruno Sakura
,
Kazeiro Hyuuga
,
Aria Kii
,
Ruki Miusa
,
Asagi Hiiro
,
Mashiro Yuuki
WARNING!! MAY CONTAIN SPOILERS!!
Memories of Barcelona
In the early 1800's, Las Ramblas in Barcelona is very lively with a crowd enjoying the carnival. Francisco is among the crowd with his fiancee Cecilia and best friend Antonio. While there, his house servant Feijo comes up to tell Francisco that he has been called into the army by King Carlos because France has declared war against Spain. Francisco is an only son of the Austorias, a local noble family of influence. Francisco bids Cecilia farewell and goes to the front with Antonio the next day.
French forces cross the Pyrenees despite the Spanish forces' desperate resistance. Francisco is severely wounded in combat and lingers on the verge of death. When he comes out of a coma, he finds himself in a gypsy camp, and Isabel, a young gypsy woman, anxiously watching him. She tells him that Roberto, a gypsy man of her group, found him lying badly injured and that she has been caring for him. However, Francisco has lost all memory of the past and cannot even recall his own name. Miguel, chief of the gypsies, consoles him by saying that he will one day be able to return to the place he belongs to so long as he lives. Little by little Francisco adapts himself to the gypsy's free and joyful way of life.
One day when Francisco finds French soldiers bothering Isabel and her friends in a tablao, a flamenco performance bar-theater, he rushes to defend them. However, as soon as he sees the French soldiers pointing their swords toward him, he is seized with memories of the battlefield, becoming unable to move. Roberto fights the French soldiers with a knife and rescues Isabel and the other women. Roberto blames Francisco for his timidity, while Isabel desperately pleads for Francisco. She becomes aware that she has fallen in love with him. The French soldiers come back with other soldiers and the gypsies are driven into a corner. At the moment the French soldiers are about to attack Isabel, Francisco skillfully slashes down the soldiers with a sword in hands as if he was suddenly awakened. It seems he is slowly recovering his memory.
Antonio is taken prisoner and chooses to collaborate with the French forces in order to survive. Now that Spain has surrendered to France and has accepted French rule, the French occupation forces bear hard on local nobles with a view of eradicating national liberation movements. Asenoile, Commander of the French army, and Captain Jean Christophe have charged Antonio to persuade hostile nobles in prison into accepting French rule. One of such nobles is Leopoldo Austoria, Francisco's father. He prefers to be executed upon his honor of being a Catalonian noble rather than surrender to French rule. Until the last minute before the execution, he worries about the future of the country and about his only son whose life he despairs of. Seeing the attitude of Francisco's father, Antonio cannot but reflect upon the choice he made in order to live.
Francisco completely recovers his memory, and Isabel comes to know his true identity. Although she feels sad, she understands that she should make some distance between them and is successful in hiding her sentiment. Francisco is now aware that he cannot return to Barcelona, as he is an officer of the Spanish army. Isabel suggests to him to go to Barcelona using the occasion of the coming carnival. On the carnival day that is exactly one year after the day he was called into the army, Francisco disguised as Black Tornado, a gypsy legendary hero, again sees Cecilia. She is married to Antonio. A few days later, Feijo comes to the camp where Francisco is staying and tells him that Leopoldo has died. He also lets him know that Antonio was successful in convincing Cecilia's father to accept French rule and therefore in saving his life. Francisco mutters to himself that he has come home too late.
Francisco assumes that Cecilia had no one to rely on but Antonio, and that Antonio had no choice but to become a collaborator of the French forces in order to survive. He thinks aloud that war is to be blamed.
Nice Guy!!
The theme of "nice men" and "cool guys" — a production pursuing male beauty. "The Man S" of course is Makaze Suzuho. A composition with abundant variety — modern stylishness, the kindness of an adult man — a dynamic and glamorous show presenting the various charms of Makaze Suzuho.
Tour Schedule

Date
Venue
08/31 - 09/02
Umeda Arts Theater (Osaka)
09/05
Torigin Culture Hall (Tottori)
09/07 - 09/08
City Kaikan Sears Home Yume Hall (Kumamoto)
09/10
Miyazaki Shimin Bunka Hall (Miyazaki)
09/11
Nobeoka Cultural Center (Miyazaki)
09/12
Iichiko Grand Theater (Oita)
09/14 - 09/16
Fukuoka Civic Hall (Fukuoka)
09/18
Kanazawa Theatre (Ishikawa)
09/19
Aubade Hal (Toyama)
09/21 - 09/23
Ichikawa City Cultural Hall (Chiba)
None yet.
| | | | |
| --- | --- | --- | --- |
| Poster | DVD | VHS | CD |
| None Yet | None Yet | None Yet | None Yet |