Memories of Barcelona / On the Fifth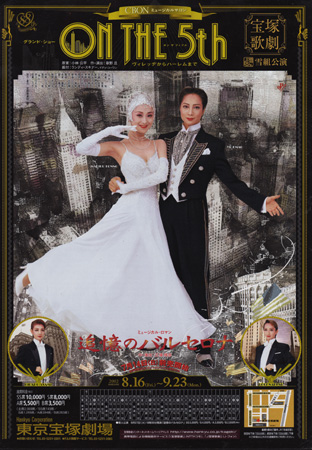 Picture Credit: Zephy / original chirashi
English Title:
Memories of Barcelona / On the Fifth
Japanese Title:
追憶のバルセロナ / ON THE 5th
Romanized Title:
Tsuioku no Baruserona / On the Fifth
Troupe:
Snow
Year:
2002
Performances:
Grand Theater, 05/24 - 07/08; Tokyo Theater, 08/16 - 09/23
Shinjin Kouen Performances:
Grand Theater, 6/25; Tokyo Theater, 8/27
Memories of Barcelona:
Author / Director:
Masatsuka Haruhiko
Composer:
Takahashi Kuni
,
Miyahara Tooru
Choreographer:
Iga Yuuko
,
Hirasawa Satoshi
Conductor (Takarazuka):
Misaki Megumi
Shinjin Kouen Director:
Kodama Akiko
On the Fifth:
Original Idea:
Kobayashi Kouhei
Author / Director:
Kusano Akira
Lyrics:
Kobayashi Kouhei
Composer:
Takahashi Kuni
,
Kuratomi Shinichi
Choreographer:
Randy Skinner,
Hayama Kiyomi
,
Ueshima Yukio
,
Iga Yuuko
Conductor (Takarazuka):
Sasada Aiichirou
Available on DVD:
VHS only (Main Cast and Shinjin Kouen versions)
Other Cast:
Hozuki Haruna
,
Hanaoka Rara
,
Hanao Konomi
,
Mariki Towa
,
Misaki Rei
Other Cast (Tokyo):
Oonagi Mao
,
Yumeka Ayari
,
Sahana Mako
,
Murasaki Itsumi
,
Shiyuu Mirei
,
Aoi Fubuki
,
Yuuki Senju
,
Daigo Seshiru
,
Maasa Hitomi
,
Sen Hafuri
,
Saika Ryou
WARNING!! MAY CONTAIN SPOILERS!!
Memories of Barcelona
In the early 1800's, Las Ramblas in Barcelona is very lively with a crowd enjoying the carnival. Francisco is among the crowd with his fiancee Cecilia and best friend Antonio. While there, his house servant Feijo comes up to tell Francisco that he has been called into the army by King Carlos because France has declared war against Spain. Francisco is an only son of the Austorias, a local noble family of influence. Francisco bids Cecilia farewell and goes to the front with Antonio the next day.
French forces cross the Pyrenees despite the Spanish forces' desperate resistance. Francisco is severely wounded in combat and lingers on the verge of death. When he comes out of a coma, he finds himself in a gypsy camp, and Isabel, a young gypsy woman, anxiously watching him. She tells him that Roberto, a gypsy man of her group, found him lying badly injured and that she has been caring for him. However, Francisco has lost all memory of the past and cannot even recall his own name. Miguel, chief of the gypsies, consoles him by saying that he will one day be able to return to the place he belongs to so long as he lives. Little by little Francisco adapts himself to the gypsy's free and joyful way of life.
One day when Francisco finds French soldiers bothering Isabel and her friends in a tablao, a flamenco performance bar-theater, he rushes to defend them. However, as soon as he sees the French soldiers pointing their swords toward him, he is seized with memories of the battlefield, becoming unable to move. Roberto fights the French soldiers with a knife and rescues Isabel and the other women. Roberto blames Francisco for his timidity, while Isabel desperately pleads for Francisco. She becomes aware that she has fallen in love with him. The French soldiers come back with other soldiers and the gypsies are driven into a corner. At the moment the French soldiers are about to attack Isabel, Francisco skillfully slashes down the soldiers with a sword in hands as if he was suddenly awakened. It seems he is slowly recovering his memory.
Antonio is taken prisoner and chooses to collaborate with the French forces in order to survive. Now that Spain has surrendered to France and has accepted French rule, the French occupation forces bear hard on local nobles with a view of eradicating national liberation movements. Asenoile, Commander of the French army, and Captain Jean Christophe have charged Antonio to persuade hostile nobles in prison into accepting French rule. One of such nobles is Leopoldo Austoria, Francisco's father. He prefers to be executed upon his honor of being a Catalonian noble rather than surrender to French rule. Until the last minute before the execution, he worries about the future of the country and about his only son whose life he despairs of. Seeing the attitude of Francisco's father, Antonio cannot but reflect upon the choice he made in order to live.
Francisco completely recovers his memory, and Isabel comes to know his true identity. Although she feels sad, she understands that she should make some distance between them and is successful in hiding her sentiment. Francisco is now aware that he cannot return to Barcelona, as he is an officer of the Spanish army. Isabel suggests to him to go to Barcelona using the occasion of the coming carnival. On the carnival day that is exactly one year after the day he was called into the army, Francisco disguised as Black Tornado, a gypsy legendary hero, again sees Cecilia. She is married to Antonio. A few days later, Feijo comes to the camp where Francisco is staying and tells him that Leopoldo has died. He also lets him know that Antonio was successful in convincing Cecilia's father to accept French rule and therefore in saving his life. Francisco mutters to himself that he has come home too late.
Francisco assumes that Cecilia had no one to rely on but Antonio, and that Antonio had no choice but to become a collaborator of the French forces in order to survive. He thinks aloud that war is to be blamed.
ON THE 5th
Before the skyscrapers in Manhattan, performers sing and dance to famous jazz numbers played one after another.
5th Star (man) -
Emao Yuu
5th Star (woman) -
Konno Mahiru
Act 4 : Village On the 5th
Shine, an Indian girl, all the way from her country stands in front of Washington Square Arch in New York.
Shine -
Konno Mahiru
Act 5,6 : Shop On the 5th A,B
Famous shops of luxury goods line Fifth Avenue. The three cowboys enjoy shopping.
Shine -
Konno Mahiru
Country boy (Naru) -
Naruse Kouki
Country boy (Comu) -
Asami Hikaru
Country boy (Cashi) -
Takashiro Kei
Act 7-9 : Night On the 5th A-C
Shine without money and transformed back into the country Indian girl is kicked out of the shop. Then comes Mr. Fifth, a star of the quarter, with whom Shine at first glance falls in love.
Mr. Fifth -
Emao Yuu
Shine -
Konno Mahiru
Act 10-13 : Meet On the 5th A-D
Mr. Fifth recognizes her and at a glance feels strongly attracted to her.
Mr. Fifth -
Emao Yuu
Shine -
Konno Mahiru
Acts 14/15 : Meet On the 5th (Chorus line)
The hearts of Shine and Mr. Fifth unite and change into a brilliant star. Out of the star, chorus-line dancers show up one after another to form a gorgeous chorus line.
Act 16 : Park On the 5th A
The white carriage carries both Shine and Mr. Fifth to Central Park. They are in the mood of love and sing and dance their happiness.
Mr. Fifth -
Emao Yuu
Shine -
Konno Mahiru
Act 17 : Park On the 5th A
Mr. Fifth -
Emao Yuu
Act 18,19 : Prayer On the 5th A,B
The song mourning the 3,290 victims of the fallen Twin Towers is offered in Saint Patrick Church.
Mr. Fifth -
Emao Yuu
Shine -
Konno Mahiru
Act 20 : Harlem On the 5th
At the Harlem subway station.
New Yorker -
Naruse Kouki
Acts 21/22 : Good-by On the 5th A/B
Mr. Fifth and Shine say good-by to Fifth Avenue.
Mr. Fifth -
Emao Yuu
Shine -
Konno Mahiru
At the grand staircase, a grand parade in the style of revue unfolds.
Parade man S -
Emao Yuu
Parade woman S -
Konno Mahiru
Parade man A -
Naruse Kouki
/
Asami Hikaru
/
Takashiro Kei
)
Act 24: Parade On the 5th
The show ends with a shower of confetti.
Tap-parade man S -
Emao Yuu
Tap-parade woman S -
Konno Mahiru
None yet.
| | | | |
| --- | --- | --- | --- |
| Poster | DVD | VHS | CD |
| None Yet | None Yet | None Yet | |