I Am From Austria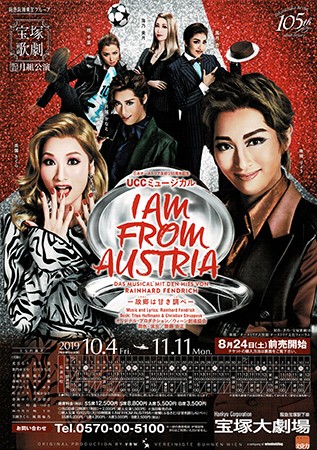 Picture Credit: Scan from personal collection | Official chirashi
English Title:
I Am From Austria -Sweet Melodies of Home-
Japanese Title:
I AM FROM AUSTRIA-故郷は甘き調べ-
Romanized Title:
I Am From Austria -Furusato wa Amaki Shirabe-
Troupe:
Moon
Year:
2019
Performances:
Takarazuka Grand Theater, 10/04 - 11/11; Tokyo Takarazuka Theater, 11/29 - 12/28
Shinjin Kouen Performances:
Takarazuka Grand Theater, 10/22, Tokyo Takarazuka Theater, 12/12
Based On:
Adaption/Direction:
Saitou Yoshimasa
Book:
Titus Hoffmann & Christian Struppeck
Music and Lyrics:
Rainhard Fendrich
Musical Arrangements:
Michael Reed,
Teshima Kyouko
Choreographer:
Miori Yumino
,
AYAKO
,
Mitsui Satoshi
Conductor (Takarazuka):
Uegaki Satoshi
Conductor (Tokyo):
Shinjin Kouen Director:
Machida Nanoka
Available on DVD:
Yes (
release date 12/18/2019
)
Available on Blu-Ray:
Yes (
release date 12/18/2019
)
DVD Scene/Music Cuts:
No
Role
Cast
Shinko Cast
Josi Edler, the heir to the family-owned Hotel Edler
Tamaki Ryou
Hanabusa Kaoto
Emma Carter, an Austrian-born Hollywood actress
Misono Sakura
Shirakawa Riri
Richard Rattinger, Emma's manager
Tsukishiro Kanato
Reika Haru
Wolfgang Edler, Josi's father
Houzuki An
Ookusu Tera
Romy Edler, Josi's mother; the president of Hotel Edler
Umino Mitsuki
Ranze Keito
Pablo García, a football star of the Argentina national team
Akatsuki Chisei
Ran Naoki
Elfie Schratt, the concierge at Hotel Edler
Kouzuki Ruu
Kazama Yuno
Herta Waldvogel, Emma's mother
Kagetsu Miyako
Amashi Juri
Dennis, a police officer
Shimon Yuriya
Sorashiro Yuu
Miss Zwickel, travel agent
Shirayuki Sachika
Yui Karen
Holger, homeless person
Chinami Karan
Asahi Tsubasa
Camilla, homeless person
Kousaki Ran
Momoka Yuki
Rainer Berger, a tabloid writer
Kizuki Yuuma
Issei Kei
Johanna, paparazza
Kaede Yuki
Hisumi Rin
Nadiya, a police officer
Harune Aki
Natsukaze Kiki
Martin, housekeeping staff
Harumi Yuu
Hiiragi Ayato
Walter, front desk clerk at Hotel Edler
Yumena Rune
Ayaji Yurika
Anna, front desk clerk at Hotel Edler
Kanoha Toki
Hiumi Arisa
Ella, paparazza
Sakurana Ai
Hanatoki Maika
Daniel, paparazzo
Hayaki Yuuto
Mariya Sonata
Gert, front desk clerk at Hotel Edler
Ren Tsukasa
Ruou Ria
Hugo, paparazzo
Kashiro Aoi
Ichihane Meru
Yang, celebrity
Asagiri Makoto
Natsunagi Seia
Christa, homeless person
Himesaki Mirei
Amana Ruria
Hanne, celebrity
Urara Senri
Yoshino Yurika
Alban, homeless person
Suou Mahiro
Mahiro Ren
Bianca, celebrity
Kiyoka Ran
Maya Yutaka
Carl, celebrity
Souma Seren
Maki Teruto
Johann, bartender
Hanabusa Kaoto
Nanashiro Miyabi
Michel, emcee
Asahi Tsubasa
Tsukino Daia
Carla, police officer
Hiumi Arisa
Nanano Ari
Selbst, housekeeping staff
Ran Naoki
Koumi Natsuho
Felix Moser, front desk clerk at Hotel Edler
Kazama Yuno
Ayaoto Sena
Heidi, housekeeping staff
Momoka Yuki
Manoa Mio
Clara, housekeeping staff
Natsukaze Kiki
Amano Kaguya
Hans, The Opera House worker
Sorashiro Yuu
Sou Yuuki
Victoria, tourist
Hisumi Rin
Tsubaki Koko
Amelia, front desk clerk at Hotel Edler
Amashi Juri
Haon Mika
Fritz, police officer
Ayaoto Sena
Haruki Reo
Gabriela, front desk clerk at Hotel Edler
Yui Karen
Kiyora Haryuu
Daniel, tourist
Reika Haru
Tsukino Daia
Stiegl, hotel pâtissière
Kiyora Haryuu
Uta Chizuru
Other Cast:
Saaya Ichigo
,
Miumi Sora
,
Shizune Hotaru
,
Asaka Yurara
,
Kanaha Mio
,
Mizushiro Aoi
WARNING!! MAY CONTAIN SPOILERS!!
The setting is Hotel Edler, a long-established four-star hotel in Vienna. Josi Edler, the heir to the family-owned hotel, has been actively involved in the hotel's management and seeks to reform the hotel to make it fit with the times, as opposed to his parents who lean towards tradition and formality. Today, Hotel Edler is preparing for the reception of a coming guest: Emma Carter, the famous Austrian-born Hollywood star, who will stay at the hotel incognito. Having such a big-name guest is a perfect chance for Hotel Edler to accomplish its long-sought goal to obtain a five-star rating. Unfortunately, a hotel employee has already revealed the top-secret news of Emma's arrival through social media, and it causes chaos at the hotel. Josi takes the blame for the careless post on social media to smooth the situation, while Emma and her manager Richard are outraged. As compensation for the inconvenience, Josi brings an Edlertorte, the hotel's signature cake, to Emma's suite. Accidentally, however, the torte slips from his hands and hits Emma when she opens the door. Although that makes Emma very angry, a captivating taste of the torte calms her anger. While talking to each other, the two hit it off and Josi offers to show Emma around the hotel…
None yet.
| | | | |
| --- | --- | --- | --- |
| Poster | DVD | VHS | CD |
| None Yet | None Yet | None Yet | None Yet |