Beside the Foggy Elbe / Estrellas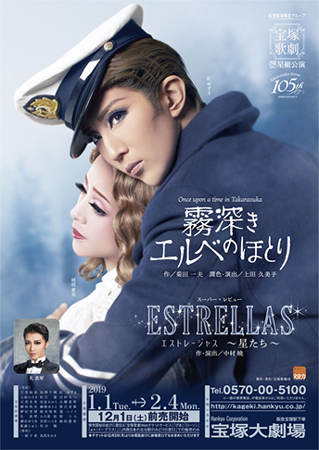 Picture Credit: coeuraubonheur | Official Chirashi
English Title:
Beside the Foggy Elbe / Estrellas ~The Stars~
Japanese Title:
霧深きエルベのほとり / ESTRELLAS ~エストレージャス, 星たち~
Romanized Title:
Kiribukaki Erube no Hotori / Estrellas ~Esutoreejasu, Hoshitachi~
Troupe:
Star
Year:
2019
Performances:
Takarazuka Grand Theater, 01/01 - 02/4; Tokyo Takarazuka Theater, 02/15 - 03/24
Shinjin Kouen Performances:
Takarazuka Grand Theater, 01/22; Tokyo Takarazuka Theater, 02/28
Beside the Foggy Elbe
:
Author:
Kikuta Kazuo
Adaptation / Director:
Ueda Kumiko
Composer:
Irie Kaoru
,
Aoki Tomoko
,
Takahashi Megumi
Choreographer:
Miori Yumino
,
Wakao Risa
Conductor (Takarazuka):
Hashimoto Kazunori
Conductor (Tokyo):
Shinjin Kouen Director:
Tani Takaya
Estrellas
:
Author / Director:
Nakamura Satoru
Composer:
Nishimura Kouji
,
Kuratomi Shinichi
,
Teshima Kyouko
,
Aoki Tomoko
Choreographer:
Miori Yumino
,
Wakao Risa
,
Hirasawa Satoshi
,
AYAKO
,
Momoka Sari
Conductor (Takarazuka):
Sasada Aiichirou
Conductor (Tokyo):
Available on DVD:
yes (
release date 03/16/19
)
Available on Blu-Ray:
yes (
release date 03/16/19
)
DVD Scene/Music Cuts:
No
Role
Cast
Shinko Cast
Karl Schneider, a ship hand
Kurenai Yuzuru
Kiwami Shin
Margit Schrack, a young woman from a prominent Hamburg family
Kisaki Airi
Mizuno Yuri
Florian Seidel, Margit's fiance
Rei Makoto
Amahana Ema
Josef Schrack, Margit's father
Itsuki Chihiro
Haruto Yuuho
Veronica, city girl
Ema Naoki
Arisa Hitomi
Sabine Schrack, Margaret's mother
Mari Yuzumi
Miono Saki
Holger, Hotel owner
Miki Chigusa
Akashi Reima
Tobias
Nanami Hiroki
Amato Kanon
Mr. Meinrad
Kisaragi Ren
Amaki Homare
Mrs. Meinrad, Margit's friend
Shirotae Natsu
Kozakura Honoka
Inspector Kaufmann, police officer
Tenju Mitsuki
Yuunagi Ryou
Angelica Lombard, Karl's former lover
Otoha Minori
Seira Hitomi
Mr. Ellmenreich
Ooki Makoto
Hayato Reo
Mr. Lombard, Angelica's husband
Kizaki Reo
Minato Rihi
Ducke
Seki Yurito
Sayaka Rin
Mrs. Ellmenreich
Shizuki Otone
Ouri Mao
Selma
Yumeki Anru
Hanayuki Rira
Oliver
Mao Yuuki
Soubu Sakiho
Edgar Klein
Sazanami Reira
Yuuhi Maki
Friedrich Helmer
Hiroka Yuu
Soua Takeru
Millie
Murasaki Rira
Nanase Miki
Martin
Seo Yuria
Amaji Sora
Heide
Otosaki Itsuki
Nijou Hana
Enrico
Shidou Ryuu
Kisa Kaoru
Sailor
Takuto Rei
-
Sailor
Asamizu Ryou
-
Policeman
Toudou Jun
Amakake Sakura
Erika
Katori Reira
Miyako Yuuna
Sailor
Iroha Reo
-
Suzanne Schrack, Margit's sister who loves Florian
Arisa Hitomi
Sakuraba Mai
Rico
Amahana Ema
Aomi Sario
Leonora Helmer
Miono Saki
Kuresaki Rino
Sailor
Yuunagi Ryou
-
Sailor
Amaki Homare
-
Sailor
Minato Rihi
-
Adele Klein
Hanayuki Rira
Ayazono Hina
Edda
Kozakura Honoka
Kirari An
Policeman
Haruto Yuuho
Houma Toa
Petronella
Sakuraba Mai
Sumika Amane
Adrian Ellmenreich
Kiwami Shin
Sakishiro Kei
Rosemarie Meinrad
Seira Hitomi
Hoshisaki Nozomi
Johnny
Amato Kanon
Aone Towa
Bettie Schneider, Karl's sister
Mizuno Yuri
Ruri Hanaka
Other Cast:
Kou Erise
,
Hazuki Riran
,
Asakura Shizuku
,
Kusanagi Kizuki
,
Yuran Sui
,
Otoka Rima
,
Hiroki Yuzuha
,
Harei Yuka
,
Emika Rena
,
Kouga Toiro
,
Ayane Miran
,
Seharu Asa
,
Mitsurugi Kai
,
Maoka Noa
†,
Riona Haru
,
Touki Raia
,
Hikari An
WARNING!! MAY CONTAIN SPOILERS!!
Beside the Foggy Elbe
Karl was a ship hand, who has decided to return to his hometown of Hamburg. There on the night of the yearly beer festival, he meets Margit, who tells him she has left her family home in search of freedom. They spend the night in a hotel, and fall in love. Not wanting to part, Karl proposes to Margit and the two rent an apartment together.
In truth, Margit is the daughter of a prominent Hamburg family, and is engaged to a man named Florian. When her family comes in search of her, Margit vows to only return with Karl by her side. Surrounded by these disapproving people, Karl soon finds himself adrift because of his rough speech and manners, and Margit herself starts to feel ashamed of him. While she is wavering, Florian gently remonstrates with her.
Karl also sees how Margit feels. Although they love each other, they are pained by their distancing feelings. Karl resolves to leave Margit for her own good. He takes money offered to him by Margit's father Josef, then throws painful, abusive language at Margit as he leaves. Margit despairs, but then Florian admonishes her that Karl must have used those words thinking it was for her own good. So Margit goes after Karl. Karl is at the harbor at his usual watering hole, waiting to depart once more on his ship that evening, and he asks someone to return the money to Margit for him when his ship leaves.
The sound of a departing ships horn rings out in the fog. Karl sets out to sea once more alone, thinking only of Margit....
---
Estrellas
Estrellas means "stars" in Spanish. This has a theme of "giving a light like that of the stars," since it is for Star Troupe, which gives the sparkle of all the stars in the heavens to people's hearts. This is a work which will allow the stars of Star Troupe to showcase their energetic singing voices and dance overflowing with liveliness.
None yet.
| | | | |
| --- | --- | --- | --- |
| Poster | DVD | VHS | CD |
| None Yet | None Yet | None Yet | None Yet |