Anastasia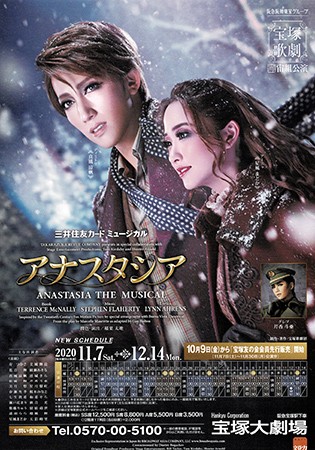 Scan from personal collection | Official chirashi
English Title:
Anastasia
Japanese Title:
アナスタシア
Troupe:
Cosmos
Year:
2020-2021
Performances:
Takarazuka Grand Theater, 11/07 - 12/14, 2020; Tokyo Takarazuka Theater, 01/08 - 02/21, 2021
[2]
Shinjin Kouen Performances:
n/a (CANCELED)
Based On:
the Broadway musical, based on the 1997 animated film of the same name
Director:
Inaba Daichi
Book:
Terrence McNally
Music:
Stephen Flaherty
Lyrics:
Lynn Ahrens
Composer:
Oota Takeshi
,
Takahashi Megumi
Choreographer:
Miori Yumino
,
Wakao Risa
,
Hirasawa Satoshi
,
Momoka Sari
,
Mitsui Satoshi
Conductor (Orchestra Recording):
Misaki Megumi
Available on Blu-Ray:
Yes (
release date 02/11/21
)
Available on DVD:
Yes (
release date 02/11/21
)
DVD Scene/Music Cut:
No
Other Cast:
Risaki Shigure
,
Hanabishi Rizu
,
Koko Sakura
,
Setsuki Renya
,
Hanamiya Sara
,
Kokaze Haku
Due to COVID-19 concerns, the number of actresses on stage at a time has been reduced for the Takarazuka & Tokyo run. The younger cast members will be split into two groups, "A days" and "B days".
Takarazuka
A Days Schedule
B Days Schedule
11/7- 11/10
11/12 - 11/20
11/21 - 11/24
11/26 - 11/29
11/30 - 12/10
12/11 - 12/14
Tokyo
A Days Schedule
B Days Schedule
2/1- 2/21
1/8 - 7/28
※ The
Hatsubutaisei
assigned to Cosmos Troupe from Class 106 will only be appearing during the Tokyo performance.
WARNING!! MAY CONTAIN SPOILERS!!
Summary from Wikipedia.
PROLOGUE
In 1906 St. Petersburg, Russia, the Dowager Empress Maria Feodorovna comforts her youngest granddaughter 7 year-old Princess Anastasia, who is saddened by the fact that her grandmother is moving to Paris, France. Before leaving, the Dowager Empress gives Anastasia a music box as a parting gift ("Prologue: Once Upon a December"). Eleven years later in 1917, 17 year-old Anastasia is attending a ball with her family when the Bolsheviks invade the palace. As the Romanovs attempt to escape, Anastasia tries to retrieve her music box only to be shot and presumed dead along with the rest of her family ("The Last Dance of the Romanovs").
ACT I
Another ten years later in 1927, Gleb Vaganov, a general for the Bolsheviks who now controls Russia, announces to the gloomy Russians that the now-poor Saint Petersburg has been renamed Leningrad, and he promises a bright and peaceful future. The Russians protest this change but are uplifted by a rumor that Anastasia may have survived the Bolshevik attacks. Two wanted con men, the handsome young Dmitry and an ex-member of the Imperial Court named Vlad Popov, hear the rumors and brainstorm "the biggest con in history": they will groom a naive girl to become Anastasia in order to extract money from the Dowager Empress ("A Rumor in St. Petersburg").
Dmitry and Vlad hold unsuccessful auditions for the scheme at the theater in the abandoned Yusupov Palace. Just as they are about to give up hope of finding a suitable impostor, a street sweeper named Anya walks in to ask Dmitry about paperwork to get tickets for Paris. Dmitry and Vlad become fascinated as Anya explains that she doesn't remember who she is due to her amnesia and has very few memories of her past ("In My Dreams"). Amazed by her memory loss and resemblance to Anastasia, they select Anya as their impostor.
At the capital, government workers sort through rumors and reports for any that require further action. Three bitter actresses report Anya, Dmitry, and Vlad's plot to Gleb, but he dismisses them and files a case for Anya ("The Rumors Never End"). Back at the palace, Vlad and Dmitry groom a feisty Anya to become Anastasia through history, dining, and dancing lessons ("Learn to Do It").
Gleb orders to arrest Anya and she is brought to his office in the Nevsky Prospect. The general interrogates the girl and warns her about the consequences of pretending to be Anastasia. He tries to convince her that Anastasia is really dead. He reveals that his father was the one who shot the Romanovs and, as a boy, he heard the gunshots and their screams. However, Gleb notices that Anya has the "Romanov eyes" and realizes that Anya could indeed be Anastasia. As he harbors feelings for her, he lets her off with a warning ("The Neva Flows").
Anya reunites with Dmitry and they are teased and attacked by his old con partners, whom they must fight off ("The Neva Flows Reprise"). Impressed by Anya's fighting skills, Dmitry opens up to her for the first time and tells her about his childhood in the streets of St. Petersburg and how he had to take care of himself as an orphan ("My Petersburg"). Dmitry begins to trust her enough to show her a music box that he's failed to open, unaware it is the memento that was given to Anastasia by the Dowager Empress. Anya easily winds and opens the box and begins to vaguely remember her past, including an imperial ball many years earlier ("Once Upon a December"). After this episode, Anya is more resolute than ever in her desire to get to Paris, but Dmitry tells her that they don't have enough money to buy the train tickets. Then she gives him her most prized possession, a diamond that was found sewn to her dress when she was discovered years ago ("A Secret She Kept").
At the train station, Count Ipolitov recognizes Anya as Anastasia and kisses her hand. As they board the train to Paris, Count Ipolitov leads everyone in a prayer of farewell to Russia ("Stay, I Pray You"). During the train ride, Anya, Dmitry, and Vlad reflect on what they hope to accomplish in Paris: Anya hoping to discover that she is actually Anastasia, Dmitry's desire for the money, and Vlad hoping to win back Countess Lily Malevsky-Malevitch, the Dowager Empress's lady-in-waiting with whom he had an affair ("We'll Go From There"). Count Ipolitov is fatally shot by the police for illegally boarding the train. The police officers then go after Anya, Dmitry, and Vlad since they are wanted criminals in Russia, but they all jump off the train, narrowly avoiding capture.
As they travel across Russia by foot, Gleb receives orders to follow Anya and kill her if she is the real Anastasia ("Traveling Sequence"). Gleb agrees to the task, but he realizes that he is in love with Anya and questions his heart ("Still"). Anya, Vlad, and Dmitry finally arrive in France, and as they travel to Paris, Anya summons the courage to continue on with the hope that she will finally discover who she is ("Journey to the Past").
ACT II
Anya, Vlad, and Dmitry arrive in Paris and are swept up by the sights and sounds of the city ("Paris Holds the Key (to Your Heart)"). When Vlad and Dmitry go off on their own, Anya visits the Pont Alexandre III bridge, named after Anastasia's grandfather and she feels a strong connection to it ("Crossing a Bridge").
Now a bitter, elderly woman, the Dowager Empress Marie Feodorovna reads the letters of various Anastasia impersonators and, heartbroken, gives up hope of finding Anastasia ("Close the Door"). As Gleb arrives in Paris, Lily parties at the Neva Club, where rich and noble Russians reminisce about the old Russia ("Land of Yesterday"). Lily is reunited with Vlad, with whom she is angry for stealing her jewelry when they were lovers. The two rekindle their scandalous romance and Vlad convinces her to let Anya meet the Dowager Empress at the ballet the next week ("The Countess and the Common Man"). However, Vlad accidentally drops the ballet tickets and Gleb, overhearing their plans, picks up their tickets ("Land of Yesterday" Reprise).
At the hotel, Anya has a nightmare about the execution of the Romanovs ("A Nightmare"). Dmitry comforts her and recounts a story of how he bowed to Anastasia at a parade as a young boy. Anya vividly remembers this, and the two realize that Anya is indeed the Grand Duchess Anastasia ("In a Crowd of Thousands").
At the ballet, Vlad suspects that Anya and Dmitry are falling in love and is heartbroken that the two can never be together ("Meant to Be"). During the performance of "Swan Lake", Anya sees the Dowager Empress and remembers her. The Dowager Empress also sees Anya and recognizes her, but clings to denial. Dmitry and Gleb (who is conflicted about whether or not to shoot Anya) reflect on their romantic feelings ("Quartet at the Ballet").
After the ballet, Lily also recognizes Anya as Anastasia and immediately takes her to the Dowager Empress. Dmitry is anxious about the meeting and realizes that he is in love with Anya, but knows he must let her go to her family ("Everything to Win"). Anya leaves the meeting enraged, having learned from the Dowager Empress that Vlad and Dmitry intended to use her in their scheme for money. As she storms off, Dmitry waits for the Dowager Empress. Marie coldly dismisses him, but Dmitry disrespectfully stops her. He begs her to see Anya, but she refuses again.
Back at their hotel, Anya starts her packing but she is interrupted by the Dowager Empress, who impressed by Dmitry's courage, has come to give her an opportunity. Anya is shocked by the Dowager Empress's cruelty, asserting that she isn't the nana that Anya remembered. The Dowager Empress angrily questions Anya about her past and the Romanov family, but Anya compels her to reflect on the person she has become over last two decades. Anya suddenly remembers the night that the Dowager Empress left her for Paris. When Anya produces the music box and sings the lullaby, the Dowager Empress finally realizes that Anya really is Anastasia and the two embrace, now reunited after twenty years ("Once Upon a December Reprise").
A press conference is held the next morning, where Vlad and Lily try to fend off the hungry reporters ("The Press Conference"). Before appearing in public, The Dowager Empress tells Anya that Dmitry did not take the reward after all and reveals her respect for him. Anya expresses misgivings about her future life as a princess and the Dowager Empress insists that no matter what she chooses, they'll always be together. Anya runs off to think; she realizes that she is in love with Dmitry, and decides that she must go after him ("Everything to Win Reprise"). As she turns to leave, Anya sees that Gleb has slipped in and locked them in the room. She realizes why he is there and Gleb says that he must kill her to complete his father's mission. Anya now clearly remembers the day her family was killed and, without fear, taunts him to kill her so that she can be with her family. Overcome with emotion and not willing to bear the shame of his father, Gleb is unable to kill Anya ("Still/The Neva Flows Reprise"). Anya comforts Gleb and they call a truce.
Vlad, Lily, and the palace staff search for Anya and the Dowager Empress is joyful, knowing that Anya is now where she belongs. She and Gleb announce to their people that the rumors of Anastasia will now cease; the reward for finding her will be donated to charity. Anya discovers Dmitry at Pont Alexandre III, where they embrace. The couple leaves Paris as the spirits of the Romanovs celebrate the life that Anya and Dmitry will have together ("Finale").
None yet.
| | | | |
| --- | --- | --- | --- |
| Poster | DVD | VHS | CD |
| None Yet | None Yet | None Yet | None Yet |