The Tales of Hoffmann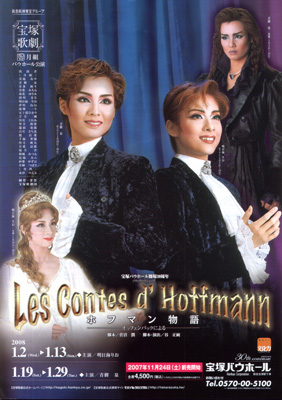 Picture Credit: caithion / promotional flier
English Title:
The Tales of Hoffmann -By Offenbach-
Japanese Title:
『ホフマン物語』 -オッフェンバックによる-
Romanized Title:
Hofuman Monogatari - Offenbakku Niyoru -
Troupe:
Moon
Year:
2008
Performances:
Bow Hall, 1/02 - 1/13; 1/19 - 1/29
Based On:
Les contes d'Hoffmann
Author:
Suganuma Jun
Author/Director:
Tani Masazumi
Music:
Choreography:
Available on DVD:
Yes / No
Others:
Kotone Kazuha
,
Mizuha Kanato
,
Maai Suzuka
,
Houzuki An
,
Sana Yuzuha
,
Hoshiki Tsubasa
WARNING!! MAY CONTAIN SPOILERS!!
The young poet Hoffmann of Nuremberg had fame for his rich immagination, had the love of the songstress Stella, and had tremendous support from the young artists. But Hoffmann is possessed by a demon that smashes his dreams and snatches away his loves. Today, again, as he sits drinking in the Luther (a bar adjoining the opera house that Stella performs in), the demon appears before him in the form of Councilman Lindolf, getting acquainted so that he can plunder the love of Stella.
Hoffmann begins to tell the strange story of the three women that the demon has stolen away from him..... The mechanical doll, Olympia, the dying songstress, Antonia, and the voluptuous harlot, Giulietta.
Takarazuka Precious: Sakakihara Kazuko's Takarazuka First Night & Event Revue article - The Tales of Hoffmann
None yet.
| | | | |
| --- | --- | --- | --- |
| Poster | DVD | VHS | CD |
| None Yet | None Yet | None Yet | None Yet |