Takarazuka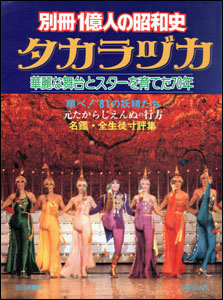 Picture Credit: Caithion
English Title:
Takarazuka: The Gorgeous Stage and Stars Raised in the 70s
Japanese Title:
タカラヅカ 華麗な舞台とスターを育てた70年
Romanized Title:
Takarazuka: Karei na Butai to Staa o Sodateta 70-nen
Author/Editor (if applicable):
Publisher:
Mainichi Shinbunsha
Year Published:
1981
ISBN Number:
n/a (magazine 61643-30)
Price:
1,500 yen
Links to product pages at Hankyu Books, Amazon Japan, etc.
Mainly black and white, but full of large photos of stars of the 70s, as well as many photographs going back to the very beginnings of the revue. It also includes essays, information, and small blurbs from or about many of the older stars of the revue. At the very end is a mini-Otome-like section with photos of all of the current (1981) members of the revue. 256 pgs.
Any other interesting or important stuff.
None yet.