Son of Madame Butterfly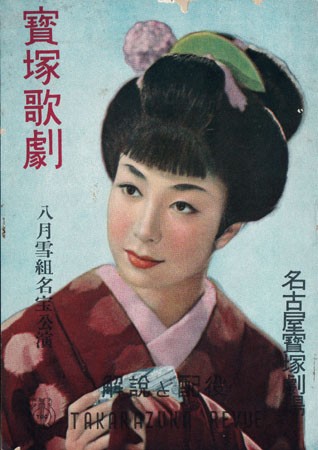 English Title:
Son of Madame Butterfly
Japanese Title:
蝶々さん三代記
Romanized Title:
Chouchou-san Sandaiki
Troupe:
Snow
Year:
1953
Performances:
Imperial Theater (Tokyo), 05/03 - 05/28; Nagoya Takarazuka Theater, 08/05 - 08/11
Shinjin Kouen Performances:
n/a
Based On:
Author/Director:
Takagi Shirou
Composer:
Yamane Hisao
,
Kawamura Tokuji
,
Nakai Mitsuharu
Choreographer:
Zenitani Mitsuzou
,
Tamada Yuuzou
,
Watanabe Takeo
Conductor (Takarazuka):
n/a
Conductor (Tokyo):
n/a
Available on DVD:
No
Available on Blu-Ray:
No
DVD Scene/Music Cuts:
n/a
Other Cast (Tokyo):
Shijou Hideko
(Senka),
Katsuragi Yutaka
,
Miyama Etsuko
,
Saga Miyaji
,
Yamadori Akemi
,
Tachibana Akiyo
,
Asaka Mitsuru
,
Ookura Tamako
,
Wakamiya Tokiko
,
Kagawa Chigusa
,
Shioji Michiru
,
Konohana Sakuya
,
Seto Akemi
,
Yagumo Kotoji
,
Sawa Mitsuru
,
Wakamizu Kumiko
,
Hanazono Kimiko
,
Wakasumi Kaoru
,
Soga Yukari
,
Hatobue Kurumi
,
Mitaki Noboru
,
Harukaze Sumire
,
Yajima Yuuko
,
Suminoe Kayoko
,
Shikibu Midori
,
Misugi Teiko
,
Asanagi Mifune
,
Mizumiya Toyoko
,
Takakura Aoi
,
Ataka Juri
,
Kibune Masaru
Other Cast (Nagoya):
Yamadori Akemi
,
Wakamiya Tokiko
,
Seto Akemi
,
Miyama Etsuko
,
Saga Miyaji
,
Asaka Mitsuru
,
Wakamizu Kumiko
,
Ookura Tamako
,
Katsuragi Yutaka
,
Tachibana Akiyo
,
Hanazono Kimiko
,
Shijou Hideko
(Senka)
WARNING!! MAY CONTAIN SPOILERS!!
After the end of World War II, when peace has returned to Nagasaki, "Madame Butterfly"'s granddaughter Michi visits the place her grandmother had lived in commemoration. The old woman in the house hears a music box that Michi is listening to. It is an old Japanese song that holds a sad memory that the old lady will not forget as long as she lives. The story she recalls is about a woman named Kiyo, who worked as a geisha in Auntie Toyo's tea house.
Kiyo, who had no parents, was beholden to Toyo, and Toyo was always pestering her to become the concubine of the Chinese merchant Li. Pinkerton's son Joey (who was raised in America), is lead by his military porter Masagorou to Kiyo's house. When Joey meets Kiyo at the house his mother lived in, he is reminded of his mother, and gives her a music box which is a keepsake of "Madame Butterfly." In return, Kiyo gives Joey a keepsake of her own mother, and the two swear eternal love.
Shinya, a high school student, really likes Kiyo, but Kiyo's older sister Kayo is in love with Shinya.
One night, Auntie Toyo learns of Joey and Kiyo's relationship and no longer listening to Kiyo, promises her as a concubine to Li. When Shiny learns of this, he is determined to help Kiyo be with Joey for the sake of her happiness. Joey and Kiyo plan to run away to Tokyo together and to meet on the train platform for the Tokyo-bound train. Unfortunately, on his way there Joey runs into old war buddies and is delayed. Masagorou gets him away, but by the time Joey reaches the station, the train with Kiyo aboard is already pulling away....
Time passes, and the Meiji Period turns into the Taisho Period. Joey has returned to America with Masagorou and Masagorou's beloved wife Ume, but he never forgets Kiyo who was left behind in Japan, and he finally returns once more to Yokohama. Waiting for him are Shinya and Kayo, now college students. Joey learns from Shinya that Kiyo's whereabouts are still unknown, but he is determined to search for her.
What could have happened to Kiyo? In a certain park in Tokyo there is a cute little girl holding hands with a young matron. The woman seems to have an affliction of the eye, and while she is visiting the doctor, the little girl waits for her on a bench. However, the other children tease her and call her a "half-breed." Her name is Miyo, and because no one will play with her, she sits and turns the crank on her little music box. Joey comes across her then. The sight of the music box stops him in his tracks, and he realizes she must be his child.
The two meet in a dream-like daze of happiness and trade back their gift once more. But just then an alarm sounds announcing the start of World War I.
When the US enters the war, Joey is sent to Manchuria to fight for his homeland. Kiyo prays to the gods that her husband remains safe. After some time, the war finally ends. Kiyo's earnest prayers must have reached the gods because an injured Joey returns to her.
September 1st, 1923, is the date that Joey and his family plans to leave Japan for the last time and return to America. However, a huge earthquake strikes. As they flee, Kiyo looses Joey and Miyo.
Here the old lady's story ends, and Michi's eyes seem to glow. Miyo had gone to America and married, and Miyo is her daughter. Michi tells the old woman that she has returned to Japan with her grandfather Joey. The old woman is overjoyed and life seems to return to her eyes for the first time in forty years as she and Joey embrace.
The flowers in "Madame Butterfly"'s garden aren't blooming, nor are they falling. They are at their peak.
The original "Madame Butterfly", Joey's mother, committed suicide when she learned that her husband had married an American woman and had come to take away her son.
None yet.
| | | | |
| --- | --- | --- | --- |
| Poster | DVD | VHS | CD |
| | None Yet | None Yet | None Yet |