Wao Youka - So in Love Dinner Show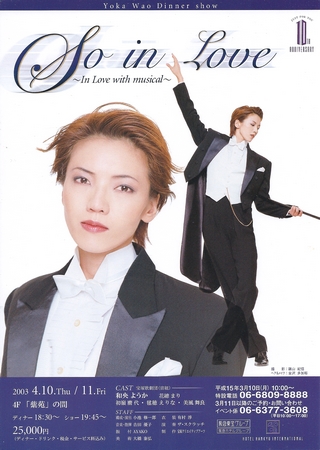 Picture Credit:
Official Chirashi |
carmila
English Title:
So in Love ~In Love with Musical~
Japanese Title:
So in Love ~In Love with Musical~
Year:
2003
Performances:
Hotel Hankyuu International, 4/10 - 4/11; Palace Hotel, 4/13 - 4/14
Director:
Koike Shuuichirou
Music:
Yoshida Yuuko
Choreography:
Available on DVD:
Yes (
release date 3/20/06
)
DVD Scene/Music Cut:
No
Wao Youka
with supporting performers
Hatsune Mayo
Mariho Erina
Mikaze Maira
and special guest
Hanafusa Mari
WARNING!! MAY CONTAIN SPOILERS!!
"Overture~Another Opening"
"So In Love"
"Too Darn Hot"
"Night and Day"
(ABBA MEDLEY)
"Mama Mia"
"Does Your Mother Know"
"S.O.S."
"Thank You for the Music"
"Mama Mia"
(DANCING KING)
"The Hustle"
"Dancing Queen"
"The Winner Takes It All"
"Holding Out for a Hero"
"Boku wa Mama no Kagami Dakara"
"Yoru no Boat"
"Saigo no Dance"
"So In Love"
Maboroshi no Tabiji ~Anastasia o Sagashite~
(Orignal Musical)
"Evergreen"
"I'll Be Seeing You"
Most of the second half of this dinner show is taken up by a 25-minute original musical written by
Koike Shuuichirou
, based on the rumors surrounding Anastasia Romanov. It is entitled
Maboroshi no Tabiji: Anastasia o Sagashite
, which can be translated as "A Dreamlike Journey: Searching for Anastasia". The story follows an English ambassador named Robert Winslet who meets the Princess Anastasia by chance and helps her escape during the revolution. They travel for some time together in various disguises, finally seeking refuge at the English Consul in Bucharest. Unfortunately, the representative at the consulate does not believe Anastasia is alive and rebukes Robert for going off on his own. Robert realizes they must find someone who believes Anastasia's story. Searching for Russian refugees in Berlin, they meet a woman claiming to be a countess. She promises to take care of the princess and leads her away; but she was a fake, and Robert loses sight of Anastasia. Soon afterward hundreds of girls come forward claiming to be the Romanov princess. Robert enlists the aid of his friend Sergei to investigate these claims in search of the real Anastasia. Eventually they meet a Hungarian actress named Marinka who carries something Robert recognizes - a toy nightengale Anastasia had when they first met. He demands to know where Marinka got it, and for a price she tells them it came from a young woman in a hospital who has amnesia. Robert goes to the hospital and there finds Anastasia. He helps her regain her memories with the nightengale. Anastasia fears the world isn't ready for her to re-emerge as the Romanov princess, but Robert tells her she can just be Anastasia Winslet from now on.
None yet.
| | | | |
| --- | --- | --- | --- |
| Poster | DVD | VHS | CD |
| None Yet | | | None Yet |