Senhor Cruzeiro!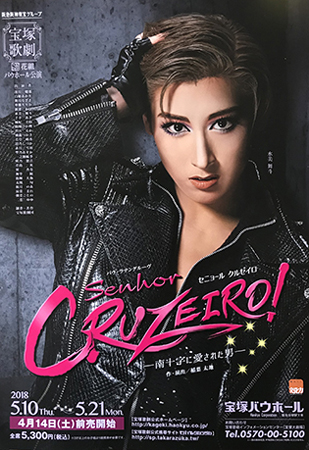 Picture Credit: Gabe
English Title:
Senhor Cruzeiro! –A Man Loved by the Southern Cross–
Japanese Title:
Senhor Cruzeiro!(セニョール クルゼイロ)! —南十字に愛された男—
Romanized Title:
Senhor Cruzeiro! –Minami Juuji ni Aisareta Otoko–
Troupe:
Flower
Year:
2018
Performances:
Bow Hall, 05/10 - 05/21
Author / Director:
Inaba Daichi
Composer:
Takahashi Megumi
,
Oota Takeshi
Choreographer:
Mori Youko
,
Miori Yumino
,
Wakao Risa
,
Hirasawa Satoshi
, Cristian and Nao
Available on Blu-Ray:
Yes (
release date 07/08/22
)
Available on DVD:
No
DVD Scene/Music Cut:
Yes
Other Cast:
Serina Ei
,
Yuki Daiya
,
Taou Shun
,
Ouzuki Noa
,
Ryouha Mare
,
Futaba Yuyu
WARNING!! MAY CONTAIN SPOILERS!!
"Cruzeiro" means the Southern Cross constellation in Portuguese. The first act will be a story dance revue with Cruzeiro as the protagonist. He bears the name of the stars which light the Southern Hemisphere; the tale of the life of an ephemeral man who loved dance and song. The second act has a theme of the sultry nights when the Southern Cross constellation shines, with a passionate Latin groove. Composed with diverse music, please enjoy the world of this fanatical show.
Any other interesting or important stuff.
None yet.
| | | | |
| --- | --- | --- | --- |
| Poster | DVD | VHS | CD |
| None Yet | None Yet | None Yet | None Yet |