The Rose of Versailles: Oscar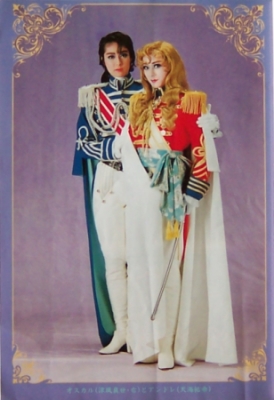 Picture Credit: jenebi, Show Program
English Title:
The Rose of Versailles: Oscar
Japanese Title:
ベルサイユのばら」-オスカル編
Romanized Title:
Berusaiyu no Bara - Osukaru-hen
Troupe:
Moon
Year:
1991
Performances:
Grand Theater, 3/28 - 5/7; Tokyo Theater, 7/2 - 7/31
Based On:
Rose of Versailles
(manga) Ikeda Riyoko
Author/Director:
Ueda Shinji
Composer:
Choreographer:
Kita Hiroshi
Available on DVD:
Yes (
release date 2/10/06
)
DVD Scene/Music Cut:
No
However, this DVD is Amami Yuuki Andre only.
Other Cast:
Natsukawa Yura
,
Akatsuki Nagisa
,
Towa Ayumi
,
Mayama Haru
,
Marina Tomo
,
Koshi Haruki
,
Nakajou Mari
,
Takachiho Mai
,
Ujou Kaoru
,
Taka Yuuki
,
Sono Nanami
,
Kai Chihiro
,
Amaji Yuka
,
Matsunami Mitsuru
,
Minato Kirara
,
Taiga Ren
,
Konami Azusa
,
Hanazono Yukari
,
Satsuki Futaba
,
Kazusa Mahiro
,
Hanaoka Miyuki
,
Akiji Shinobu
,
Misato Maya
,
Nanami Hikaru
,
Matsudaira Rubi
,
Yoshizuki Eri
,
Yamabuki Sayo
,
Natsuno Saki
,
Yuuki Kaoru
,
Minazuki Shizuka
,
Aihara Serika
,
Wakae Yuki
,
Fujishiro Maki
,
Mizuho Tamaki
,
Kusanagi Yuki
,
Juri Sakiho
,
Kazahana Mai
,
Takashou Mizuki
,
Nashiro Aoi
,
Takamure Ayu
,
Hoshino Hitomi
,
Runa Mari
,
Suzuna Mio
,
Ooga Ayumi
,
Ayaki Nao
WARNING!! MAY CONTAIN SPOILERS!!
(Original English summary from the show program)
A Takarazuka Grand Romance
The Rose of Versailles: Oscar
PART I
The story takes place in the last half of the 18th century in France. General Jarget's wife was expecting their sixth child. The General loved his five daughters but was praying with all his heart for a son. When his wife gave birth to another daughter, the General gave her a boy's name, Oscar. He decided to bring her up as a boy.
Oscar grew up strong and brave. She became the commander of Queen Marie-Antoinette's Royal Bodyguard. Oscar cut a gallant figure in the Court and was respected for her superb swordsmanship. The Ladies of the Royal Court idolized Oscar and the Queen herself held her in high esteem.
Oscar's subordinate, Andre was a grandson of Oscar's nurse and was brought up along with Oscar as if they were real brother and sister to each other and became a bosom friend of her. But now he was secretly in love with Oscar as a woman. He knew his love to her was a hopeless love.
The people of France had become disgusted the idle, luxurious lives of the aristocracy. The influence of the Bourbon dynasty was declining at home and abroad. Oscar resigned as Commander of the Royal Bodyguard. She hoped to save her beloved France from the coming upheaval by leading a roaming sentinel guard made up of a group of rough and ready fighters.
The toughest of the gang, Alan de Soison, was a penniless aristocrat. He couldn't accept a woman as leader. Oscar challenged Alan to a duel, defeating him and was accepted by all as the sentinel's leader.
One day Oscar met Alan's charming sister, Diane, who spoke eloquently of the misery of the people of Paris.
Oscar was so moved that she spoke directly to King Louis XVI. The King was enraged by the suggestion that he help the people. The King ordered the National Congress to dissolved. The members refused to obey. Civil riots began to break out one after another throughout the country.
PART II
The situation in Paris became chaotic and control was rapidly slipping out of the government's grasp. General Jarjet now deeply regretted his decision to raise his daughter Oscar as a boy and later to install her as commander of the Royal Bodyguard. He intended to make his daughter happy as a lady by arranging her marriage with major Jerodel.
Andre learned of the marriage plan. He had been secretly in love with Oscar for over ten years. In despair, he decided to put poison into Oscar's wine and then to take his own life as well. But at the last moment he couldn't bear to think of his loved one suffering and he could not go through with it. However, later on the evening before they were due to go into action against the armed rebels, Oscar learned of Andre's love for her and realized that she had found true love.
Beside the river Seine Oscar made every attempt to prevent a violent incident. But the King's troops opened fire on the citizens and started a bloody battle. Oscar, in spite of Jerodel's objections, threw her support to the citizens and fought against the King's soldiers. During the course of a long battle Andre was shot and then Oscar was gravely wounded.
A white flag appeared over the castle wall. With the victorious cheers of her fellow citizens ringing in her ears, Oscar quietly breathed her last.
In the Video, Laserdisc and DVD versions, the role of Andre is played by Amami Yuuki.
Then-Crown Prince of Japan, Naruhito (Emperor as of 2018) attended one of the Tokyo performances as part of a UNICEF Charity Day event.
-
Hatsubutai
of the
77th class
The Rose of Versailles (Moon 1991) - Review by Ekusudei
| | | | |
| --- | --- | --- | --- |
| Poster | DVD | VHS | CD |
| None Yet | | None Yet | None Yet |