Romeo & Juliette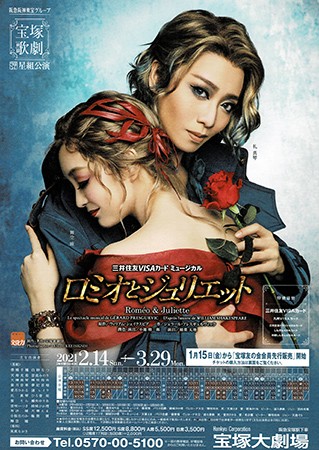 Scan from personal collection | Official chirashi
English Title:
Romeo & Juliette
Japanese Title:
ロミオとジュリエット
Romanized Title:
Romio to Jurietto
Troupe:
Star
Year:
2021
Performances:
Takarazuka Grand Theater, 02/14 - 03/29; Tokyo Takarazuka Theater, 04/16 - 05/23
[1]
[2]
Shinjin Kouen Performances:
n/a
Based On:
Gérard Presgurvic's "Romeo & Juliette"
Adaption/Direction:
Koike Shuuichirou
Direction:
Inaba Daichi
Composer:
Gérard Presgurvic
Musical Direction/Arrangement:
Oota Takeshi
Arrangement:
Aoki Tomoko
Choreographer:
Miori Yumino
,
KAZUMI-BOY
,
Sakuragi Ryousuke
,
KAORIalive
,
Suzukake Miyuki
Conductor (orchestra recording):
Hashimoto Kazunori
Vocal Conductor:
Chiaki Shin
, KIKO
Shinjin Kouen Director:
n/a
Available on Blu-Ray:
Yes (
A Cast - release date 05/13/21
,
B Cast - release date 06/20/21
)
Available on DVD:
Yes (
A Cast only - release date 05/13/21
)
DVD Scene/Music Cuts:
No
Other Cast:
Otoha Minori
,
Ooki Makoto
,
Shizuki Otone
,
Sazanami Reira
,
Hiroka Yuu
,
Murasaki Rira
,
Otosaki Itsuki
,
Takuto Rei
,
Asamizu Ryou
,
Toudou Jun
,
Iroha Reo
,
Miono Saki
,
Yuunagi Ryou
,
Amaki Homare
,
Minato Rihi
,
Hanayuki Rira
,
Kozakura Honoka
,
Soubu Sakiho
,
Nanase Miki
,
Ouri Mao
,
Hayato Reo
,
Akashi Reima
,
Sakuraba Mai
,
Nijou Hana
,
Kirari An
,
Kou Erise
,
Sayaka Rin
,
Yuuhi Maki
,
Ayazono Hina
,
Kusanagi Kizuki
,
Asakura Shizuku
,
Amato Kanon
,
Kuresaki Rino
,
Miyako Yuuna
,
Soua Takeru
,
Mizuno Yuri
,
Houma Toa
,
Sumika Amane
,
Ruri Hanaka
,
Yuran Sui
,
Hiroki Yuzuha
,
Hoshisaki Nozomi
,
Emika Rena
,
Ayane Miran
,
Aone Towa
,
Maoka Noa
,
Mitsurugi Kai
,
Seharu Asa
,
Riona Haru
,
Hikari An
,
Touki Raia
,
Kishou Kazuto
,
Ouka Rurina
,
Taiki Hayate
,
Hoshikage Nana
,
Ayaka Koiki
,
Hitomi Kirari
,
Saimon Neo
,
Aokaze Kio
,
Otoka Nano
,
Aika Ito
,
Ouhi Sayaka
,
Hisui Marin
,
Sakizono Risa
,
Kisumi Seiya
,
Asaki Saira
WARNING!! MAY CONTAIN SPOILERS!!
(From the Takarazuka Revue home page for the 2013 version.)
In the Italian city of Verona, the two distinguished families of the Montagues and the Capulets have since olden times been engaged in a feud that has been repeated throughout the generations. The current lords of Montague and Capulet maintain their hostilities toward each other, ignoring the remonstrations of their wives and the Prince of Verona. Their continued feud has embroiled even the young generation.
Within the Capulet family, a proposal has been made for the marriage of a daughter, Juliet, with Count Paris, Verona's wealthiest citizen. The Count has offered to take care of the debts the Capulet family has been running up. Tybalt, a nephew of Lord Capulet, has loved Juliet since childhood, and he is opposed to the proposal. However, Lord Capulet rebuffs his nephew, and he schemes to bring the pair together at a masquerade.
Benvolio and Mercutio, who are friends of Lord Montague's son Romeo, goad him to sneak into the ball. Once inside, Romeo encounters the girl of his destiny, with whom he is bound by an invisible thread. The girl is Juliet, who now is trying to evade the man her parents have chosen for her. These two anxious lovers are convinced in an instant by what has appeared right in front of their own eyes. However, Tybalt makes a commotion, saying that a member of the Montagues has sneaked into the ball, and Romeo makes a quick exit. Although Juliet is aware that the person she has fallen in love with is a Montague, she cannot suppress her thoughts about him. In the meantime, Romeo, filled with thoughts of Juliet, finds himself unable to leave the Capulet residence. The couple is reunited while Juliet is on her balcony, as she thinks wistfully of the lover whom God has delivered to her. The couple makes an oath of love that transcends their family background, and they vow to marry before the engagement between Juliet and Count Paris can be made formally.
Romeo visits Father Laurence the following morning to ask him to conduct the wedding ceremony between him and Juliet. The priest is surprised by the news of a Montague marrying a Capulet. Even so, he appreciates Romeo's firm determination and also that the marriage could well help resolve the hostilities between the two families. Father Laurence instructs Romeo to come to the chapel that afternoon with Juliet during confession hour.
Helping out is Juliet's nanny, who is moved by the depth of love the couple has for each other. That afternoon, Romeo and Juliet exchange vows of eternal love in the presence of Father Laurence. The couple may be infinitely happy now, but little do they know of the tragedy that will soon come their way.
Switch-Cast Schedule

A Cast Days
B Cast Days

Grand Theater

2/14 - 2/23
2/25 - 3/07
3/08 - 3/15
3/16 - 3/25
3/26 - 3/29

Tokyo Theater

5/07 - 5/23
4/16 - 5/03
None yet.
| | | | |
| --- | --- | --- | --- |
| Poster | DVD | VHS | CD |
| None Yet | None Yet | None Yet | None Yet |
Footnotes:
Originally scheduled to run 08/21/20 - 09/28/20 at the Grand Theater and 10/16/20 - 11/22/20 at the Tokyo Theater, the performances were canceled and later rescheduled in 2021 due to COVID-19.