Resurrection / Canon ~Our Melody~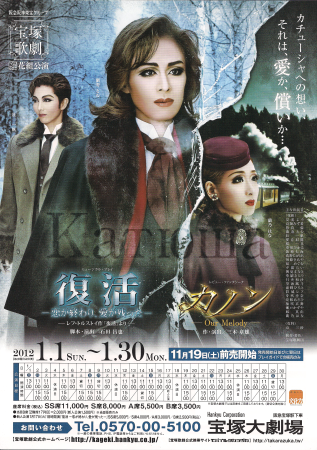 Picture Credit: Zaraphena
English Title:
Resurrection ~Infatuation Is Over, Love Remains~ / Canon ~Our Melody~
Japanese Title:
復活〜恋が終わり、愛が残った〜 / カノン〜Our Melody〜
Romanized Title:
Fukkatsu -Koi ga Owari, Ai ga Nokotta- / Kanon -Our Melody-
Troupe:
Flower
Year:
2012
Performances:
Takarazuka Grand Theater, 01/01 - 01/30; Tokyo Takarazuka Theater, 02/10 - 03/18
Shinjin Kouen Performances:
Takarazuka Grand Theater, 01/17; Tokyo Takarazuka Theater, 02/23
Resurrection:
Based On:
The novel by Leo Tolstoy
Author / Director:
Ishida Masaya
Composer:
Teshima Kyouko
,
Nakao Tarou
Choreographer:
Iga Yuuko
Conductor (Takarazuka):
Okada Yoshiki
Conductor (Tokyo):
Izawa Ichirou
Shinjin Kouen Director:
Kodama Akiko
Canon:
Author / Director:
Miki Akio
Composer:
Takahashi Kuni
,
Yoshida Yuuko
,
Oota Takeshi
,
Takahashi Megumi
Choreographer:
Hayama Kiyomi
,
Miori Yumino
,
Wakao Risa
,
Nakura Kayoko
,
KAZUMI-BOY
Conductor (Takarazuka):
Sasada Aiichirou
Conductor (Tokyo):
Kiyokawa Tomomi
Available on DVD:
Yes (
release date 03/16/12
)
DVD Scene/Music Cuts:
Yes
The following music or vocal cuts were made to Canon:
Scene 11C "Al Di La" (Aine) - vocals cut
Scene 12B,C "Fuego Cubano" - music substituted
Scene 13 "Da Troppo Tempo" (Sou) - vocals cut
Scene 14 "Quando Quando Quando" (Ranju, etc.) - vocals cut
Scene 18 "The Prayer" (Ranno, Sou) - music substituted
Other Cast:
Hitomi Yuyu
,
Saho Yukari
,
Mihana Rino
,
Maizuki Nagisa
,
Niina Kaho
,
Yumehana Ran
,
Sachika Seira
,
Saebana Riona
,
Mahou Tsugumi
,
Miran Renna
,
Kotoka Chino
,
Yukihana Sakura
,
Otohane Emi
,
Asazuki Kiwa
,
Sarasa Nachi
WARNING!! MAY CONTAIN SPOILERS!!
Musical Play
Resurrection
Based on the novel by Leo Tolstoy
The musical version of one of the best works of Russian literary master Leo Tolstoy, who also wrote
War and Peace
and
Anna Karenina
. Previously staged in 1962 as "The Story of Katyusha" starring
Kasugano Yachiyo
and
Nachi Wataru
.
The setting is Russia, late in the 19th century. An engagement party is being held for Mitzy, the daughter of a duke, and the young nobleman Dmitri Ivanovich Nekhlyudov, at the estate of Duke Korchagin on the outskirts of Moscow. A large crowd of people, including Nekhlyudov's aunt Ivanovna and his friend Schonbock, have come out to bless the young couple. But news arrives at the party informing Nekhlyudov that the start of a trial in which he has been enlisted to serve as a juror has been moved forward. He leaves Korchagin's residence to fulfill his duty.
The trial begins as soon as Nekhlyudov arrives. But he cannot believe his eyes the moment the three defendants are led into court. They are accused of killing a merchant by poison and then stealing his money, and the perpetrator is Ekaterina Maslova (Katyusha) - a woman Nekhlyudov once loved. What had taken place in period when they were not together? Nekhlyudov's own memory of events is filled out by a statement by Fanarin, the defense lawyer, explaining the course of events leading up to Katyusha's criminal act.
It is spring eight years earlier, while Nekhlyudov is still a cadet at a military academy. He uses his leave to visit the residence of his uncle Kolosov, where he is reunited with the maid Katyusha. He is captivated by Katyusha, who becomes so beautiful that he hardly recognizes her. He whispers words of love to her, when the revolutionary Vladimir Simonson bursts on the scene, pursued by a soldier. Nekhlyudov, a friend, uses his tact to defuse the situation, and then he introduces Simonson to Katyusha. She is worried about Nekhlyudov's connection with the revolutionary but soon calms down after getting first-hand knowledge of their way of thinking. Furthermore, the mutual feelings between Nekhlyudov and Katyusha are heightened, as they become bound together by a love that transcends the difference in social status betweenthem.
Nekhlyudov's leave is up. On the morning of his departure, he gives Katyusha 100 rubles, which he hopes will be useful to her in some way, while she hates the thought of leaving him. And this is where it all begins. The 100 rubles that Nekhlyudov handed over so casually deeply wounds Katyusha, who believed their love was real. As she stares at Nekhlyudov's back while he walks away, Katyusha calls out in tears. "I am not a prostitute."
After Nekhlyudov's departure, Katyusha realizes she is carrying his child. However, the child is stillborn. Having lost a place to stay, she is reduced to working as a hotel prostitute, selling herself to men. One day, a hotel worker talks her into slipping a sleeping drug to an unwary guest. But she is handed not the drug, but arsenic mixed with vodka. Unaware of this, Katyusha heads to the guest's room, vodka in hand.
At the trial, Katyusha's punishment is announced after all the statements have been made: Her civil rights are forfeited, and she is sentenced to serve 10 years in exile in Siberia. Nekhlyudov knows that his careless behavior eight years ago triggered Katyusha's fall, and he is tormented by his sense of wrongdoing. Even so, his feelings soon turn to thoughts of trying to rescue her from her current situation. After enlisting the cooperation of Schonbock, Nekhlyudov starts to focus his efforts on Katyusha, who claims innocence.
-----
Fantastic Show
Canon ~Our Melody~
The show creates a grand musical poem in which thoughts of sadness and hope concerning famous songs throughout the world and are turned into themes in each of the scenes. Like a "canon" of musical technique where the melodies compete and climax, this is an original show that connects through scenes and music that are rich in color. The brilliant energy of the Flower Troupe is brought to the stage, centering on the powerful dancing of the charming Tomu Ranju.
None yet.
| | | | |
| --- | --- | --- | --- |
| Poster | DVD | VHS | CD |
| None Yet | None Yet | None Yet | None Yet |