Random Harvest / Fancy Touch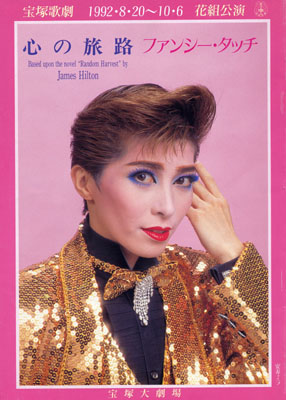 English Title
: Random Harvest / Fancy Touch
Japanese Title
: 心の旅路 / ファンシ・タッチ
Romanized Title
: Kokoro no Tabiji / Fanshi Tacchi
Troupe
: Hanagumi
Year
: 1992
Performances
: Takarazuka Grand Theater, 08/20 - 10/06; Tokyo Theater, 12/01 - 12/25
Shinjin Kouen Performances
: Takarazuka Grand Theater, 09/08; Tokyo Theater, 12/15
Random Harvest
:
Based On
: The novel "Random Harvest" by James Hilton.
Composed and Directed By
:
Nakamura Satoru
Music By
:
Yoshida Yuuko
,
Nishimura Kouji
,
Yoshino Yuuji
Conductor
:
Izawa Ichirou
Choreographer
:
Hayama Kiyomi
,
Shou Sumire
Stage Setting
: Ohashi Yasuhiro
Costumes
: Toda Ikuei
Lighting
: Imai Naoji
Props
: Ijuin Tetsuya
Produced By
: Ichihashi Nobuo
Fancy Touch
:
Written and Directed by
:
Miki Akio
Music By
:
Terada Takio
,
Yoshida Yuuko
,
Takahashi Kuni
,
Nishimura Kouji
Conductor
:
Kiyokawa Tomomi
Choreographer
:
Hayama Kiyomi
,
Shuri Misao
,
Nakura Kayoko
,
Suyama Kuniaki
Stage Setting
: Ohashi Yasuhiro
Costumes
: Toda Ikuei
Lighting
: Imai Naoji
Props
: Mannami Kazue
Produced by
: Ichihashi Nobuo
Others
:
Amachi Hikari
,
Kokonoe Haruka
,
Natsume Kana
,
Yumeno Chikoto
,
Oogi Chihiro
,
Shou Tsukasa
,
Hama Shioka
,
Shiraho Mari
,
Futaba Karen
,
Shihou Akeno
,
Shiki Kaoru
,
Akiyoshi Akane
,
Masono Arisu
,
Ibuki Kazu
,
Chinami Yuu
,
Kazato Yuma
,
Kochou Asuka
,
Sagami Rei
,
Ai Miyabi
,
Haruno Sumire
,
Mariai Hitomi
,
Masaoka Nao
,
Sakuragi Emi
,
Asami Hikaru
,
Minami Shizuka
,
Nanase Kai
,
Yuuka Eri
,
Asazono Miki
,
Futaba Miki
78th Class (Tokyo):
Mayuzuki Kou
,
Hanazuki Aya
,
Ayazono Yuki
,
Otowa Ryou
,
Yumeki Noa
,
Sena Jun
,
Mao Natsuki
,
Tsukasa Yuuki
,
Yuuna Aki
,
Anno Ryou
,
Utahana Yumi
,
Haruna Rio
,
Amano Yuka
,
Dan Rei
WARNING!! MAY CONTAIN SPOILERS!!
Random Harvest
In the Autumn of 1918 the First World War ended. The people of Melbridge, a town in England, were happy to hear the news of the long war's end. Among the happy throng in the town square one man known as Mr. Smith walked unsteadily. His name had been given him by someone at the hospital on the hill just outside of town where he had been sent, wounded and suffering from amnesia, after serving his country on the battlefields of France. During the town's celebrations he had slipped out of the hospital. A dancer at the local theater, Paula, realized he was ill. She went to his aid and took him back to her theater.
Mr. Smith can't remember anything about himself, not even his name, and he has trouble speaking. Intuitively Paula feels Mr. Smith is a good person and as she talks to him her heart goes out to him. Paula thinks it would be good for him to travel with her troupe when they go on the road. Mr. Smith feels completely at ease with Paula. The hospital is searching for him and Paula realizes hiding Mr. Smith at the theater would get her friends in trouble with the authorities so she decides to run away with her new friend.
Mr. Smith and Paula find a home in a small rural village. The peaceful life brings Mr. Smith good health and peace of mind. They marry and are blessed with a baby boy.
One day Mr. Smith receives a telegram from a Liverpool newspaper company stating that they are eager to publish the novel he submitted. He has to go to Liverpool to sign the contract. Mr. Smith is thrilled, but without being able to explain why, Paula is very nervous about this new development.
Soon after Mr. Smith arrives in Liverpool he is knocked down by a car on a rain-slicked street. When he wakes up a policeman is present to question him. He says he is General Charles Rainier of Random Hall in Northland. He has no idea why he is in Liverpool and he is shocked that he is not in uniform. A newspaper makes it clear that somehow he has lost three years of his life. He now remembers everything up to the time he was injured. He has no memory of Paula and the key to their village house which is in his pocket cannot be explained.
The day Charles arrives home in Random Hall the whole family has gathered for the General's father's funeral. Everyone had believed Charles was dead. Thoughts of their father's will cool the welcome Charles receives especially from his brothers and sisters. One of Charles's relatives, the beautiful Kitty, welcomes him home sincerely and warm-heartedly.
However, the company is on the verge of bankruptcy. Charles has no choice but to step in as president. He not only saves the company but makes it bigger and more profitable than it had ever been.
Paula has suffered. Her son died. She has been searching for her missing husband with Harrison's support. One day she is startled to see her husband's photo in the newspaper. He is not plain Mr. Smith who was so happy with simple village life as she knew and loved but Charles Rainier, the president of a well-known firm, the head of the prominent family and a member of social class very different from hers.
Paula gets a position as Charles' secretary. She calls herself Margaret. She soon discovers what has happened to his memory. Charles is now engaged to Kitty. Paula is heartbroken.
Charles is still struggling to remember the missing three years but he cannot. They key he found in his pocket when he woke up in Liverpool must be the key to a life with people he loved. Kitty knows something that Charles cannot admit to himself. Kitty leaves Charles just before the wedding. Confused and distraught Charles goes to Liverpool without telling anyone.
Paula finds Charles in Liverpool. She takes him to the hotel he checked into before the accident five years ago. The hotel still has his belongings but Charles cannot recall those blank three years.
Charles accepts the advice of friends and decides to run for a seat in parliament. Margaret would be the perfect wife for a politician and Charles proposes to her. Charles wants her for practical reasons as Margaret, not his lover, Paula. This fact forces Paula to leave Charles.
One day, Charles has to go to Melbridge to settle a strike at one of his factories. The town seems oddly familiar to him. He goes to a small village and stops at one of the local homes without knowing why. He takes the key from his pocket. The lock turns and the door opens. A voice calls out. He turns to see Paula's smile.
---
Fancy Touch
In a world of darkness a pyramid of flames shines and new life is born out of the new light. The new life creates a rhythm that expresses the wild and the free. The people of the dark world are filled with a new feeling — the joy of living.
S-Wild ~
Anju Mira
Wild Star (man) ~
Maya Miki
Wild Star (woman) ~
Morina Miharu
A young fellow who has just stolen a radio cassette deck runs into an old theater. He is astonished to finds that the 1950s world of rock and roll is thriving in the theater.
Jack ~
Maya Miki
Betty ~
Hana Youko
A slick dandy walks with a light step to a jazz beat up to girls he wins with seductive caresses only to soon abandon them.
Tropical Dandy ~
Anju Mira
Tropical Girl ~
Morina Miharu
Tropical Lady ~
Hana Youko
Scenes 10-13 A Fancy Ball
A love song contest is held to celebrate life in the country of love. A fancy dress masquerade enlivened by Italian Ballads is held.
Anjulique ~
Anju Mira
Mayacello ~
Maya Miki
In the lobby of an Opera House one love comes to an end in a beautiful aria. The grand rhythms of Bolero emphasize a man's sorrow. In a town caught up in the excitement of a carnival, disaster strikes in the form of a fire bomb.
Singers ~
Anju Mira
,
Morina Miharu
A thrilling kickline and a glamorous promenade is the way the stars of the Revue say thank you to their fans. With a very special last touch it's time to say god bless and goodbye.
Etoile ~
Mineoka Nachi
None yet.
| | | | |
| --- | --- | --- | --- |
| Poster | DVD | VHS | CD |
| None Yet | None Yet | None Yet | |