Puppet Ship / The Tale of Ali Baba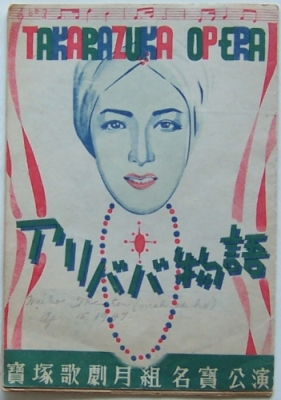 Picture Credit: jenebi, Original Program
English Title:
Puppet Ship / The Tale of Ali Baba
Japanese Title:
傀儡船 / アリババ物語
Romanized Title:
Kugutsubune / Aribaba Monogatari
Troupe:
Moon
Year:
1947
Performances:
Meiko Theater, 04/10 - 04/16
Puppet Ship:
Based On:
Author/Director/Choreographer:
Ono Harumichi
Composer:
Takagi Kazuo
Choreographer:
Tamada Yuuzou
The Tale of Ali Baba:
Based On:
Story from "The Arabian Nights"
Author/Director:
Uchimura Rokuya
Composer:
Oda Hajime
,
Yamane Hisao
,
Tsutsumi Gorou
Choreographer:
Yoshitomi Ichirou
,
Tamada Yuuzou
Other Cast:
Miho Matsuko
,
Asabuki Reiko
,
Wakazakura Kaoru
,
Kumoji Tazunu
,
Katsuragi Yutaka
,
Urayasu Nobuko
,
Miyama Hanako
,
Sakuraoka Yoshiko
,
Kosuzu Taeko
,
Oomi Chiyo
,
Seto Akemi
,
Yamaji Sayuri
,
Yoshino Masako
,
Megumi Yutaka
,
Miyama Shinobu
WARNING!! MAY CONTAIN SPOILERS!!
(This is the original summary from the Program)
Grand Revue: The Tale of Ali Baba
This is the tale in old Arabia. Once upon a time, there was a poor man, called Ali Baba. His brother, Casim was a miser, and employed him with his son, Nuraldin. One day, he went to the wood of darkness to make wood fuels for Casim's banquet, held for Chu-Chin-Chow, a Chinese merchant. In the woods of darkness Ali found a cave in which many robbers lived.
Hiding himself in the foliage of a tall tree, he learns a queer incantation to open and close the secret door of the cave. After the robbers went off to attack Chu-Chin-Chow's party at the oasis of seven palms, Ali enters the cave and stole many treasures. All at once, he became a millionaire.
Abu Hassan, the robber's boss attended at Casim's banquet disguising himself as Chu-Chin-Chow. Ali went to his brother's mansion, with his wife and son. Casim wondered at their beautiful garments and demanded to tell the truth.
Casim heard the truth and he himself went to the robber's cave.
He stole numerous jewels and treasures but unfortunately he was found by the robbers and was killed at last. Ali went again to the cave to rescue Casim and brought back his corpse. Hassan disguised himself as a merchant this time, attended Ali's banquet for Caliph. A slave girl, Mariana, saw through the true character of Hassan. She killed him, dancing the sword dance with her lover, Nuraldin. The Caliph permitted their marriage.
Any other interesting or important stuff.
None yet.
| | | | |
| --- | --- | --- | --- |
| Poster | DVD | VHS | CD |
| None Yet | None Yet | None Yet | None Yet |