Papa I Love You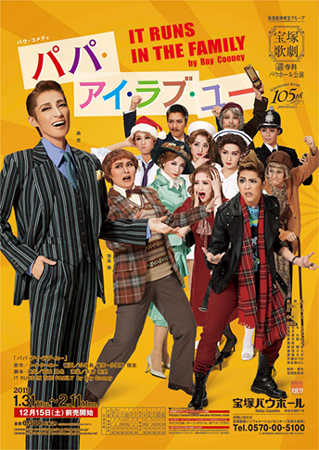 Picture Credit: coeuraubonheur | Official Chirashi
English Title:
Papa I Love You
Japanese Title:
パパ・アイ・ラブ・ユー
Troupe:
Senka / Cosmos
Year:
2019
Performances:
Bow Hall, 01/31 - 02/11
Based On:
the play
It Runs in the Family
by Ray Cooney
Translation:
Odashima Yuushi & Odashima Koushi
Author / Director:
Ishida Masaya
Director:
Oono Takuji
Composer:
Choreographer:
Available on DVD:
No
Available on Blu-Ray:
No
DVD Scene/Music Cuts:
n/a
WARNING!! MAY CONTAIN SPOILERS!!
Summary of the play from SamuelFrench.com.
Set in a hospital, "It Runs in the Family" contains the usual assortment of farcical nuts running in and out of doors mistaking everybody for someone else, as Dr. Mortimore tries to fend off a paternity suit, an ex wife, a punkish son and various other lunatics so that he may, at last, deliver the Ponsonby Lecture in an international conference.
Any other interesting or important stuff.
None yet.
| | | | |
| --- | --- | --- | --- |
| Poster | DVD | VHS | CD |
| None Yet | None Yet | None Yet | None Yet |