Oklahoma!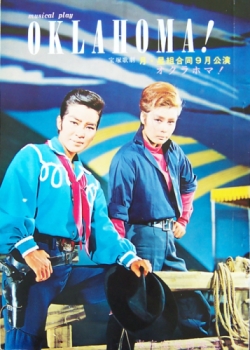 Picture Credit: jenebi, Original Show Program
English Title:
Oklahoma!
Japanese Title:
オクラホマ!
Romanized Title:
Okurahoma!
Troupe:
Moon & Star
Year:
1967
Performances:
Takarazuka Grand Theater, 7/1 - 7/30; Tokyo Takarazuka Theater, 9/2 - 9/26
Based On:
The play "Green Grow the Lilacs" by Lynn Riggs
Author:
Oscar Hammerstein II
Director:
Gemze de Lappe
Composer:
Richard Rogers
Choreographer:
Agnes de Mille, Gemze de Lappe
Conductor (Takarazuka):
Conductor (Tokyo):
Mizoguchi Takashi
Shinjin Kouen Director:
Available on DVD:
No
Other Cast:
Arisato Kaoru
,
Amachi Megumi
, etc.
WARNING!! MAY CONTAIN SPOILERS!!
(Original summary from show program)
S T O R Y
With its scene laid in Indian territory (now the state of Oklahoma) at the turn of the century, the story of the musical "Oklahoma!" made from Lynn Riggs' play "Green Grow the Lilacs", concerns the rivalry of a handsome cowboy and a sullen, hard-bitten farmhand for the love of pretty young Laurey Williams, niece of a buxom, elderly woman known to the whole country-side as "Aunt Eller".
Laurey is a bit of a tease and enjoys playing the two men each against the other, though in reality she is rather afraid of the farmhand, Jud, because of his morose, vindictive temperament. When she agrees to drive with Jud to the "box social" and Curly, the cowboy, is determined she shall go with him, the fight is on in earnest.
Laurey's friend, Ado Annie, who can fall in love with half a dozen man at one time, is having an even more difficult time trying to decide whether to marry the cowboy, Will Parker, who considers himself engaged to her, or to transfer her favors to an itinerant peddler, Ali Hakim, who claims to be "Persian". Ali is much taken with Annie but has no intention of marrying anyone. Annie's father, Andrew Carnes, has said Will can have his daughter anytime be can amass the total of fifty dollars in cash; however, when he finds the/peddler has been "practically proposing" to Annie, Mr. Carnes is all for enforcing a marriage with Ali by way of a shot-gun.
Jud devises a scheme to get rid of Curly for good – nothing less than a seemingly accidental stabbing in the chest – but the peddler has sensed what is afoot and manages to prevent it by a hair's breadth. Meanwhile, Curly has sold his saddle, gun and horse for money to bid highest at an auction for the food-hamper Laurey packed for the "social" which gives him the right to be her escort. During the festivities Laurey finally confesses her love for Curly and agrees to marry him, and Annie decides in favor of Will.
In the final scene, on a late afternoon after the wedding of Curly and Laurey, the whole Countryside has gathered to tease the bride and groom in western "shivaree" fashion and to wish them well on their honeymoon trip. Jud suddenly arrives, full of anger and hatred, demanding to be allowed to kiss the bride. A fight ensues between him and Curly, whereupon Jud draws a knife. When Curly throws him, Jud falls on his own knife and is killed. This of course disrupts the happy wedding party, and the sheriff demands an immediate "Court trial". The crowd persuades him to omit the "Court" and hold the trial right then and there, so the honeymoon can proceed. This is done, the verdict is "not guilty", and Curley drives off with Laurey in the surrey "with the fringe on the top".
GEMZE de LAPPE
(Director and Choreographer)
The choreographic contribution of Agnes de Mille to "Oklahoma!" remains unmatched in the annals of theatrical history in Japan. It is only natural, therefore that the president of the Hankyu Railway Co., Mr. Kobayashi has chosen the unique Gemze de Lappe to direct "Oklahoma!" and to reproduce Miss de Mille's exciting ballet patterns, Miss de Lappe practically teethed on dance slippers and even before she learned the alphabet, studied dancing at the Peabody Conservatory. She has worked with Fokine, starred in Miss De 'Milles Dance Theatre Company, was top soloist for the American Ballet Theatre Company in New York as well as on its tour of the United States and Europe. She has appeared in many Broadway musicals (she received the Donaldson Award for best dancer for her role in "Paint Your Wagon") and was also in the movie "The King and I" with Yul Brynner.
None yet.
| | | | |
| --- | --- | --- | --- |
| Poster | DVD | VHS | CD |
| None Yet | None Yet | None Yet | None Yet |