Lupin III / Fancy Guy!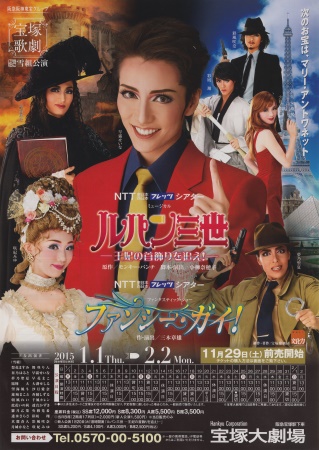 Picture Credit: Zaraphena // Official Chirashi
English Title:
Lupin III ―In Search of the Queen's Necklace― / Fancy Guy!
Japanese Title:
ルパン三世 ―王妃の首飾りを追え!― / ファンシー・ガイ!
Romanized Title:
Rupan Sansei ―Ouhi no Kubikazari o Oe!― / Fanshii Gai!
Troupe:
Snow
Year:
2015
Performances:
Takarazuka Grand Theater, 01/01 - 02/02; Tokyo Takarazuka Theater, 02/20 - 03/22
Shinjin Kouen Performances:
Takarazuka Grand Theater, 01/20; Tokyo Takarazuka Theater, 03/05
Lupin III:
Based On:
Monkey Punch's
Lupin III
comic and animated series.
Author/Director:
Koyanagi Naoko
Original Compositions:
Oono Yuuji
Composer:
Aoki Tomoko
Choreographer:
AYAKO
,
KAZUMI-BOY
Conductor (Takarazuka):
Sasada Aiichirou
Conductor (Tokyo):
Misaki Megumi
Shinjin Kouen Director:
Kashihata Aiko
Fancy Guy!:
Author/Director:
Miki Akio
Composer:
Takahashi Kuni
,
Yoshida Yuuko
,
Kuratomi Shinichi
,
Takahashi Megumi
Choreographer:
Hayama Kiyomi
,
Miori Yumino
,
Wakao Risa
,
Ai Erina
,
ANJU
Conductor (Takarazuka):
Ooyagi Yasushi
Conductor (Tokyo):
Kiyokawa Tomomi
Available on DVD:
Yes (
release date 04/28/15
)
Available on Blu-Ray:
Yes (
release date 04/28/15
)
DVD Scene/Music Cuts:
Yes
"Rose Paris" and "Parisette" from Fancy Guy! are missing vocals.
Other Cast:
Anno Konomi
,
Ai Sumire
,
Amatsuki Tsubasa
,
Kazushiro Runa
,
Hizakura Honori
,
Tachibana Kou
,
Karen Emiri
,
Saizuki Tsukushi
,
Sara Anna
,
Kanou Yuuri
,
Minazuki Maki
,
Mizusa Ruru
††,
Shinjou Makara
,
Houka Haruna
,
Yumenoka Mai
,
Ayanami Keito
,
Kanami Sena
,
Senami Haya
,
Suwa Saki
,
Tsukihana Yukino
,
Irodori Michiru
,
Nonoka Himari
,
Manazuki Kou
†,
Sakurara Karan
,
Riou Jun
† Announced 10/27/14 - due to injury,
Manazuki Kou
was absent from all Takarazuka and Tokyo performances.
†† Announced 1/8/15 - Due to poor health
Mizusa Ruru
was absent from the show beginning January 8th.
WARNING!! MAY CONTAIN SPOILERS!!
Lupin III
In modern day France, an exhibition is being held at the Palace of Versailles of the "Necklace of Marie Antoinette". The necklace had been used in a fraud case that marked a chapter in French history and later went missing. It has been reproduced using real diamonds.
Fujiko has sneaked into Versailles, as has the gang of Lupin, Goemon, and Jigen - all with the intention of getting their hands on the necklace, which is valued at over 3 billion yen in today's money. But they bump into Inspector Zenigata. Lupin is the one who manages to foil Zenigata and grab the necklace.
Yet the instant he lays hands on it, everyone is enveloped in a mysterious light.
When they regain consciousness, they notice they have gone through a time slip to 1785, before the French Revolution when Louis XVI and Marie Antoinette were around.
Lupin is aware that the alchemist, Count Cagliostro - who is known for appearing in unexpected places at unexpected times - is also present. Lupin approaches him for any clues on how he can return to the modern day.
He eventually finds out that the "Tear of Mary", a secret Hapsburg treasure owned by the Queen, is the key for getting back home.
Lupin coerces Jeanne and her lover Retaux, who hold a grudge against Count Cagliostro and Antoinette, into cooperating with him, in exchange for delivering them the Queen's necklace. He also approaches Antoinette in order to obtain the "Tear of Mary" for himself. But as the two spend time together, he falls for this free-spirited woman who is filled with curiosity. Antoinette in turn is fascinated by Lupin, who lives a free unfettered life, unlike her own.
But will Lupin and his gang ever be able to return to the modern world?
And will Lupin be able to save the life of the Queen amid the chaos of the French Revolution unleashed by Robespierre and his cohorts?
Fancy Guy!
A revue by good-looking guys, which takes on the challenge of a newly formed Snow Troupe, led by Seina Sagiri.
Berlin in the 1930s - evenings of decadence with military officers.
Madrid - a phantom seen by a man inside a Mosquita, an Arabic church.
Vienna - love erupts during the intermission of a dazzling opera.
Paris - the finale comes amid a glittering revue
The height of dandiness featuring "the guy", a display of the enchantment of adult sexiness.
Dance scenes unfolding, at times sweet, at times heartrending and at times exciting.
None yet.
| | | | |
| --- | --- | --- | --- |
| Poster | DVD | VHS | CD |
| None Yet | None Yet | None Yet | None Yet |