Ludwig II / Asian Sunrise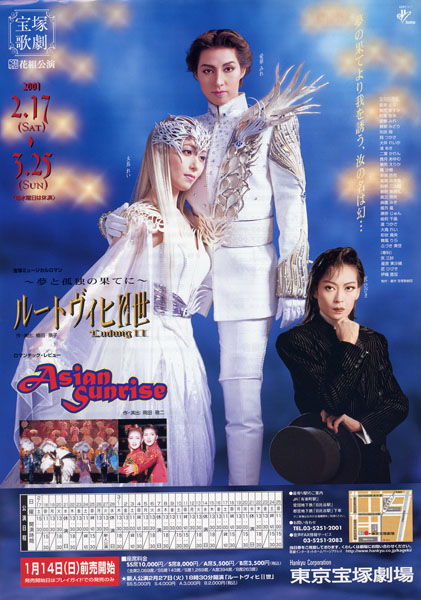 English Title:
Ludwig II: To the Other Side of Dreams and Solitude / Asian Sunrise
Japanese Title:
ルートヴィヒII世 - 夢と孤独の果てに / ASIAN SUNRISE
Romanized Title:
Ruutovihi II - Yume to Kodoku no Hate ni / ASIAN SUNRISE
Troupe:
Hanagumi
Year:
2000-01
Performances:
Takarazuka, 11/10 - 12/18 (2000); Tokyo, 2/17 - 3/25 (2001)
Shinjin Kouen Performances:
Takarazuka, 11/28; Tokyo, 2/27
Ludwig II
:
Based On:
The life and times of King Ludwig II of Bavaria.
Author:
Ueda Keiko
Director:
Ueda Keiko
Music Composed/Adapted By:
Yoshida Yuuko
,
Kai Masato
Choreography:
Shou Sumire
,
Masaki Rino
,
Miori Yumino
Shinjin Kouen Director (Takarazuka):
Suzuki Kei
Shinjin Kouen Director (Tokyo):
Ueda Keiko
Asian Sunrise
:
Author:
Okada Keiji
Director:
Okada Keiji
Music Composed/Adapted By:
Yoshizaki Kenji
,
Takahashi Kuni
,
Kai Masato
,
Miyahara Tooru
Choreography:
Hayama Kiyomi
,
Ootani Morio
,
Muromachi Akane
,
Miori Yumino
,
Zhenzang Dafeng
,
Zhongheng Yian
Available on DVD:
VHS only
Other Cast:
Utahana Yumi
,
Eri Chiaki
,
Ayukawa Natsuki
,
Saki Nozomi
,
Muko Ayumi
,
Kouno Marika
,
Hanaki Yuina
,
Suzuha Ranno
,
Hayabusa Satsuki
,
Kurosawa Daria
**,
Nanase Kira
,
Hanagiri Wakana
,
Tama Mayura
,
Maina Rion
,
Hanano Juria
,
Natsuzora Momomi
(*) Grand Theater only,
Nazuki Mika
in Tokyo
(**) Tokyo only
WARNING!! MAY CONTAIN SPOILERS!!
Ludwig II: To the Other Side of Dreams and Solitude
Ludwig, the young prince of Bavaria, is absorbed as ever in the building of a toy castle with blocks. As always, he names his castle "Swan Castle" as in the medieval "Legend of the Swans". Miss Meilehaus, his governess, has been narrating this piece to him. The world of the legend continues to intensely hold the heart of the sensitive and passionate prince even after he has grown up. He indulges in reverie and one day encounters a swan transformed into a beautiful young woman who invites him to go further into the world of fantasy.
In March 1864, Ludwig II is enthroned, succeeding Maximillian II, the dead king of Bavaria. The young and handsome king is greeted with nationwide rejoicing. His first royal order is to find Richard Wagner and to invite him to the palace. To Ludwig, who loves art and beauty, to meet Wagner is a dream he has been fostering since boyhood. He convinces Wagner of his friendship and promises to entirely support his artistic activities and livelihood.
Ludwig's zeal to patronize artists eventually affects his kingship. The court members begin to frown upon the growing royal expenses for Wagner, who is moreover dogged by heavy debts and unsavory rumors. They complain that the king is too innocent and an impractical dreamer. At the same time. they usually do not hesitate to take political advantage of the situation. Caught in the middle of the conspiracies and stratagems of the royal court, the king gradually shuts his mind to the world. One day, Count Dirkheim tells Ludwig that Wagner is having a liaison with Cosima, the wife of his pupil, the musical director Bulow. Moreover, Wagner and Cosima are trying to use the king's goodwill to smother the scandal. Ludwig is hurt all the worse by Wagner's immodesty and baseness because he had trusted this great musician. However, for the sake of their friendship, he publicly negates the scandal, further inciting the court's resentment against his favoritism to Wagner. The people also become more indignant at Wagner's sumptuous way of life patronized by the king. The court presses the king to choose between Wagner and the nation. Ludwig has no choice but to sign the document to banish Wagner. Having lost Wagner whom he has revered since childhood, Ludwig feels himself falling further down the dark abyss of isolation. He begins to stray through his world of fantasy where he again sees the girl.
Otto, Ludwig's younger brother, traumatized during the war against Prussia, is now suffering from a mental disorder. Dr. Gudden, the psychiatrist in charge of Otto, seeing Ludwig shy away from people, warns that extreme solitude may lead to insanity.
One day, Ludwig receives a visit from his cousin, Empress Elisabeth of Austria. He has adored this open-minded cousin from childhood and has never felt at ease with women other than her. However, she sternly persuades him to perform his royal duty to marry and father an heir. In seeing her off, he hears the fanciful girl sing, "Please promise that you will love nobody but me".
Sophie, Elisabeth's younger sister, is singing an aria of Wagner's in front of
Ludwig. While listening, he sees in her Elsa's image of "Lohengrin". He falls in love with Sophie and decides to get engaged to her. However, Sophie becomes troubled by the suspicion that he loves not her, but someone else in his fantasy. Defore long, the announcement of their engagement is postponed on Ludwig's demand. Queen Dowager Maria and the king's stepfather try to convince Ludwig to marry Sophie. Elisabeth also implores him no to keep her sister in suspense any longer. Cornered by reality, Ludwig begins to lose his equilibrium and hears the fanciful girl sing. He gets so befuddled that he finally breaks off the engagement with Sophie who sincerely loves him. Whether or not he has chosen the fanciful girl, no one can tell. Dr. Gudden triumphantly laughs saying that he was right.
The German unification advocated by Bismarck, the Prussian Chancellor, is becoming a reality. The Bavarian court is eager to see that Bavaria will enjoy the best possible conditions in the unification process and expects Ludwig to back their maneuvers in the diplomatic field. However, Ludwig is retreating even further from the outside world. Dr. Gudden hints that if the king is judged to be too incompetent to execute his mission. a regent can replace him. In other words, suffice it to pronounce that the king is a paranoiac.
Count Holstein betrays the king. He secretly deals with Bismarck, and half by force makes the king write a letter to nominate King Wilhelm I of Prussia as the new German Emperor. The nomination implies the abandonment of Bavarian sovereignty. Writing himself such a letter is nothing but a humiliation for Ludwig. He murmurs that the king of Bavaria is dead.
Ludwig thereafter, lives in his world of fantasy. He immerses himself in the construction of splendid castles in the eighteenth century's Rococo style which he has dreamed about for a long time. The court members, including Holstein and other important lords, are alarmed by the king's extravagance and hold an inquest on him. One after another, witnesses give evidence of how frantic the king is. Holstein and other court members set up to restrain Ludwig, bringing along Dr. Gudden's diagnosis, which testifies that the king suffers from paranoia.
On June 13, 1886, at Berg Castle, Ludwig is holding a conversation with Dr. Gudden pursuant to their therapeutic routine. After Ludwig is left alone, the fanciful girl comes up close to him. He utters that no one can separate him from her anymore. The two tightly embrace and promise to meet again at six o'clock in the evening by the Starnberg Lake. As the time passes, a heavy rain starts to fall and lightnings flash. Ludwig walks out towards the lake in defiance of Dr. Gudden who tries to hold him back. On his arrival at the lake, he is met by the phantasmal girl in the guise of a swan. Other phantom swans hinder Dr. Gudden from stopping Ludwig. Once breaking free of the doctor. Ludwig goes away with the phantasmal girl, disappearing far off the lake. Dr. Gudden, left alone, sinks into the lake as if deranged.
Miss Meilehaus and Hornig, Ludwig's favorite chief groom of the royal stable, are looking back upon their tragic king. They conclude that the king could find consolation only in his world of dreams and solitude.
---
Asian Sunrise
Shamisens play a youthful Okinawan rock-and-roll style prelude. As the curtain rises, men dressed in blue start singing in chorus on the deck of a boat before a decor figuring a huge white sail. The tune changes into a song interpreted by young girls in vivid colors. A moment later, the white sail is hoisted and a young man posing as a leader of youngsters begins to sing while a bright red Asian sun rises.
Asian singer ~
Aika Mire
Asian girl S ~
Ootori Rei
Asian boy A ~
Takumi Hibiki
Iori Naoka
,
Kaede Saki
,
Takashou Mizuki
,
Haruno Sumire
,
Sena Jun
,
Ranju Tomu
Asian girl A ~
Takayagi Midori
,
Nagisa Aki
,
Suzukake Miyuki
,
Momoka Sari
,
Maikaze Rira
,
Fuzuki Miyo
Chapter 2. Sunrise Takarazuka
Young men come into scene and sing the theme song of
Asian Sunrise
.
Asian Singer A ~
Aika Mire
Chapter 3. Vision of Bali
The pretty and elegiac sound of the Gamelan. The three Hindi gods, Shiva, Vishnu and Brahma, are slowly lit up out of the darkness. Balinese temple with moss-grown stone statues and stairways. Spirits of light appear and dance the Kecak in praise of the gods. Thunder reverberates. Prince Rama and Princess Sita appear to dance to the music played by folk bamboo instruments.
Prince Rama ~
Aika Mire
Princess Sita ~
Ootori Rei
Shivna ~
Iori Naoka
Brahma ~
Kaede Saki
Vishnu ~
Suzukake Miyuki
Balinese singer ~
Nagisa Aki
Spirit of Light A ~
Takashou Mizuki
,
Maikaze Rira
,
Maishiro Nodoka
Singing young man of Bali ~
Haruno Sumire
Chapter 4. Vision of China
Music of Beijing Opera. Fourteen drummers (young men) perform a dance of welcome for nobles. Fourteen orchids (young women) with fans in hand join the young men in pomp.
Princess ~
Ootori Rei
Dancing young men with long feathers in their hair.
Blue butterfly ~
Takumi Hibiki
Butterflies in love ~
Iori Naoka
,
Kizuki Ayumu
,
Takashou Mizuki
,
Mayuzuki Kou
,
Tatsu Tsukasa
,
Kaou Remi
A prince with a bow and a pretty princess dance together to the lively and soul-stirring music.
Prince Yang (Sun) ~
Aika Mire
Princess Keiu (Nobleness) ~
Ootori Rei
Princess Yen (Beauty) ~
Nagisa Aki
Princess Kung (Highness) ~
Momoka Sari
Princess Yu (Happiness) ~
Maikaze Rira
Princess Uu (Gaiety) ~
Ayano Kanami
Blue butterfly ~
Iori Naoka
Chapter 5. Thai Royal Party
The Age of King Chulalongkorn A
Music of a joyful musical. Young English navy officers sing the joy of their arrival at Bangkok, the town they have longed for.
Singing officer S ~
Sena Jun
Young officers ~
Ayabuki Mao
,
Ranju Tomu
,
Sou Kazuho
,
Mihiro Seisa
,
Aine Harei
The Age of King Chulalongkorn B - C
Garden of the Thai Royal Palace. Noblewomen in guise of a big beautiful flower sing and dance around King Chulalongkorn. In their wake, men in crimson tailcoats dance one after another. A duet begins as flowery lanterns are lit.
King Chulalongkorn ~
Aika Mire
Ayutthaya ~
Ootori Rei
Tabutim ~
Nagisa Aki
Gentleman S ~
Haruno Sumire
The Age of King Chulalongkorn D
A Thai prince and a Thai princess walk a young man about a town.
Thammasat ~
Iori Naoka
Chapter 6. Sunrise Again (Asian Power)
In the morning at Tiananmen Square, Beijing. A young man comes out of a crowd of people practicing Taichi, riding their bicycle or carrying loads. He starts singing the Asian Young Power. The singing gathers strength as many other young men join him, becoming a huge mass of power.
Man practicing Taichi S ~
Natsumi You
Asian singer ~
Kaede Saki
Asian dancer A ~
Takumi Hibiki
Iori Naoka
,
Takashou Mizuki
,
Haruno Sumire
,
Mayuzuki Kou
,
Sena Jun
,
Tatsu Tsukasa
Interlude: "The World is Waiting for the Sunrise"
A young man and a gentlewoman sing in duet "The World is Waiting for the Sunrise".
Singing young man ~
Aika Mire
Singing gentlewoman ~
Ootori Rei
Chapter 7. Chorus line of "Yelaihsiang"
Chorus line of Chinese girls swinging on "Yelaihsiang".
Beautiful duet dance of
Suchow Nocturne
.
Singing gentleman S ~
Aika Mire
Dancing gentlewoman S ~
Ootori Rei
Singing gentleman ~
Haruno Sumire
Sumptuous grand parade.
Finale gentleman S ~
Aika Mire
Finale gentlewoman s ~
Ootori Rei
Finale gentleman S2 ~
Takumi Hibiki
Finale gentleman S3 ~
Haruno Sumire
Finale gentlewoman S2 ~
Nagisa Aki
Finale gentlemen A ~
Kaede Saki
,
Sena Jun
,
Ayabuki Mao
Etoile ~
Ayano Kanami
The Takarazuka performance was the final show for Hayase Ayu.
The Tokyo performance for the final show for Kino Kotose.
None yet.
| | | | |
| --- | --- | --- | --- |
| Poster | DVD | VHS | CD |
| None Yet | None Yet | None Yet | None Yet |