Jean-Louis Fargeon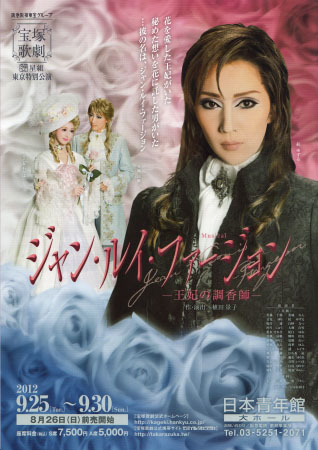 Picture Credit: Zaraphena | Official Chirashi
English Title:
Jean-Louis Fargeon -The Queen's Perfumer-
Japanese Title:
ジャン・ルイ・ファージョン -王妃の調香師-
Romanized Title:
Jan Rui Faajon -Ouhi no Choukoushi-
Troupe:
Star
Year:
2012
Performances:
Bow Hall, 09/06 - 09/17; Nippon Seinenkan, 09/25 - 09/30
Based On:
Jean-Louis Fargeon, parfumeur de Marie-Antoinette
(Elizabeth Feydeau)
Author/Director:
Ueda Keiko
Composer:
Aoki Tomoko
,
Kai Masato
Choreographer:
Masaki Rino
,
Miori Yumino
Available on DVD:
Yes (
release date 12/21/2012
)
DVD Scene/Music Cuts:
No
Role
Cast
Jean-Louis Fargeon (a perfumer)
Kurenai Yuzuru
Marie-Antoinette (queen of France)
Saotome Wakaba
Hans Axel von Fersen (a Swedish nobleman who has the love of the queen)
Makaze Suzuho
Madame de Tourzel (a noblewoman in charge of the royal children after the revolution breaks out)
Kyou Misa
Madame de Polignac (a beloved friend of the queen)
Ichihara Kei
Joseph Cunier (Revolutionary)
Miki Chigusa
Anton Barrel (Revolutionary)
Mishiro Ren
Vigée Le Brun (French painter)
Otohana Yuri
Emile Fargeon (Jean-Louis' younger brother)
Kisaragi Ren
Madame de Lamballe (Superintendent of the Queen's Household, killed in the revolution)
Shirotae Natsu
Guillaume Brune (Revolutionary)
Shiotsuki Shuu
Louis XVI (king of France)
Ooki Makoto
Madame de Staël (Swiss author living in France)
Aimi Serena
Sophia (Fersen's younger sister)
Hishiro Yua
Count of Provence (Louis XVI's younger brother)
Kizaki Reo
Edmond (works for Jean-Louis)
Seki Yurito
Count of Artois (Louis XVI's youngest brother)
Natsuki Rei
Louise Fargeon (Jean-Louis' mother)
Yumeshiro Eren
Princess Elisabeth (Louis XVI's older sister)
Tamahana Yufu
Alphonse Fargeon (Jean-Louis' father) / Jean-Lambert Tallien (in love with Therese, he joins the Jacobins to save her)
Sazanami Reira
Camille Desmoulins (Revolutionary)
Hyuuga Ran
Pierre (works for Jean-Louis)
Hiroka Yuu
Prince Louis Charles (Marie-Antoinette's second son, became crown prince after his older brother's death)
Murasaki Rira
Julian (works for Jean-Louis)
Seo Yuria
Princess Marie-Therese (Marie-Antoinette's eldest daughter)
Mai Hinano
Maurice (works for Jean-Louis)
Otosaki Itsuki
Victoire Fargeon (Jean-Louis' wife)
Kisaki Airi
Pauline de Tourzel (Madame de Tourzel's daughter)
Shiratori Yuriya
Rosalie Lamorlière (helps Marie-Antoinette while she is imprisoned)
Shiroki Mirei
Clément (works for Jean-Louis)
Ouha Mirai
WARNING!! MAY CONTAIN SPOILERS!!
Set in France around the time of the Revolution, Jean-Louis Fargeon was a real man who won Queen Marie-Antoinette's heart as the royal purveyor of perfume. This musical tells the story of his stormy life. Despite the friendships he forms with the royalty and aristocracy in the French court of this overwrought Rococo Period, Jean-Louis cannot throw aside the belief that "all men are created equal" from the progressive school of thought that he was raised with. Although the social situation at the time is sympathetic to abolishing the monarchy, Jean-Louis comes to embrace a secret passion for the queen he knows, who innocently admires flowers. At the mercy of the waves of greater history, the footsteps of revolution draw nearer to him as he stands between his personal ideals and forbidden love.....
Unlike most other Takarazuka adaptations, the source work credited for this production is a non-fiction biography, rather than a novel. (English title: A Scented Palace - The Secret History of Marie Antoinette's Perfumer)
None yet.
| | | | |
| --- | --- | --- | --- |
| Poster | DVD | VHS | CD |
| None Yet | None Yet | None Yet | None Yet |