Dimitri -Purple Flowers Scattering at Daybreak- / Jaguar Beat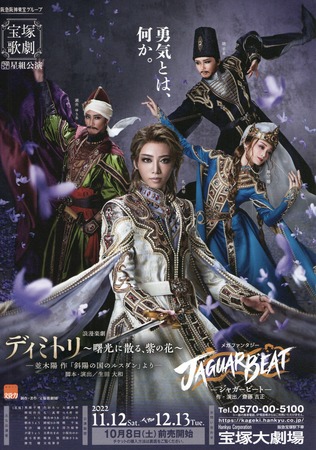 Picture Credit: yaomeis / Official Chirashi, from personal collection
English Title:
Dimitri -Purple Flowers Scattering at Daybreak- / Jaguar Beat
Japanese Title:
ディミトリ~曙光に散る、紫の花~ / JAGUAR BEAT-ジャガービート-
Romanized Title:
Dimitori ~Shokou ni chiru, murasaki no hana~ / Jagaa biitoo
Troupe:
Star
Year:
2022-2023
Performances:
Takarazuka Grand Theater, 11/12 - 12/13, Tokyo Takarazuka Theater, 01/02 - 01/03, 01/14 - 02/12
Shinjin Kouen Performances:
Takarazuka Grand Theater, 11/29, Tokyo Takarazuka Theater, 01/19
Dimitri -Purple Flowers Scattering at Daybreak-:
Based On:
The novel
Rusudan of the Twilight Kingdom
, by Namiki You
Author/Director:
Ikuta Hirokazu
Composer:
Oota Takeshi
Choreographer:
Miori Yumino
,
Sakuragi Ryousuke
,
Noguchi Masafumi
Conductor (Takarazuka):
Nishino Jun
Conductor (Tokyo):
Shinjin Kouen Director:
Kumakura Asuka
Jaguar Beat:
Author/Director:
Saitou Yoshimasa
Composer:
Teshima Kyouko
,
Aoki Tomoko
,
Hasegawa Masahiro
,
Tada Risa
Choreographer:
Miori Yumino
,
AYAKO
,
Minato Yurika
,
Momoka Sari
,
Matsumoto Keiko
Conductor (Takarazuka):
Nishino Jun
Conductor (Tokyo):
Available on Blu-Ray:
Yes (
release date 02/03/23
)
Available on DVD:
Yes (
release date 02/03/23
)
DVD Scene/Music Cut:
No
(Note: Name romanizations may contain errors)
Other Cast:
Nijou Hana
,
Kou Erise
,
Ayazono Hina
,
Sakizono Risa
,
Aohane You
,
Otohi Yuzu
,
Ruu Raito
,
Ayasaki Uran
,
Kazaki Saku
WARNING!! MAY CONTAIN SPOILERS!!
CONTENT WARNING(S):
Add warnings here, or write "None".
(From
official site
)
Dimitri -Purple Flowers Scattering at Daybreak-
"Rusudan of the Twilight Kingdom" is a dramatic historical romance written by Yo Namiki, set in thirteenth-century Georgia (formerly Gruziya). The novel that was broadcast as an audio drama on NHK in 2017 and received outstanding reviews will be adapted into a romantic musical by Takarazuka Revue Company.
The story takes place in the 13th century in the Kingdom of Georgia, that is in the midst of its golden age, centered in the capital Tbilisi. A young man stands in the lilac-blossomed garden in the corner of Isani Palace in Tbilisi. He is the fourth prince of the Seljuk Sultanate of Rum, who is called Dimitri in Georgia. Dimitri has lived and grown up in this royal palace since he was a child brought into Georgia as a symbol of friendship between two countries. But no matter how long he has lived there or whether he converts to Christianity, the Seljuk prince is ultimately nothing more than a hostage of Georgia. Dimitri, who does not like to be seen, looks for a place to be alone whenever he has time. And yet, he is easily located by Rusudan, the younger sister of King Giorgi. Being close in age and growing up together, Dimitri and Rusudan have feelings for each other while they know that she will eventually marry someone worthy of her status. The two go through their days hiding their true feelings from each other.
A storm comes without warning— The Mongolian army suddenly attacks Georgia and commits all kinds of atrocities. Giorgi assembles all the forces in Georgia to fight against the Mongols, but he falls prey to the Mongol's scheme that causes him to be mortally wounded. Realizing that he will die soon, Giorgi calls over Rusudan and Dimitri and tells Rusudan to marry Dimitri and succeed to the throne, and Dimitri to support Rusudan as the prince consort. Both Dimitri and Rusudan are surprised and perplexed by the king's unexpected words. They each make a painful decision and accept their fate.
Following the king's death, Rusudan is crowned queen and their wedding ceremony is conducted. However, some people look askance at Queen Rusudan who is without political experience and Dimitri, the foreign-born prince consort. The deputy prime minister Avag Zakarian, who respected King Giorgi, suspects Dimitri of being involved in the death of the late king and feels animosity towards him. Not allowed to take part in the country's politics, what Dimitri can do is to support Rusudan just as a private advisor. But he still feels very happy to be married to the one he truly loves and to spend the rest of his life with her. Dimitri is determined to stay on Rusudan's side no matter what.
However, a new shadow is creeping up on the couple, and their happy days soon come to an end. Jalal al-Din, the sultan of the destroyed Khwarazmian Empire, who also lost his country to the Mongol invasion, wants to take over Georgia in order to rebuild his country and strike back at the Mongols. Jalal al-Din plans to gain the fertile Georgian land and make a comeback without a battle by marrying Rusudan who has a reputation for her beauty. Rusudan gets angry at his marriage proposal, calling it a mockery towards a married woman, and the two countries go to war as a result. The Khwarazm's fierce attack devastates the Georgian army. This defeat unexpectedly creates an aftermath that leads to a tragedy that will change the fate of Dimitri and Rusudan...
Jaguar Beat
JAGUAR BEAT is a story-based show that endeavors to add something fresh to the Takarazuka traditions. It depicts the life of the half-human, half-beast JAGUAR and the way he found love.
Born in the jungle on an unnamed planet, JAGUAR falls for the beautiful CRYSTAL BIRD. Beckoned by her, he sets off on a journey into a mysterious world…
This Mega Fantasy featuring powerful beats will showcase the many talents of
Rei Makoto
and the other members of Star Troupe.
The original "working" title for Dmitri -Purple Flowers Scattering at Daybreak- was the same title as the novel, "Rusudan of the Twilight Kingdom" (斜陽の国のルスダン)
Final performance for Haruto Yuuho, Emika Rena, and Hikari An
Announced 11/11: Marina Fumi will be absent from all performances, including shinjin kouen.
None yet.
| | | | |
| --- | --- | --- | --- |
| Poster | DVD | VHS | CD |
| None Yet | None Yet | None Yet | None Yet |