Die Fledermaus / THE ENTERTAINER!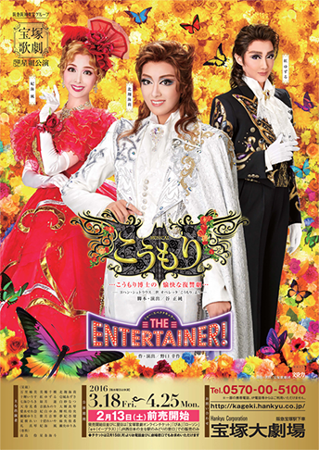 Picture Credit: coeuraubonheur | Official Chirashi
English Title:
The Bat (Die Fledermaus) / THE ENTERTAINER!
Japanese Title:
こうもり / THE ENTERTAINER!
Romanized Title:
Koumori / THE ENTERTAINER!
Troupe:
Star
Year:
2016
Performances:
Takarazuka Grand Theater, 03/18 - 04/25; Tokyo Takarazuka Theater, 05/13 - 06/19
Shinjin Kouen Performances:
Takarazuka Grand Theater, 04/05; Tokyo Takarazuka Theater, 05/26
Die Fledermaus
Based On:
An operetta by Johan Strauss II
Author/Director:
Tani Masazumi
Composer:
Yoshizaki Kenji
,
Ueda Hironori
Choreographer:
Shou Sumire
,
Yamamura Tomogorou
Conductor (Takarazuka):
Terashima Masao
Conductor (Tokyo):
Shinjin Kouen Director:
Machida Nanoka
THE ENTERTAINER!
Author/Director:
Noguchi Kousaku
Composer:
Aoki Tomoko
,
Teshima Kyouko
Choreographer:
Hayama Kiyomi
,
Nakura Kayoko
,
Masaki Rino
, KENJI,
Suzukake Miyuki
Conductor (Takarazuka):
Ooyagi Yasushi
Conductor (Tokyo):
Available on DVD:
Yes (
release date: 08/28/2016
)
Available on Blu-Ray:
Yes (
release date: 08/28/2016
)
DVD Scene/Music Cuts:
None
Role
Cast
Shinko Cast
Dr. Falke (a physicist)
Hokushou Kairi
Shidou Ryuu
Adele (a maid in the von Eisenstein household)
Hinami Fuu
Maaya Kiho
Marquis Gabriel von Eisenstein
Kurenai Yuzuru
Aya Ouka
Dr. Lert, Falke's teacher
Natori Rei
Otosaki Itsuki
Prince Orlofsky, crown prince of Russia
Seijou Kaito
Haruto Yuuho
Duchess Rebrova, guest of the prince
Mari Yuzumi
Kisaki Airi
Frosch, a jailer
Miki Chigusa
Amaji Sora
Frank, a prison governor
Toki Irisu
Toudou Jun
Colonel Ramon
Ichijou Azusa
Asamizu Ryou
Dr. Blind, a lawyer
Nanami Hiroki
Yuuhi Maki
Viscount Necqer, guest of the prince
Kisaragi Ren
Takuto Rei
Viscount Necqer's wife, guest of the prince
Shirotae Natsu
Nanase Miki
Ivan, Prince Orlofsky's grand chamberlain
Tenju Mitsuki
Ouha Mirai
Ambassadress Bardot, guest of the prince
Otoha Minori
Amairo Mineri
Themis, Eisenstein's maid
Hishiro Yua
Shiratori Yuriya
Rosalinde, Eisenstein's wife
Yumeki Anru
Katori Reira
Krypton, Falke's assistant
Toa Reiya
Amahana Ema
Polonius, Falke's assistant
Mao Yuuki
Soubu Sakiho
Yuri, the prince's servant
Sazanami Reira
Yuunagi Ryou
Alfred, Eisenstein's butler
Rei Makoto
Aomi Sario
Misha, the prince's servant
Hiroka Yuu
Minato Rihi
Argon, Falke's assistant
Seo Yuria
Kisa Kaoru
Ida, Adele's sister
Kisaki Airi
Kozakura Honoka
Xenon, Falke's assistant
Shidou Ryuu
Sayaka Rin
Irene, Eisenstein's maid
Maaya Kiho
Ouri Mao
Flora, Eisenstein's maid
Kozakura Honoka
Nijou Hana
Leda, Eisenstein's maid
Amairo Mineri
Kirari An
Other Cast:
Aimi Serena
,
Kizaki Reo
,
Seki Yurito
,
Shizuki Otone
,
Natsuki Rei
,
Sorano Miyu
,
Murasaki Rira
,
Mai Hinano
,
Iroha Reo
,
Miono Saki
,
Mito Kurara
,
Amaki Homare
,
Mioka Anri
,
Amano Kiyora
,
Hayato Reo
,
Kiwami Shin
,
Hazuki Riran
,
Akashi Reima
,
Kou Erise
,
Ayazono Hina
,
Asakura Shizuku
,
Amakake Sakura
,
Kusanagi Kizuki
,
Seira Hitomi
WARNING!! MAY CONTAIN SPOILERS!!
Die Fledermaus
"Die Fledermaus" (The Bat) is an operetta by Johann Strauss II, also known as "The Waltz King." The new, extraordinary and delightful musical by Kairi Hokusho and the Star troupe breathes fresh life into a work with many a famous song and adoring fans around the world.
It is the late 19th century in Vienna. Dr. Falke, together with his good friend, the Marquis Eisenstein, is attending a costume ball hosted by Empress Elisabeth. On the way home, Eisenstein is at a loss over what to do with the intoxicated Falke. He gets carried away and ties up Falke along an avenue. The doctor is stuck there all the night. Falke, trapped in his bat costume until the morning, becomes the laughingstock of the city and earns the nickname "Dr. Bat." He is unable to contain his anger, and to give Marquis Eisenstein a taste of his own medicine, Falke comes up with a plan for sweet revenge. Savor the gamesmanship between masterminds in a musical featuring a unique cast of characters.
---
THE ENTERTAINER!
This dazzling, colorful Show is an utterly riveting display by the Star troupe, led by Kairi Hokusho, "The Ultimate Entertainer."
This Show is all about the "Entertainer," with a modern arrangement of diverse tunes including jazz, classical, pop and more for a truly amazing spectacle that is out of this world. The Show is an epochal piece of entertainment abounding with thrills.
"THE ENTERTAINER!" is a Takarazuka Revue debut for Kosaku Noguchi, who takes the stage for the first time in a performance at the Takarazuka Grand Theater with the 102nd class.
None yet.
| | | | |
| --- | --- | --- | --- |
| Poster | DVD | VHS | CD |
| None Yet | None Yet | None Yet | None Yet |