Cult Wine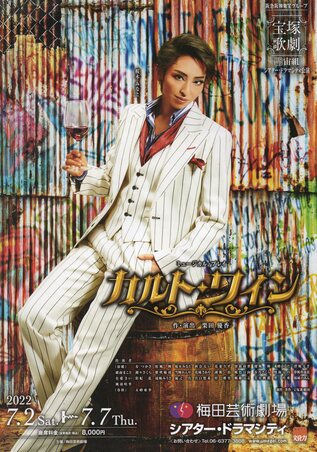 Picture Credit: yaomeis / Official Chirashi, from personal collection
English Title:
Cult Wine
Japanese Title:
カルト・ワイン
Troupe:
Cosmos
Year:
2022
Performances:
Toshima Arts & Culture Theater, 06/17 - 06/26; Theater Drama City, 07/02 - 07/04
[1]
Author/Director:
Kurita Yuuka
Composer:
Teshima Kyouko
Choreographer:
Mitsui Satoshi
,
Momoka Sari
Available on DVD:
No
Available on Blu-Ray:
No
DVD Scene/Music Cuts:
n/a
WARNING!! MAY CONTAIN SPOILERS!!
CONTENT WARNING(S):
Raceface ("Latin American" makeup).
New York, early in the 21st century.
Amidst the frenetic energy of a vintage wine auction hall, a Hispanic man in an expensive suit enters — Camilo Blanco. The young man is a wine collector, known by everyone in the business. He has vast influence, extensive knowledge, a refined palate, a well-mannered demeanor and an amiable personality. Through these Camilo has earned a favorable reputation, and his wine collection is highly valued by all those around him.
However, most of his collection is fake — made up of cheap wines blended together — along with his name. His real name is Cielo Azul, an illegal immigrant from the poor country of Honduras who moved to the States 10 years ago. As a former gang member, he lived a life of "kill or be killed". He and his childhood friend Julio risked their lives to escape the gangs.
But why did Cielo choose to counterfeit wine — why become a con man who has taken the wine industry by storm?
The story of a poor young man who managed to rack up $100 million dollars before he was caught — please enjoy this slightly bitter "swindler musical"!
Originally scheduled to run through July 7th, the final three days of performances were cancelled due to positive coronavirus tests among staff.
None yet.
| | | | |
| --- | --- | --- | --- |
| Poster | DVD | VHS | CD |
| None Yet | None Yet | None Yet | None Yet |