Chikamatsu: Journey on the Road of Love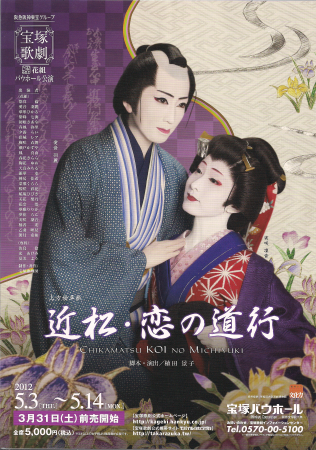 Picture Credit: Zaraphenan | Official flyer
English Title:
Chikamatsu: Journey on the Road of Love
Japanese Title:
近松·恋の道行
Romanized Title:
Chikamatsu Koi no Michiyuki
Troupe:
Flower
Year:
2012
Performances:
Bow Hall, 05/03 - 05/14; Nippon Seinenkan, 05/23 - 05/28
Based On:
the works of Chikamatsu Monzaemon
Author / Director:
Ueda Keiko
Composer:
Kai Masato
Japanese Music Composer:
Katada Kisayo
Choreographer:
Hanayagi Hagi
Conductor (Takarazuka):
Conductor (Tokyo):
Shinjin Kouen Director:
Available on DVD:
No
Other Cast:
Yuugiri Rai
,
Ayashiro Rea
,
Umesaki Ibu
,
Haruhana Kirara
,
Marika Yume
,
Tenma Michiru
,
Ginka Sui
,
Kazusa Yoshiki
,
Nana Kurara
,
Wataru Hibiki
,
Mihana Rino
,
Hanana Mio
,
Yumehana Ran
,
Asazuki Kiwa
WARNING!! MAY CONTAIN SPOILERS!!
Summary Information here.
Final performance for Senka member Kou Akemi.
Michiyuki (lit. "travelling") is a part of a Japanese traditional play which describes the journey of main characters (especially to the place of their suicide). Places that characters pass by are usually connected to the main plot of the play or symbolize heroes' feelings and important moments of their lives. This way, "Koi no Michiyuki" could mean "Love as the road of life".
In the beginning we are shown a reconstruction of the last scene in Chikamatsu's 'Sonnezaki shinjuu', and the story itself is a reconstructed 'true-life version' of 'Shinjuu at the Heavens' Net Isle'. Also we can see scenes, which resemble 'The Messenger to Hell', 'A Girl from Hakata', and some scenes hint that Hayami Seikichi is one of 'Chuushinura' personnages.
Katada Kisayo is a woman musician, who devoted her life to re-creation the music of the Edo era. She is a guest composer here.
None yet.
| | | | |
| --- | --- | --- | --- |
| Poster | DVD | VHS | CD |
| None Yet | None Yet | None Yet | None Yet |