Casino Royale -My Name's Bond-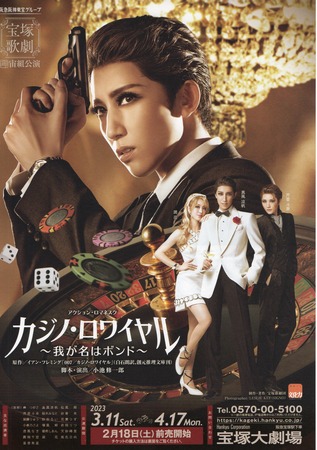 Picture Credit: yaomeis / Official Chirashi, from personal collection
English Title:
Casino Royale -My Name's Bond-
Japanese Title:
カジノ・ロワイヤル ~我が名はボンド~
Romanized Title:
Kajino Rowaiyaru ~Wa ga Na wa Bondo~
Troupe:
Cosmos
Year:
2023
Performances:
Takarazuka Grand Theater, 03/11 - 04/17; Tokyo Takarazuka Theater, 05/06 - 06/11
Shinjin Kouen Performances:
Takarazuka Grand Theater, 03/28; Tokyo Takarazuka Theater, 05/18
Based On:
the novel by Ian Fleming "Casino Royale"
(Japanese edition translated by Shiraishi Rou, published by Tokyo Sogensha)
Author/Director:
Koike Shuuichirou
Composer:
Oota Takeshi
,
Takahashi Megumi
,
Kai Masato
Choreographer:
Masaki Rino
,
KAORIalive
,
Mitsui Satoshi
,
AKIHITO
,
Suzukake Miyuki
Conductor (Takarazuka):
Nishino Jun
Conductor (Tokyo):
Shinjin Kouen Director:
Hiramatsu Yuu
Available on Blu-Ray:
Yes (
release date 06/03/23
)
Available on DVD:
Yes (
release date 06/03/23
)
Scene/Music Cut:
No
Other Cast:
Kagayaki Yuu
(※)The role name will be changed to "Assistant Manager Henrietta" on the shinjin kouen.
WARNING!! MAY CONTAIN SPOILERS!!
CONTENT WARNING(S):
Nazi Imagery
(From
official site
)
Casino Royale -My Name's Bond-
It's 1968 and the world is in the grip of the Cold War centered on the United States and the Soviet Union. In Paris, anti-establishment protests known as "May 1968" break out, mainly among students and workers. After they are suppressed, the radicals merge into an underground organization that calls itself "The Red Army League."
At MI6, the pinnacle of British Secret Intelligence Service, secret agent James Bond, code name "007," receives an order to neutralize a Soviet spy known as Le Chiffre. Le Chiffre was forced into a corner during May 1968 after spending funds sent by the Soviet organization to The Red Army League, and now he plans to recover a fortune at a casino. Bond's mission is to use his gambling skills to beat him and cut off his source of funds, and then to take him alive and force him to divulge any information he possesses. Bond, disguised as a Jamaican millionaire, arrives at "Casino Royale" in a hotel at the Royale-les-Eaux on the Atlantic coast of France. Meanwhile, the mourning Romanov family have gathered at the hotel and are fighting over who will become the next patriarch. Delphine, one of the descendants, is a graduate student at the Sorbonne and is the girlfriend of Michel, a radical student who escaped to The Red Army League. When Le Chiffre loses to Bond at the gambling table, he decides to target Delphine's inheritance, just as she is about to begin a relationship with Bond.
All of these covert plots and schemes play out in a glamorous casino. With CIA agents, French intelligence officers, and Soviet spies joining the scene as well, Bond faces a series of crises in his path…
Don't miss this gorgeous and romantic musical epic starring the cool and suave Suzuho Makaze in the role of James Bond as only Takarazuka Revue can create.
None yet.
| | | | |
| --- | --- | --- | --- |
| Poster | DVD | VHS | CD |
| None Yet | None Yet | None Yet | None Yet |