Can-Can / Nightless Castle in Manhattan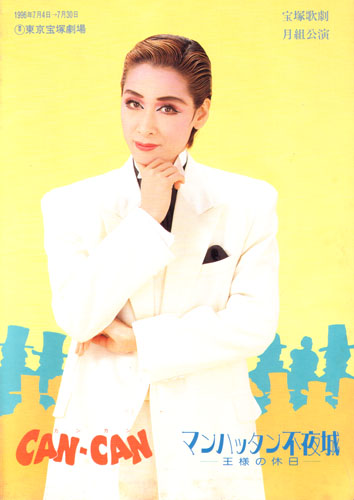 Picture Credit: Caithion
English Title:
Can-Can / Nightless Castle in Manhattan
Japanese Title:
カン カン / マンハッタン不夜城
Romanized Title:
Kan Kan / Manhattan Fuyajou
Troupe:
Moon
Year:
1996
Performances:
Grand Theater, 3/29 - 5/6; Tokyo Theater, 7/4 - 7/30
Shinjin Kouen Performances:
Grand Theater, 4/16; Tokyo Theater, 7/16
Can-Can:
Based On:
Broadway musical
Can-Can
Author:
Book by Abe Burrows
Adapted/Directed by:
Tani Masazumi
Music Director:
Yoshizaki Kenji
Composer:
Music and Lyrics by Cole Porter; arranged by
Miyahara Tooru
Choreographer:
Shou Sumire
,
Kurotaki Tsukio
Shinjin Kouen Director:
Fujii Daisuke
Nightless Castle in Manhattan:
Author/Director:
Kusano Akira
Composer:
Takahashi Kuni
,
Yoshida Yuuko
Choreographer:
Hayama Kiyomi
,
Shou Sumire
,
Ueshima Yukio
,
Iga Yuuko
, Robert Longbottom
Available on DVD
: VHS only
Role
Cast
Shinjinkoen Cast
Aristide Forestier, a new judge
Kuze Seika
Mizu Natsuki
La Mome Pistache, owner of a dance hall
Kazahana Mai
Sen Hosachi
Victor Jussac, an art critic and young industrialist
Makoto Tsubasa
Naruse Kouki
Boris, a sculptor
Shizuki Asato
Juri Sakiho
Henri Marceau, presiding judge
Natori Rei
Takashou Mizuki
Ramolis, dignified head of the Paris widows association
Kuni Natsuki
Hoshino Hitomi
Louis Gaston, police superintendent
Aoi Miya
Nashiro Aoi
Albert, head waiter
Oomine Mayu
Mahoroba Yuu
Mimi, a model
Natsuki Mami
Dan Rei
Gabrielle, a dancer, Etienne's lover
Natsukawa Yura
Mizusawa Hazuki
Francois, a composer
Mayama Haru
Ootaka Tsubasa
Celestine, a dancer, Teofille's lover
Mihara Shiho
Mizushima Aoi
Etienne, a poet
Shiokaze Kou
Oozora Yuuhi
Teofille, a painter
Misato Maya
Hanazuki Aya
Hercule, an architect
Juri Sakiho
Yamato Yuuga
Clodinne, a dancer, Boris's lover
Sen Hosachi
Minashiro Hikari
Marie, a dancer, Etienne's lover
Yamabuki Sayo
Sonomiya Reina
Madame Carnet, head of the Women's Union for the Ellimination of Immoral Dance
Asahi Mari
Runa Mari (Takarazuka)
Suzuna Mio (Tokyo)
Madame Becker, head of the Mothers' Group for Public Morals
Kai Chihiro
Jouka Azuki
Maurice, waiter
Kouki Subaru
Kaji Yuuki
Louis, waiter
Yuuki Kaoru
Narumi Jun
Chrissy, dancer
Natsuno Saki
Tsubura Hitomi
Josephine, dancer
Aihara Serika
Misugi Chika
Paula, dancer
Runa Mari
Ayazono Yuki
Juliette, dancer
Jouka Azuki
Nana Marika
Florence, dancer
Sonomiya Reina
Kitahara Rima
Madeleine, dancer
Minashiro Hikari
Akane Mitsuki
Corinne, dancer
Kou Suzuka
Hanakage Misaki
Mireille, dancer
Mizusawa Hazuki
Takigawa Sueko
Barrière, judge
Koshi Haruki
Kitajima Mami
Barouh, cameraman
Yoshizuki Eri
Akizuki Shou
Gerald, policeman
Takashou Mizuki
Haruna Rio
Anatole, policeman
Nashiro Aoi
Shizuki Kou
Anette, woman from Montmartre
Akatsuki Nagisa
Honami Aria
Bovary, a nun
Rika Masumi
Suzuna Mio
Court Attendant
Ujou Kaoru
Ayura Kao
Flower Girl
Dan Rei
Hanase Mizuka
Other Cast:
Takachiho Mai
,
Taka Yuuki
,
Matsunami Mitsuru
,
Konami Azusa
,
Kazusa Mahiro
,
Hanaoka Miyuki
,
Wakae Yuki
,
Mizuho Tamaki
,
Subaru Kazuki
,
Taiju Maki
,
Koshino Ryuu
,
Arika Jun
,
Kazaho Yuuri
,
Sakuma Yuki
,
Kanon Shiori
,
Asagi Yuuna
,
Asama Moyu
,
Murasakino Yuki
,
Madoka Sakura
,
Isshiki Ruka
,
Keiju Mana
,
Ayadori Kanna
,
Chigusa Kotomi
82nd Class (Tokyo only):
Saijou Mie
,
Kusunoki Keika
,
Ryouga Haruhi
,
Hime Kodama
,
Memu Chisato
,
Takaki Amane
,
Ken Ruisu
,
Kanou Chika
,
Tsukifune Sarara
WARNING!! MAY CONTAIN SPOILERS!!
In 1893, Paris, France. The Can-Can is a type of dance perceived as too erotic and is banned. However, Pistache, a very high-spirited woman, manages a dance hall called "Bal du Paradis", and makes the Can-Can the main attraction. Audiences gather to see the dance every night. Victor, Pistache's sponser and the best known art critic in Paris, helps her buy off the police and public prosecutors. In fact, police officers love the Can-Can and no one wants to stop it.
Things change when Forestier, a new judge, gets appointed and comes to town. He is very serious and orders a raid on the Bal du Paris, arresting all the dancers. Pistache tells the police that Victor is the owner and escapes getting arrested. All the dancers are charged and put on trial. However, no police officers come forward to testify, because they are all bought off. In addition, Victor argues very well in the trial and gets all of the dancers acquitted for lack of evidence.
Forestier is very irritated and decides to go to Bal du Paradis himself. Pistache does not know who Forestier is, but notices that he has an in-depth knowledge of the law. She wants to use him as a partner. However, an employee tells her that Forestier is the one who prosecuted the dance hall. Both are drawn to each other, even though both realize they are enemies. Still, Forestier is too loyal to his job and tells the police officers to arrest Pastiche as soon as the Can-Can starts.
Forestier visits the detention cell to visit Pastiche. He apologizes and tells her that he did not mean to arrest her and releases her. Pistache demands to re-open the Bal du Paradis, but Forestier cannot allow it as a judge. Pistache tells him that she is going to do things her own way and leaves him. Forestier, who is left alone, notices that he has fallen in love with Pastiche.
Later, Victor sets up an artists' ball at Bal du Paradis. It is a trap for Judge Forestier. Not knowing Victor's intention, Forestier gets up on stage to protect Pistache. Then, Victor introduces Forestier as the host of the ball. The next morning, people see a picture of Judge Forestier with the Can-Can dancers in the newspaper. The police come after him.
Artists help Forestier and protect him. He opens his mind to their way of living. When he is punished for supporting the dance hall, he decides to fight back in order to see that justice is served.
Soon, Forestier and Pastiche become partners and start a new laundry business at Bal du Paradis. They operate a laundry during the day to be legal, but at night it becomes a Can-Can dance hall. However, the police learn about it and arrest Forestier. This is a part of his plan, for he wants to stand up in court.
During the trial Pistache comes forward and claims that she is the one responsible. A judge and jury agree to see Can-Can firsthand and then take a vote at the dance hall.
At Bal du Paradis, Forestier, Pistache, Victor, and all the dancers present the Can-Can and make a plea for its wonderful entertainment. The jury votes and agrees that the Can-Can dance is a fun attraction and they demand the laws regulating this wonderful dance be reviewed. Therefore, Can-Can dance becomes legal. At the same time, Judge Forestier restores his reputation. Forestier and Pistache hug each other with joy.
---
Nightless Castle in Manhattan
The fog lifts and a meieval castle appears. The castle has just woken from a long sleep. In it, King Luna stands like a ghost. Suddenly, the stage setting changes to present-day Times Square, New York. King Luna and Queen Estrella are brought to life. They are amazed at the hustle and bustle of Manhattan and walk around the city with great interest.
King Luna:
Kuze Seika
Queen Estrella:
Kazahana Mai
Prince Planet:
Shiokaze Kou
Daytime in Manhattan. A group of strange fortune-tellers appear. Their leader, Rockenfellow, predicts a medeival castle will be built in Manhattan. New York Mayor Lincane disclaims his prediction. New Yorkers agree with the mayor.
Lincane:
Makoto Tsubasa
Rockenfellow:
Shizuki Asato
A fog gathers in night-time Manhattan, and an eerie light begins to shine. A nightless castle slowly becomes visible in the fog. The fog lifts to reveal the medeival "Rainbow Castle" which is shining brightly. King Luna and Queen Estrella appear on the balcony. They are not waering clothes from the Middle Ages, but modern attire. The stage changes to a dance party in which the castle residents participate.
King Luna:
Kuze Seika
Queen Estrella:
Kazahana Mai
Prince Planet:
Shiokaze Kou
Scene 5 Welcome to Manhattan
Manhattan residents, including the mayor, sing and dance to welcome King Luna and his entourage. The mayor presents new clothes to the king and queen, and they put them on. A welcome dance begins.
King Luna:
Kuze Seika
Queen Estrella:
Kazahana Mai
Lincane:
Makoto Tsubasa
Prince Planet:
Shiokaze Kou
Scenes 6 and 7 Invitation Card
The tramp Garo, who lives in a slum in Manhattan, receives an invitation to the castle. Garo is delighted and invites all his friends. They put on tuxedos which a butler prepared for them, clean themselves, and get in a car heading for the party.
Garo:
Shizuki Asato
Scenes 8 and 9 King's Love
Prince Planet and Princess Rainbow appear. He tells a story about the king and queen's love. It was 16 years ago. Princess Estrella and her friends met Prince Luna. He invited them to go dancing, but Estrella did not feel comfortable with Luna because she was not good at dancing. Afer everyone left, a clown appeared and gave a redp pair of shoes to Estrella. As soon as she put them on, she started dancing like crazy due to the magical power in the shoes. When she tried to jump into a fountain, Prince Luna stopped her and kissed her. Then the red shoes came off.
King Luna:
Kuze Seika
Queen Estrella:
Kazahana Mai
Prince Planet:
Shiokaze Kou
Princess Rainbow:
Sen Hosachi
Scenes 10-12 Wedding Anniversary
It is their majesties' wedding anniversary. The ministers discuss what acts King Luna and Queen Estrella should perform. With music, the king and queen start singing an opera. When it ends, Castle Thief Jacker Sanslot appears, causing chaos. When Sanslot gets caught, the big party starts again.
King Luna:
Kuze Seika
Queen Estrella:
Kazahana Mai
Sanslot:
Makoto Tsubasa
Minister Dymos:
Shizuki Asato
Prince Planet:
Shiokaze Kou
Scenes 13 and 14 The Castle Thief's Dream
Sitting in their cell, Sanslot and his fellow men sing about their admiration for the castle. When Sanslot becomes frustrated and violent, Queen Estrella, the object of his affection, appears outside the cell. The queen and Sanslot fall in love. Is it real or is it just a dream? ... King Luna appears and sings of his love for the queen. The queen goes to him and Sanslot is left alone. The castle appears. The king and queen, again dressed in their medeival robes, are on the balcony.
King Luna:
Kuze Seika
Queen Estrella:
Kazahana Mai
Sanslot:
Makoto Tsubasa
On the morning the castle is to appear, Queen Estrella is embraced by King Luna on the balcony as if nothing had happened. When the fog gathers again and th castle disappears, Sanslot is left alone in Manhattan. The city is back to normal again.
King Luna:
Kuze Seika
Queen Estrella:
Kazahana Mai
Sanslot:
Makoto Tsubasa
Prince Planet:
Shiokaze Kou
Scene 16A Manhattan Rocket
A rocket dance.
Scene 16B Good-bye Manhattan
Prince Planet appears and sings a song entitled "The City I Dreamed Of."
The fortune-teller Rockenfellow, dressed as a medeival character, performs a song and dance about Manhattan.
Man in New York A:
Shizuki Asato
Mayor Lincane and his associates sing and dance.
Man in New York A:
Makoto Tsubasa
A) Eo flies in the air and balloons fall.
B) King Luna and Quuen Estrella dance to passionate music.
C) Lincane, Rockenfellow and Prince Planet sing and join the king and queen.
D) The entire cast appears on stage and a night in Manhattan turns into an illusion.
Man of Manhattan Festa S:
Kuze Seika
Woman of Manhattan Festa S:
Kazahana Mai
Parade.
None yet.
| | | | |
| --- | --- | --- | --- |
| Poster | DVD | VHS | CD |
| None Yet | None Yet | None Yet | None Yet |