Coffee Carnival / Dreamy Fragrance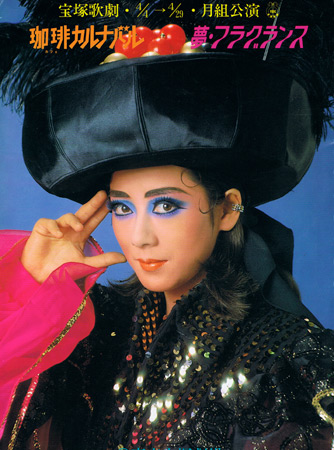 Picture Credit: Zephy, original program
English Title:
Romance in the Coffee Plantation / Dreamy Fragrance
Japanese Title:
珈琲(カフェ)カルナバル / 夢・フラグランス
Romanized Title:
Kafe Karunabaru / Yume Furaguransu
Troupe:
Moon
Year:
1992
Performances:
Takarazuka Grand Theater, 1/1 - 2/11; Tokyo Takarazuka Theater, 4/4 - 4/29
Shinjin Kouen Performances:
Takarazuka Grand Theater, 1/21; Tokyo Takarazuka Theater, 4/14
Coffee Carnival
Author / Director:
Shibata Yukihiro
Composer:
Terada Takio
,
Yoshida Yuuko
Choreographer:
Shou Sumire
Conductor (Takarazuka):
Nomura Youji
Conductor (Tokyo):
Kiyokawa Tomomi
Shinjin Kouen Director:
Dreamy Fragrance
Author / Director:
Okada Keiji
Composer:
Yoshizaki Kenji
,
Takahashi Kuni
,
Kai Masato
Choreographer:
Kita Hiroshi
,
Hayama Kiyomi
,
Shou Sumire
,
Sha Tamae
,
Ritsu Tomomi
Conductor (Takarazuka):
Hashimoto Kazuaki
Conductor (Tokyo):
Izawa Ichirou
Available on DVD:
No
(1) Tokyo:
Kouki Subaru
Others
:
Wakana An
,
Namine Michiru
,
Ran Reika
,
Natsuki Mami
,
Mashiro Tomona
,
Mishiro Mari
,
Mihara Shiho
,
Nakajou Mari
,
Kai Chihiro
,
Matsunami Mitsuru
,
Taiga Ren
,
Konami Azusa
,
Satsuki Futaba
,
Misato Maya
,
Natsuno Saki
,
Yuuki Kaoru
,
Minazuki Shizuka
,
Fujishiro Maki
,
Mizuho Tamaki
,
Kusanagi Yuki
,
Takashou Mizuki
,
Nashiro Aoi
,
Takamure Ayu
,
Hoshino Hitomi
,
Runa Mari
,
Suzuna Mio
,
Ooga Ayumi
,
Ayaki Nao
,
Mahoroba Yuu
,
Naruse Kouki
,
Mizushima Aoi
,
Tsubura Hitomi
,
Subaru Kazuki
,
Honami Aria
,
Misugi Chika
,
Kitajima Mami
,
Maine Azusa
Others (Takarazuka Only)
:
Wakaki Moe
,
Towa Ayumi
,
Sono Nanami
WARNING!! MAY CONTAIN SPOILERS!!
Coffee Carnival
In 1880's Brazil, there was a constitutional monarchy. Like many other countries at the time, Brazil was planning to become a republic and thus depose the branch of the Portuguese royal family which provided the Brazilian head of state.
This political uncertainty and movements urging emancipation of the slaves had disrupted the public peace. Bands of thieves called Canga-Ceiro took advantage of the situtation.
Count Monteiro, the master of one of the many large, prosperous coffee plantations which ringed São Paulo, had decided to make his son, Antonio, the head of the plantation and return home to Portugal. Antonio was too young to manage the plantation so the Count intended to appoint two trustees of the estate: Julio as manager and Altoul as the family representative. Julio, an Italian immigrant, was competent, but Altoul, a relative of the Count and his daughter Beatrice's fiance, was an alcoholic.
At this time, the ownership of the neighboring plantation passed to Andlade, an aggressive businessman who was determined to take over the Count's estate. Julio ordered two of his most trusted men, Evitacio and Paulo, to follow Andlade's every movement.
Julio had fallen in love with Beatrice at first sight but had concealed his feelings and made great efforts to prove himself worthy of the Count's trust. Beatrice, who had ben disappointed by Altoul's drunkenness, was attracted to Julio. One day, she saw Altoul with a town barmaid and her love for her fiance completely died. At a harvest festival, she joined the dancing workers and boldly sought out Julio. After a passionate dance, they fell into each other's arms and their love blazed to life at once.
Just after Evitacio returned from investigating Andlade, someone murdered Antonio. Altoul, deeply shocked by Antonio's death, pulled himself together. Julio suspected that Andlade had ordered the killing. Altoul and Julio set off to seek revenge.
Dream Fragrance
A Spectacular Neo-Japanese style opening rings up the curtain
Star -
Suzukaze Mayo
Singers:
Wakao Risa
,
Kuze Seika
,
Amami Yuuki
,
Asano Kayo
Travelers dance bravely to a melancholy tune.
Stranger -
Suzukaze Mayo
In the Taisho period, a boy and girl meet at the seashore and fall in love. The girl is called away by her mother. The boy is left alone. Later, a suitor asks for the girl's hand in marriage and her parents approve. At the wedding, the boy from the seashore sadly watches from behind the church
Boy -
Suzukaze Mayo
Girl -
Asano Kayo
Suitor -
Amami Yuuki
Singer -
Hane Chisato
Chapter 4: An Orchid in the Moonlight
In the South-East Asian jungle, the beautiful spirit of an orchid fascinates the many creatures of the jungle, one by one
Beautiful Spirit -
Suzukaze Mayo
Dancer -
Wakao Risa
Singer -
Kuze Seika
At a ball, some lovely debutantes clad in white gowns sing about their nervousness and their hopes for their first ball. The prince arrives and a brilliant scene of dancing couples unfolds across the the dance floor
Prince -
Suzukaze Mayo
Debutantes -
Asano Kayo
,
Asabuki Minami
,
Kazahana Mai
Captain -
Amami Yuuki
Chapter 6: Flowers of the Earth
Some men digging a great hole in the earth strip of their clothes and are transformed into beautiful girls. The girls, free from all care, dance in the moonlight
Dancers -
Suzukaze Mayo
,
Wakao Risa
,
Kuze Seika
,
Amami Yuuki
The entire cast bids farewell to their friends in the audience.
The Takarazuka performance was the final show for Wakaki Moe, Towa Ayumi and Sono Nanami
The Tokyo performance was the final show for Oomi Hiro
Kouki Subaru was transferred from Star Troupe during the Takarazuka run. She joined the cast for the Tokyo performance.
None yet.
| | | | |
| --- | --- | --- | --- |
| Poster | DVD | VHS | CD |
| | None Yet | None Yet | None Yet |