Bandito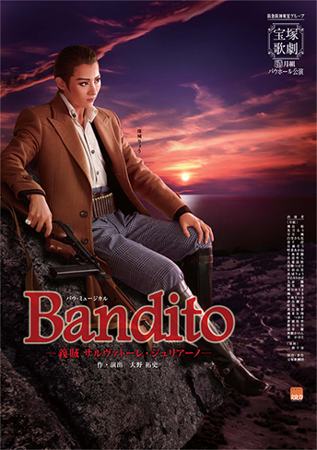 Picture Credit: coeuraubonheur | Official Chirashi
English Title:
Bandito -Gentleman Thief Salvatore Giuliano-
Japanese Title:
Bandito(バンディート) -義賊 サルヴァトーレ・ジュリアーノ-
Romanized Title:
Bandiito -Gizoku Saruvatoore Juliaanoo
Troupe:
Moon
Year:
2015
Performances:
Bow Hall, 01/30 - 02/09; Nippon Seinenkan, 02/19 - 02/24
Based On:
Author/Director:
Oono Takuji
Composer:
Takahashi Kuni
,
Takahashi Megumi
,
Oota Takeshi
Choreographer:
Iga Yuuko
,
Hirasawa Satoshi
Available on Blu-Ray:
Yes (
release date 11/22/18
)
Available on DVD:
No
Other Cast:
Samomo Satsuki
,
Souya Tomoki
,
Hayaki Yuuto
,
Aose Yuuki
,
Yukarino Koyuki
,
Kiyoka Ran
,
Maihina Kanon
,
Hanabusa Kaoto
WARNING!! MAY CONTAIN SPOILERS!!
1940s Italy, the island of Sicily. There can be found a man known all over Europe as a "bandit," and moreover a "chivalrous thief."
At the end of the Second World War, Sicily becomes the GQ of the Allied forces. Struggling under the poverty and scarce resources brought about by the war, the young Giuliano is forced to steal to survive. Eventually he becomes leader of a band of thieves.
One day Giuliano wishes to return a ring stolen from a countess, but the mafia intervenes. Instead of the countess, a woman Giuliano has never met before comes to claim the ring, and this meeting will change Giuliano's destiny....
None yet.
| | | | |
| --- | --- | --- | --- |
| Poster | DVD | VHS | CD |
| None Yet | None Yet | None Yet | None Yet |