Azure Moment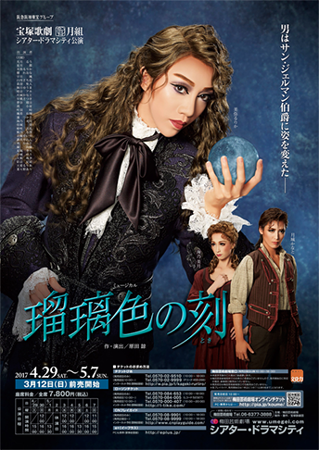 Picture Credit: coeuraubonheur | Offical Chirashi
English Title:
Azure Moment
Japanese Title:
瑠璃色の刻
Romanized Title:
Ruriiro no Toki
Troupe:
Moon
Year:
2017
Performances:
Drama City, 04/29 - 05/07; Akasaka ACT Theater, 05/13 - 05/21
Based On:
The life of the Count of St. Germain
Author/Director:
Harada Ryou
Composer:
Tama Shouichi
Choreographer:
Masaki Rino
,
Rachi Shinji
Available on DVD:
Yes (
release date 08/07/2017
)
DVD Scene/Music Cuts:
No
Other Cast:
Souma Seren
,
Hanabusa Kaoto
,
Natsukaze Kiki
,
Sorashiro Yuu
,
Ayaoto Sena
,
Amana Ruria
,
Nanano Ari
WARNING!! MAY CONTAIN SPOILERS!!
Some people call him an immortal superhuman, while others call him an extraordinary conjurer. An alchemist who has crossed space and time, a matchless prophet, and an unidentifiable adventurer—even today many mysteries remain throughout European history of the Count of St. Germain.
The man who inadvertently became this count of many mysteries, became the darling of the age in the twinkle of an eye. Before he knew it, he had achieved a favored position at the royal palace. However, at last he becomes embroiled in the fate which closes in upon him.... This is a dramatic musical set in 18th century France, about the miraculous life of one man who lived flamboyantly as the "Count of St. Germain."
Wikipedia article on the Count of St. Germain (link).
None yet.
| | | | |
| --- | --- | --- | --- |
| Poster | DVD | VHS | CD |
| None Yet | None Yet | None Yet | None Yet |