Antony and Cleopatra / The Heroes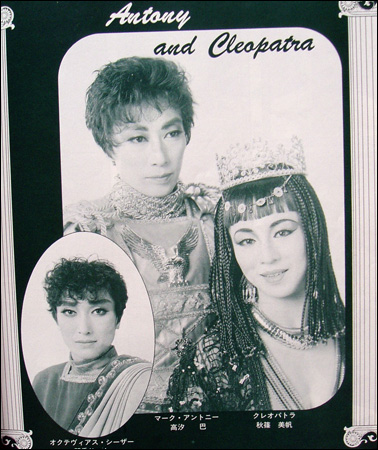 Picture Credit: program image
English Title:
Antony and Cleopatra / The Heroes
Japanese Title:
真紅なる海に祈りを / ヒーローズ
Romanized Title:
Shinku Naru Umi ni Inori o / Hiiroozu
Troupe:
Flower
Year:
1986
Performances:
Takarazuka Grand Theater, 6/27 - 8/6; Tokyo Takarazuka Theater, 11/3 - 11/30
Shinjin Kouen Performances:
Takarazuka Grand Theater, 7/11; Tokyo Takarazuka Theater, 11/12
Antony and Cleopatra:
Based On:
William Shakespeare
Adaption/Direction:
Shibata Yukihiro
Composer:
Terada Takio
Choreographer:
Tsukasa Konomi
Conductor (Takarazuka):
Nomura Youji
Conductor (Tokyo):
Izawa Ichirou
Shinjin Kouen Director:
The Heroes:
Author/Director:
Miki Akio
Composer:
Terada Takio
,
Takahashi Kuni
,
Tsutsui Hiroshi
Choreographer:
Tsukasa Konomi
,
Shuri Misao
,
Agata Youji
,
Sha Tamae
Conductor (Takarazuka):
Hashimoto Kazuaki
Conductor (Tokyo):
Kitazawa Tatsuo
Available on DVD:
No
Other Cast:
Miori Yumino
,
Gen Sayaka
,
Suzu Mine
,
Nashiro Erika
,
Sakuragi Seiko
,
Hoshino Mutsumi
,
Yukikaze Rei
,
Kitami Mari
,
Mashiba Shun
,
Aikaze Hikaru
,
Kurokawa Miyuki
,
Akebono Maya
,
Takatsuki Shou
,
Midori Akie
,
Asou Yumi
,
Shino Yuka
,
Takaragi Meri
,
Kusanome Moyu
,
Wakakusa Youko
,
Kyou Maiko
,
Shione Makoto
,
Yuu Misao
,
Hana Youko
,
Sawa Hitomi
,
Ooshio Masumi
,
Tachibana Sae
,
Sumireno Aika
,
Kousaka Chiaki
,
Makoto Tsubasa
,
Yumeno Chikoto
,
Aika Mire
,
Hyou Yuuka
,
Mika Sanami
,
Kouju Tatsuki
,
Moemi Serika
,
Souda Yasuko
,
Kirihara Shouko
,
Shou Tsukasa
,
Shibuki Jun
,
Oomai Kaori
,
Asakaze Yuki
,
Sazanami Ai
,
Kurenai Kasumi
,
Oogi Chihiro
WARNING!! MAY CONTAIN SPOILERS!!
Antony and Cleopatra
Rome 40 B.C.
Julius Caesar returns in triumph to Rome from his conquest of Syria.
For his glorious services the senate offers Caesar the imperial throne. Caesar declines the offer saying, "Rome ought to be ruled democratically by its rightful assembly. The crown is not mine to wear."
The citizens of Rome are deeply moved by these words and cry, "Great Caesar! Long live Caesar!"
Cassius, a senator, watches this dramatic scene and whispers to his friend, Brutus, "Look. That is Caesar's way. He shall undoubtedly have the throne before long. Brutus, my friend, if you don't slay Caesar you will regret it."
A few days later, Brutus and other conspirators stab Caesar in the capitol. The great general cries, "Et tu, Brute!" and dies.
Brutus speaks at Caesar's funeral. He claims, "Caesar was an ambitious man and plotted to turn Rome into an autocracy. Therefore we slew him."
Mark Antony next delivers an eloquent eulogy. "Caesar has brought many captives home to Rome, whose ransomes did the general coffers fill. I thrice presented him a kingly crown, which he did thrice refuse. Here's a parchment with the seal of Caesar, 'tis his will."
To every Roman citizen he gives seventy five drachma. Moreover he left you all his land. Did this in Caesar seem ambitious?"
Antony's words make a great impression, and the people cry, "O, noble Caesar!" "Slay the villains!" "Let not a single traitor live!"
Antony commands a trusted aide, Enobarbus, to seize the conspirators.
Several months later the senate offers Antony the reigns of government. Antony declines and insists Rome should be ruled by the triumvirate of Octavius Caesar, Aemilius Lepidus, and himself.
Sometime later Antony leaves for Alexandria to take command of the Roman army occupying Egypt. He meets the queen of Egypt, Cleopatra, for the first time in many years. Cleopatra had been Julius Caesar's love, but she has secretly been in love with Antony. Antony also coveted the queen and now their love burns like the fiercest of flames. Enobarbaras and Charmian, one of the royal attendants, also fall in love.
One day a messenger from Rome brings an urgent message. "Pompeius has invaded our land. He is a great general and by sea he is an absolute master. I hope you can help immediately." Octavius is certain that Antony's mere return to Rome will ensure victory.
When Antony arrives in Rome, Octavius Caesar says, "Love will knit your hearts with an unslipping knot. My dearest wish is that you marry my sister, Octavia."
Antony leaves for Athens on honeymoon with Octavia and to rule Macedonia.
Pompeius submits without a fight but Octavius Caesar takes advantage of Antony's absence and moves to crush Pompeius. He imprisons the innocent Aemilius Lepidus.
Antony prepares to fight and joins forces with the Egyptian army at Alexandria.
Meanwhile Octavia goes to Rome and implores her brother in vain not to do battle with Antony. Thus the time has come for warfare to decide which one of the triumvirate will alone lead Rome.
Enobarbus opposes a fight at sea. He argues Antony's strength is his infantry. However Antony puts his trust in the Egyptian fleet under the command of Cleopatra.
Just as Enobarbus feared the plan is disastrous and in the heat of battle the Egyptian fleet suddenly begins to retreat. Microsita, an important member of the Egyptian court, has been bribed by Octavius Caesar and due to her treachery Antony is easily defeated.
Enobarbus, afraid that Antony in his blind love for Cleopatra will lead them all to destruction, turns his back on his master and surrenders to the enemy.
Octavius Caesar's forces lay siege to Alexandria. The flame of Antony and Cleopatra has burned itself out.
---
The Heroes
Scenes 1-4 Prologue
Youthful heroes and heroines demonstrate their admiration of the age of high speed through song and dance.
Riders "S":
Takashio Tomoe
,
Ooura Mizuki
,
Asaka Jun
Scenes 5-7 Anti-Hero
A prisoner reminisces about the days when he wasn't locked behind bars. He was a matador and in love with two girls at the same time.
Prisoner (matador):
Takashio Tomoe
Red Rose:
Ai Erina
White Rose:
Hibiki Mito
Scenes 8-10 Heroine
Jenny is maltreated by her sisters. One day she dreams of a ball held at a chateau. All of the young ladeis wish to dance with the Prince. The Prince selects Jenny for his partner.
The following day, Jenny meets Jeff
who looks like the Prince
at school.
Jeff (Prince):
Ooura Mizuki
Jenny:
Akishino Miho
Dolls (singers):
Asaka Jun
,
Aoyagi Yuki
Scenes 11-14 Heroes
Duke Ellington and Benny Goodman created many of the masterpieces of jazz. The history of jazz is told in dance.
Duke Ellington:
Takashio Tomoe
Benny Goodman:
Ooura Mizuki
Singer:
Mineoka Nachi
Gentlemen:
Takashio Tomoe
,
Ooura Mizuki
,
Asaka Jun
Lady:
Akishino Miho
Scenes 15-16 No More Heroes
A soldier falls on the battlefield. He dreams of perfect freedom and true liberty in the moments before he dies.
Soldier "S":
Ooura Mizuki
Girl:
Mizuhara Tamaki
Scenes 17-18 A Lament for Heroes
The heroes of music composed with genius in too-short lives, but their masterpieces will live eternally in the hearts of mankind.
Heroes:
Takashio Tomoe
,
Asaka Jun
,
Segawa Kae
,
Kou Kazuki
Heroines:
Akishino Miho
,
Hibiki Mito
,
Kozue Manami
,
Mizuhara Tamaki
Any other interesting or important stuff.
None yet.
| | | | |
| --- | --- | --- | --- |
| Poster | DVD | VHS | CD |
| None Yet | None Yet | None Yet | None Yet |