Another World / Killer Rouge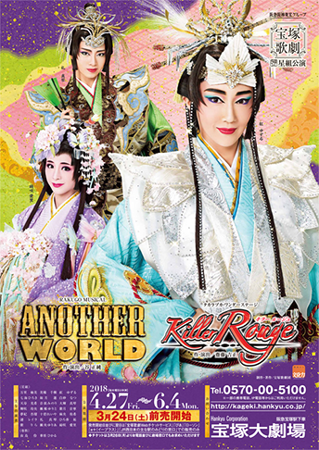 Picture Credit: coeuraubonheur | Official Chirashi
English Title:
Another World / Killer Rouge
Japanese Title:
Another World / Killer Rouge(キラー ルージュ)
Troupe:
Star
Year:
2018
Performances:
Takarazuka Grand Theater, 04/27 - 06/04; Tokyo Takarazuka Theater, 06/22 - 07/22
Shinjin Kouen Performances:
Takarazuka Grand Theater, 05/15; Tokyo Takarazuka Theater, 07/05
Another World
:
Author / Director:
Tani Masazumi
Composer:
Yoshizaki Kenji
,
Ueda Hironori
Choreographer:
Yamamura Tomogorou
,
Shou Sumire
Conductor (Takarazuka):
Uegaki Satoshi
Conductor (Tokyo):
Shinjin Kouen Director:
Sashida Shuko
Killer Rouge
:
Author / Director:
Saitou Yoshimasa
Composer:
Teshima Kyouko
,
Aoki Tomoko
,
Hasegawa Masahiro
Choreographer:
Miori Yumino
,
Wakao Risa
,
Minato Yurika
,
Mitsui Satoshi
,
Momoka Sari
Conductor (Takarazuka):
Uegaki Satoshi
Conductor (Tokyo):
Available on DVD:
Yes (
release date 07/20/18
)
Available on Blu-Ray:
Yes (
release date 07/20/18
)
DVD Scene/Music Cuts:
Yes
From "Killer Rouge":
Scene 4B: "Do Si Tal Chul" (Sakuraba Mai etc) - music replaced
Other Cast:
Otosaki Itsuki
,
Takuto Rei
,
Asamizu Ryou
,
Toudou Jun
,
Katori Reira
,
Iroha Reo
,
Kirari An
,
Kou Erise
,
Hazuki Riran
,
Ayazono Hina
,
Asakura Shizuku
,
Kusanagi Kizuki
,
Sakishiro Kei
,
Miyako Yuuna
,
Kuresaki Rino
,
Soua Takeru
,
Mizuno Yuri
,
Sumika Amane
,
Houma Toa
,
Yuran Sui
,
Hoshisaki Nozomi
,
Hiroki Yuzuha
,
Harei Yuka
,
Emika Rena
,
Kouga Toiro
WARNING!! MAY CONTAIN SPOILERS!!
Rakugo Musical
"Another World"
A journey of true love — this is a tale of traffic between "this world" and "that world". It is based on stage productions of
rakugo
stories (Japanese comical tales) that depict the world after death, such as "Jigoku Bassei Mouja no Tawamure", "Asatomo", "Shinu Nara, Ima", etc. Star Troupe, whose members are overflowing with personality, will bring you a
rakugo
musical that will make you laugh until you burst!
Yasujirou is the young heir to Kondaya, a money changing business in Osaka. One day, he wakes up to find himself in another world, in a flower garden in the purgatory between this life and the next. Realizing he is dead, he still harbors the love at first sight he felt upon espying a young woman whom he happened upon at Kozu Shrine, but whose identity is unknown to him. Although Yasujirou realized she, too, felt something for him, he could not get over his simple naivete to call out to her. In the end, his yearning was so great that he could not express it. Eventually, Yasujirou learned that the girl is named O-Sumi and she works at Shogetsudo, an Osaka confectionary shop. But he is too late. O-Sumi also felt a love for Yasujirou too great for her to articulate, and she passes away a love-sick woman. Upon learning of her death, Yasujirou's woe over this sad event is overwhelmed by the realization that O-Sumi, too, has not come to the other world. On his journey to find her, he encounters numerous friends. Tokusaburou is the young owner of Kotobukiya, the biggest rice dealer in Edo. Kiroku is an assistant to Tokusaburou, as well as to Kondaya, the money changing business. Binbogami, the God of Poverty, constantly dreams of becoming the God of Fortune. Gradually, the journey through the other world becomes a lively affair. Come see how Yasujirou and O-Sumi finally find the path to each other's love.
Takarazuka Wonder Stage
"Killer Rouge"
"Killer" is an English slang word that means "awesome", "cool", "a very attractive person", etc. With "Rouge (Crimson)†" as the theme color. Star Troupe's top star Kurenai Yuzuru presents her multicolored charms as an entertainer, and brings you to a brilliant and gorgeous world that can only be found in the Takarazuka Revue. The Grand Theater performance will also be the debut performance for the 104th class.
None yet.
| | | | |
| --- | --- | --- | --- |
| Poster | DVD | VHS | CD |
| None Yet | None Yet | None Yet | None Yet |