In the Amber-Hued Rain / Cocktail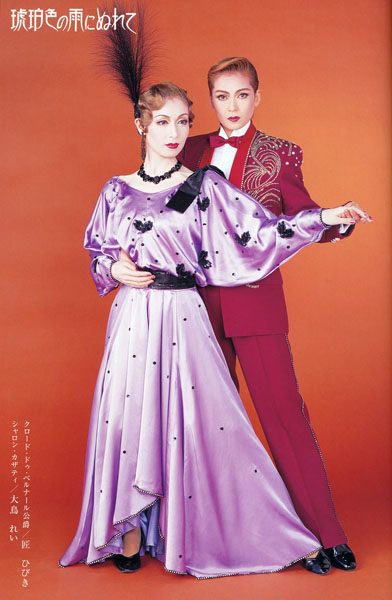 English Title:
In the Amber-Hued Rain / Cocktail
Japanese Title:
琥珀色の雨にぬれて / Cocktail
Romanized Title:
Kohakuiro no Ame ni Nurete / Cocktail
Troupe:
Hanagumi
Year:
2002
Performances:
Takarazuka, 3/1 - 4/8; Tokyo, 5/11 - 6/23
Shinjin Kouen Performances:
Takarazuka, 3/19; Tokyo, 5/21
In the Amber-Hued Rain
:
Author/Director:
Shibata Yukihiro
Music Composed / Adapted By:
Takahashi Kuni
,
Yoshida Yuuko
,
Terada Takio
Choreography:
Tsukasa Konomi
,
Muromachi Akane
Shinjin Kouen Director:
Ogita Kouichi
Cocktail
:
Author / Director
:
Fujii Daisuke
Composer / Adaptation
:
Takahashi Kuni
,
Kuratomi Shinichi
,
Miyahara Tooru
Choreographer
:
Hayama Kiyomi
,
Kenji Nakao
,
Miori Yumino
,
Wakao Risa
,
ANJU
Available on DVD:
Yes
Tokyo Senshuraku Performance: (
release date 11/16/07
)
Takarazuka and Shinjin Kouen Performances: VHS only
DVD Scene/Music Cut:
Yes
Scene 15 "Blue Moon" (singer: Yabuki Shou) of Cocktail has been cut.
Due to
Takumi Hibiki
's illness during part of the Tokyo run (5/11 - 6/19), the following changes were made to the cast:
Other Cast:
Kizuki Ayumu
WARNING!! MAY CONTAIN SPOILERS!!
In the Amber-Hued Rain
Duke Claude de Bernard returns home exhausted from World War I. In the autumn of 1922, while walking in the Forest of Fontainebleau, he comes across an incredibly beautiful woman named Sharon Kazatti. Soon joined by ladies and gentlemen coming out of a soiree, she slips away out of his sight. Claude utters in spite of himself that she is a woman of sublime beauty. Hearing Claude's exclamation, a young man tells Claude that she is only a mannequin, not worthy of his praise and belonging to a world other than his. The young man's name is Louis Valentin and he is a gigolo. It seems that Louis cares for Sharon as well. Claude denies Louis's assertion, saying that she also has a soul just like him. A strange kinship grows between the two as they find that they both are attracted to the same woman. They decide to fairly compete to win Sharon's heart.
At Barbizon on the outskirts of Paris, Michel de Plaire waits for his best friend Claude to arrive at his mansion. Michel and Claude are planning to start a civil air services business together in the near future. They have been close friends since they served in the air force, and Francoise, Michel's younger sister, is engaged to Claude. When Sophie, Claude's elder sister, urges Claude to marry Francoise, he replies he will after he has set the business on the right track. Francoise notices subtle changes in Claude, which have appeared since he walked in the Forest of Fontainebleau.
At the exclusive Parisian Club Fleur, a singer emotionally sings on stage while gigolos including Louis entertain noblewomen, wealthy gentlemen and fine ladies. As they are talking about trips to Nice by the Train Bleu, Sharon comes in to the club accompanied by a banker named Charles de Beaumont. A drunkard starts harassing her. Claude, from the corner of the bar, has no sooner noticed her difficulty than he rushes to her rescue and gets into a fight with the drunkard. Louis joins Claude, and together they succeed in kicking the drunkard out of the club. Sharon kisses Claude as a token of her gratitude. Louis perceives from her expression that she has fallen in love with Claude. At a short distance away, Francoise observes Claude, Sharon, and Louis.
A few days later, Claude meets with Francoise at her request. She tells him that on the Avenue of Champs-Elysees she encountered Eva, proprietress of the club, who was looking for Claude and left a message for him. According to the message, Georges will shortly take Sharon to Nice by the Train Bleu so Claude must do something before it is too late. Claude feels embarrassed upon learning of Sharon's news out of Francoise's mouth. Nevertheless, he decides to go to Nice by the same train as Sharon and invites Louis to go with him.
On board the night Train Bleu, Claude is unable to fall asleep and goes to an observation car, where he meets Sharon. She asks him if he knows about the amber-hued rain that falls on Lake Maggiore in North Italy, and says that the rain can wash away the dirt of the world. Claude promises that he will one day go to the lake with her.
In Nice, South France, a person of strange appearance enters Hotel Cote d'Or defying a doorman. The person drops down on a sofa in the lobby, and gets into a quarrel with a hotel clerk. It turns out that the person is Francoise. Sharon happens to pass by and feels pity for her, proposing to be of help to her. Francoise is very grateful for Sharon's kindness. However, the moment Francoise learns that the kind woman is Sharon, she reveals herself as Claude's fiancee. Drawing closer to Sharon, Francoise shouts that Sharon should not contaminate him any longer. Vexed, Sharon lies that she has just accepted Claude's proposal. Francoise is too humiliated to stay. Just when Francoise leaves, Michel comes into the hotel looking for his younger sister. Claude joins him, and the two run out of the hotel in pursuit of Francoise. Sharon is left alone, and Louis tells her that she has lost to Francoise. Louis confesses his love for Sharon, saying that he is the most suitable man for her as they both belong to the same world. That night, Sharon and Louis check out of the hotel together. Some time later, Claude marries Francoise and starts his air service company with Michel.
Years later, one spring, Claude recognizes Sharon in Club Fleur as he is enjoying an evening with Francoise. Sharon's eyes meet Claude's and their feelings intertwine. They meet again in a small room of the club.
At Lyon Station in Paris, Sharon and Claude enter a waiting room carrying suitcases. They are about to board the Orient Express to go to Lake Maggiore. Just as the call for boarding is announced, Francoise stands in their way...
---
Cocktail
Chapter 1: Opening Cocktail
Aperitif A
: Mystical baroque music is filling the stage even before the commencement of the revue. There is a bar on the stage. The Royal Quartet is born and sings an opening song.
Aperitif B
: Bacchus, the god of wine, appears from the carbonic gas evaporated from the dry ice at the center of the stage.
Cocktail Diamond
: A world of vivid colors splashes out. Bacchus undresses himself and changes into Cocktail King. He comes down to the world and sings that he will spread the four corners of the world with dreams of cocktails. The Sherries wake up and dance under the influence of cocktails. Many Camparis show up and dance with Cocktail King. Cocktail Queen sings. All of them dance in praise of cocktails.
The burnt wine, in other words, brandy has a taste of seductive maturity.
Moulin Rouge
: The scene changes into Moulin Rouge. Cocktail King transforms into Cognac S and dances with Armagnacs a playful mixture of cancan and chorus line. The night melts into an orgy.
Chapter 3: Tequila (Passion)
Tequila enthralls drinkers.
Rising Sun
: The players of Angels, a Mexican basketball team, march in for a game with an easy assurance of manner, with the exception of fainthearted Brave Bull. He timidly sings of his lack of self-confidence. Eva Green, his girlfriend, worriedly watches him.
Tequila Sunrise
: The game begins. Brave Bull continues to be outplayed by El Diablo. Eva Green unable to idly stand by any longer makes Brave Bull drink Tequila. His team finally wins the game. Eva Green and Brave Bull sing in duet.
Chapter 4: Liquors (Liquid Jewels)
Maturity is a prerequisite for appreciating the astringency and bitterness of liquors.
Prelude Fizz
: In a cathedral in Italy, young monks solemnly pass by. When one of them, Primera, stops to see a fresco, voluptuous singing flows out. Stirrer forces hesitant Primera to drink. Primera involuntarily kisses the fresco.
Glad Eye
: The wall splits open and the figure of Glad Eye (a neutral embodiment of love) lying in a big jewel box appears. Glad Eye wakes from the long sleep. Primera frantically draws toward Glad Eye. The two ecstatically dance in a duet. Primera sinks into the box by and by.
Kirsch / Cassis
: Another young monk hears the voluptuous singing and stops in front of the fresco. Stirrer draws to him.
Chapter 5: Rum (Excitement)
Cuba Libre
: Cuban men and women abruptly show up at the bar and make a special rum cocktail.
Tropical Cocktail A
: Several hills in the form of bongos rise from blooming tropical flowers. A tropical fiesta begins with familiar Latin songs in medley, the first number of which is
El Cumbancello
sung by Jamaica Joe.
Tropical Cocktail B
: All of a sudden, the thunder rolls. Black Tornado appears and ardently and sensually dances with two female Black Roses in tune with a rhythm session of music.
Tropical Cocktail C
: The sun rises again. Black Tornado quickly changes into Mai Tai, king of tropical cocktails. All the members dance to Latin numbers.
Platinum Blonde
: Mai Tai and two men remain to do a violently short dance.
Gin has a sharp urban taste.
Blue Moon
: Special dancers dance to blues in a ripe manner.
Chapter 7: Whisky (Stimulation)
The cocktails based on whisky should be enjoyed slowly.
Manhattan
: The entrance of an exclusive club, Charlie's Bar, is found on a street in Manhattan. A wealthy young man Rob Roy and an actress Claudia go into the club.
Clover Night
: In the middle of Charlie's Bar, there is a large stage, above which smoke of cigarettes is floating. The star of the club, Mr. Charlie, comes up on to the stage to start a gorgeous show. The club's dancers and chorus girls rally round Charlie. The guests soon cheer him.
Hot Whisky Toddy
: Charlie's eyes and Claudia's meet. They are attracted to each other and start quietly dancing together. Some time later, Claudia goes back to Rob's side.
Chapter 8: Vodka (Water of Life)
Vodka offers a delicate and pure taste and guarantees a feeling of happiness.
Gypsy
: Charlie walks toward the bar, and tells Shaker, a barman, that he is leaving tonight. As he is looking at a glass, a sharp hurrah echoes.
Midnight Sun
: Bright spotlights light him up again. Charlie starts singing following a vivid rhythm. People in the club gather round about Charlie and dance. The winter stars appear. All get excited and come down from the front bridge into the audience floor. When the excitement pauses, the midnight sun shines high in the sky. After receiving his coat, Charlie shakes hands with Rob, hugs Claudia, and goes out silently.
Kiss of Fire
: Claudia who has stayed alone goes to the bar and sings watching a glass as if she was in pursuit of illusions.
Chapter 9: Wine (Celebration)
A wine of rich bouquet brings about a reverie.
Soul Kiss
: Kirs in tailcoats led by Cocktail King dance magnificently.
Symphony
: Cocktail King stays by himself. Cocktail Queen comes up and dances with Cocktail King in duet. After dancing, again, Cocktail King remains all alone.
Chapter 10: Champagne Cocktail
Cocktail Parade
: A refined parade starts with all the performers each wearing a dress remindful of champagne. The parade finishes with a toast.
This was
Takumi Hibiki
's first and last main theater show as top.
Takumi became severely ill with myelitis during the Takarazuka run, and
Haruno Sumire
had to take over the lead role of Claude for the Tokyo run. Charlie returned to take a small part in the revue half of the show during the last few days in Tokyo and Hanagumi's joy at having her back was absolutely palpable.
"In the Amber-Hued Rain" was a revival of the version originally staged by Flower Troupe in 1984 with top stars
Takashio Tomoe
and
Wakaba Hiromi
in the leads. The show was also used for the Flower Troupe National Tour in 2003 with
Haruno Sumire
and
Fuzuki Miyo
as Claude and Sharon respectively.
There was another revival
in 2012 by Star Troupe
and again
in 2017 by Snow Troupe
.
None yet.
| | | | | |
| --- | --- | --- | --- | --- |
| Poster | VHS | Shinjin-Kouen VHS | Live CD | Tokyo Senshuraku DVD |
| None Yet | | | | |