Fifty-Fifty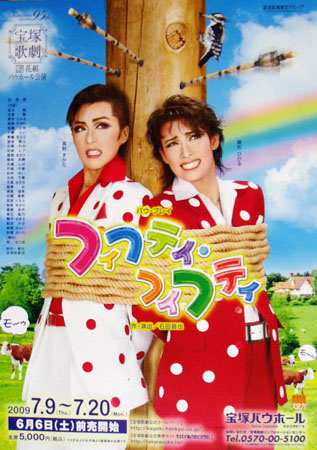 Picture Credit: official chirashi
English Title:
Fifty-Fifty
Japanese Title:
フィフティ・フィフティ
Romanized Title:
Fifuti Fifuti
Troupe:
Flower
Year:
2009
Performances:
Bow Hall, 07/09 - 07/20
Based On:
Author / Director:
Ishida Masaya
Composer:
Choreographer:
Conductor :
Available on DVD:
No
Other Cast:
Ayashiro Rea
,
Kouga Asahi
,
Umesaki Ibu
,
Kachou Shiho
,
Hanamine Chiharu
,
Ayasaki Mei
,
Tenma Michiru
,
Ginka Sui
,
Kazusa Yoshiki
,
Hanaki Maho
,
Saho Yukari
,
Houryuu Aya
,
Mihana Rino
,
Maizuki Nagisa
,
Niina Kaho
,
Asahi Mirai
,
Sachika Seira
WARNING!! MAY CONTAIN SPOILERS!!
Jonathan and Victor are two best friends who grew up in an orphanage together. Now as adults they both make their livings deceiving people — Victor as a gigolo, and Jonathan as a real estate consultant who takes a generous sum out of customers' transactions. Thanks to their "good friend" Morris the gangster they get caught up in a homicide and, having never dealt with anything so serious before, flee the scene of the crime.
Meanwhile, in the small village of Benson, residents are worried that the young people keep leaving for the big cities and no one's getting married to produce the next generation. Kirk, one such young person seeking his fortune, becomes a highway patrol officer. Having been given grief from his elders for leaving town, when he comes upon the two fugitives on the road he coerces them into going to Benson.
There Jonathan is reunited with his childhood friend Clara and is made to work as a farmhand under her grandmother Helen. Victor does an amusing turn as a parson and, though he's made his life on empty relationships up until now, starts to develop genuine affection for the world-weary bar owner Pamela. In the village the two men discover their true selves and feel their hearts begin to change... as they change the lives of the people around them as well.
None yet.
| | | | |
| --- | --- | --- | --- |
| Poster | DVD | VHS | CD |
| None Yet | None Yet | None Yet | None Yet |