Descendant of Baron / Grandes Belles Folies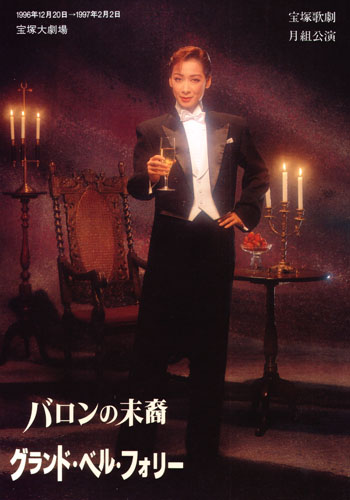 Picture Credit: Caithion, program cover
English Title:
Descendant of Baron / Grandes Belles Folies
Japanese Title:
バロンの末裔 / グランド・ベル・フォリー
Romanized Title:
Baron no Matsuei / Gurando Beru Forii
Troupe:
Moon
Year:
1996-1997
Performances:
Grand Theater, 12/20 - 2/2; Tokyo Theater, 4/4 - 4/30
Shinjin Kouen Performances:
Grand Theater, 1/14; Tokyo Theater, 4/15
Descendant of Baron:
Based On:
n/a
Author/Director:
Masatsuka Haruhiko
Composer:
Takahashi Kuni
Choreographer:
Ueshima Yukio
,
Iga Yuuko
Shinjin Kouen Director (Takarazuka):
Kimura Shinji
Shinjin Kouen Director (Tokyo):
Masatsuka Haruhiko
Grandes Belles Folies:
Author/Director:
Sakai Sumio
Composer:
Yoshida Yuuko
,
Nishimura Kouji
,
Terada Takio
,
Kuratomi Shinichi
Choreographer:
Hayama Kiyomi
,
Nakura Kayoko
,
Ai Erina
Available on DVD
: VHS only
Grandes Belles Folies Special Guests:
12/24 - 12/28:
Asaji Saki
(Star Troupe Top star)
01/04 - 01/07:
Takane Fubuki
(Snow Troupe Top Star)
01/09 - 01/12:
Maya Miki
(Flower Troupe Top star)
Other Cast:
Koshi Haruki
,
Ujou Kaoru
,
Taka Yuuki
,
Yuuki Kaoru
,
Kazusa Mahiro
,
Misato Maya
,
Yamabuki Sayo
,
Natsuno Saki
,
Aihara Serika
,
Wakae Yuki
,
Mizuho Tamaki
,
Suzuna Mio
,
Mahoroba Yuu
,
Jouka Azuki
,
Honami Aria
,
Mizushima Aoi
,
Kitajima Mami
,
Misugi Chika
,
Kaji Yuuki
,
Ayazono Yuki
,
Nana Marika
,
Sonomiya Reina
,
Ootaka Tsubasa
,
Shizuki Kou
,
Haruna Rio
,
Kitahara Rima
,
Taiju Maki
,
Kou Suzuka
,
Arika Jun
,
Akane Mitsuki
,
Ariaka Jun
,
Kazaho Yuuri
,
Narumi Jun
,
Kanon Shiori
,
Ayura Kao
,
Asagi Yuuna
,
Asama Moyu
,
Murasakino Yuki
,
Akizuki Shou
,
Hanakage Misaki
,
Hanase Mizuka
,
Isshiki Ruka
,
Keiju Mana
,
Takigawa Sueko
,
Ayadori Kanna
,
Chigusa Kotomi
,
Saijou Mie
,
Kusunoki Keika
,
Ryouga Haruhi
,
Hime Kodama
,
Memu Chisato
,
Takaki Amane
,
Ken Ruisu
,
Kanou Chika
,
Tsukifune Sarara
WARNING!! MAY CONTAIN SPOILERS!!
It is the beginning of the twentieth century. Edward, the second son of an historic Scottish baronial family, leaves home to join the army. One day, he receives a letter from his twin brother Laurence who has fallen ill. He begs Edward to return home. Edward does as he is bidden, only to learn that Laurence is seriously in debt and has mortgaged the family estate. Laurence expects Edward to assist him in his plight.
Richard, Edward's friend, knows about Edward's returning home and assumes that he will succeed as baron. Richard needs a lot of money as he wants to purchase a hotel. He hopes to be able to borrow money if Edward becomes head of the family.
But Edward's cares are elsewhere. He receives a letter from the bank stating that the family estate will soon be confiscated. He asks William, the bank manager, to postpone the day of foreclosure. William is a clever man who took over the position of his father, Thomas, at the bank at a young age.
Thomas would like to seize the land in order to gain influence like the land-owning class. He is an ambitious person who wants to become a member of the establishment. He tells William to treat the baron family without mercy. William decides that he will give the family ten days grace. Edward becomes angry with his brother for leaving the situation to him. Although Edward loses help for a short time, he recovers thanks to the encouragement of Laurence's fiancee Catharine.
Catharine and the twin brothers were brought up together, and Edward secretly loves her. But he knows that Laurence also loves her and he resigns himself to this because he cannot become baron. Edward thinks that as Laurence has lost his fortune, Catharine will not be happy. He advises her to cancel the engagement but she will not do so.
Richard, still wanting to borrow money in order to realize his dream, visits Edward with his lover Helen. Edward knows that Laurence made a loss with regards to a grain purchase deal. He becomes suspicious as to why the honest Laurence was so enthusiastic to take part in the deal and thus become bankrupt. Edward decides to consult with Richard about it. He also speaks with the family servants and learns that an accountant named Lawback recommends the speculatory deal to Laurence. He guesses that the bank and Lawback entrapped Laurence.
When Edward goes hunting to escape his worries he meets Catharine by coincidence. He confesses his secret love to her for the first time. In fact, Catharine has also loved him. She admits that she thought that she lost Edward when he left home, and that she acted in accordance with her father's wishes when she agreed to marry Laurence. She also thought that if she married Laurence she could be closer to Edward. Catharine says she will elope with Edward, but he refuses.
Edward and Catharine come across Henry, the son of the family gardener Gerald. They are invited to Gerald's house in order to gain shelter from the rain. They learn that there is a coal mine on the family estate. Edward's father entrusted the use of it with Gerald and the other servants. Gerald trusts Edward and hands him over the writ.
Edward, with the writ as a trump card, tells William about the coal mine. William recognizes that the baron family has the right to mine their land. In the past Edward had not wanted to spoil the land through mining development. He asks William to invest his money in the coal mine and converts the house into a hotel. At last a grand dance party is held to celebrate the opening of the Bawlton Castle Hotel.
Edward thinks his duty is done as he has helped Laurence out of the crisis. Edward again leaves home, after declaring his love for his land, its people, and dear Catharine.
---
Grandes Belles Folies
Author/Director:
Sakai Sumio
Composer:
Yoshida Yuuko, Nishimura Kouji, Terada Takio, Kuratomi Shinichi
Choreographer:
Hayama Kiyomi, Nakura Kayoko, Ai Erina
This show is themed on Revue Renaissance, looking back at Takarazuka Revue shows now that we have almost come to a new century. The themes are flowers and the moon. It also features guest appearances from the top stars of the other three troupes.
Scenes 1-4 Prologue (Bouquet d'amour)
A stage of black and gold. A long staircase like a glittering galaxy inlaid with golden lights. A large crescent moon shines down. A beautiful moon super star is seated on the crescent and gentlemen are congregated on the stairs. They are joined by another group of gentlemen. They dance to the moon super star's song.
Moon Singer:
Kuze Seika
Moon Super Star:
Kazahana Mai
A gentleman sings and the moon super star and a moon gentleman dance. The gentleman leaves and a lady appears and dances.
Moon gentleman:
Kuze Seika
Moon Singer: (12/24 - 12/28, 1/4 - 1/7, 1/9 - 1/12)
Makoto Tsubasa
,
Shizuki Asato
(12/20 - 12/23, 1/1 - 1/3, 1/13 - 2/2)
Shiokaze Kou
The music changes and the stage becomes bathed in shades of red and black. The stage becomes a rococo setting with golden rose vine. A rose gentleman appears at the staircase and sings. He dances with the ladies.
Rose Gentleman: (12/24 - 12/28)
Asaji Saki
(1/4 - 1/7)
Takane Fubuki
(1/9 - 1/12)
Maya Miki
(12/20 - 12/23, 1/1 - 1/3, 1/13 - 2/2)
Makoto Tsubasa
When the moon gentleman reappears at the staircase, the stage becomes covered with white and gold vine patterns. When he sings, beautiful tricolor lights shine and all members cross the bridge to the Galaxy.
Gentleman of Bouquet d'amour:
Kuze Seika
Two gentlemen appear with roses. They sing of love and make their way across the bridge.
Dancer to Duet:
Kuze Seika
(12/24 - 12/28)
Asaji Saki
(1/4 - 1/7)
Takane Fubuki
(1/9 - 1/12)
Maya Miki
(12/20 - 12/23, 1/1 - 1/3, 1/13 - 2/2)
Makoto Tsubasa
Scenes 6-7 Piano (Le jazz noir~Le jazz blanc)
A group of men and women of swing, led by a couple, begin to dance to the rythm of the piano. In the stage setting an abstract piano can be seen beyond the horizon. A man of jazz sings and all members dance to the jazz swing music.
Scene 8 Piano (Chopin phantom)
Rain pours down. Thunder sounds from a distance. A young Chopin-like musician sits at a grand piano. Barons, counts, and ladies gather around him. Inside a large frame the portait of a beautiful woman resembling George Sand can be seen. The musician plays a lovely piece of music. The musician thinks he hears the voice of George Sand. She loved him once, but left him in order not to distract him from his music. She appears beyond the pillar and runs up to him, but is thrust away. They soon draw close and dance a duet. The music reaches a climax and stops suddenly. He is blinded by the bright light and falls. Everything disappears. The stage changes to a dark room in the Majolica monastery. The musician falls under the piano. A chorus of farewell songs can be heard from a distance in the rain.
Scene 9 Viva Mediterraneo! (Spanish flower)
At the front of curtains embroidered with Spanish flower patterns, a young Spanish
senor
and
senoritas
sing and dance gracefully.
Spanish Senor:
Shizuki Asato
Scene 10 Viva Mediterraneo! (Tablao at night)
A stage with a steel door decorated with arabesque patterns and a mantilla. Spanish
senores
sing and dance passionately.
Spanish Senor:
Makoto Tsubasa
Spanish Senorita:
Kazahana Mai
,
Chihiro Reika
Scene 11 Viva Mediterraneo! (Red shawl and the moon)
A stage with a red shawl. At a streak of light, a young
senor
approaches. A
senorita
dances up to him.
Spanish Senor:
Kuze Seika
Scenes 12-13 Viva Mediterraneo! (Flower and the moon~In front of the flower curtain)
A carnival in the southern country. Singers sing in turn. Young men dance under a flower arch basking in the sun. A carnival parade with colorful painted paper umbrellas passes by.
Carnival Man:
Kuze Seika
(12/24 - 12/28)
Asaji Saki
(1/4 - 1/7)
Takane Fubuki
(1/9 - 1/12)
Maya Miki
Carnival woman:
Kazahana Mai
Scenes 14-16 (Blue roses with memory)
A small port town in Alge. Pierre, a drifting sailor, sings. A woman lights his cigarette in the hope that they can strike up a conversation, but he will have nothing to do with her. He indulges in reminiscence.
A year previously. The singer Gaby is performing. Pierre, a gigolo, loves Gabby but he cannot confess this to her. He always supports her. One day Edmont, a rich viscount, proposes to her. Pierre hears of this and he gives her up for the sake of her happiness. Lonely Pierre drinks too much, but in his hand he holds the blue rose she gave him. A ship whistles in the distance.
The port town again. Pierre sobers up and smokes. He departs singing.
Pierre:
Kuze Seika
Gaby:
Kazahana Mai
Viscount of Edmont:
Shiokaze Kou
Scene 17 Finale A (Disco mon Paris)
Belles folies
girls dance gaily and perform a line dance. A
folie
singer sings.
Folie Singer: (12/24 - 12/28)
Asaji Saki
(1/4 - 1/7)
Takane Fubuki
(1/9 - 1/12)
Maya Miki
(12/20 - 12/23, 1/1 - 1/3, 1/13 - 2/2)
Shiokaze Kou
,
Chihiro Reika
Scene 18 Finale B (Paris de nuit)
A large staircase decorated with gold. Gentlemen gather there. They dance passionately.
Finale Man:
Kuze Seika
,
Makoto Tsubasa
,
Shizuki Asato
Scene 19 Finale C (Amour de Paris)
A lady and gentleman dance together. A singer performs.
Finale Man:
Kuze Seika
Finale Woman:
Kazahana Mai
Finale Singer:
Makoto Tsubasa
Scene 20 Final D (Grand escalier)
The parade.
Etoile:
Hoshino Hitomi
None yet.
| | | | |
| --- | --- | --- | --- |
| Poster | DVD | VHS | CD |
| None Yet | None Yet | None Yet | None Yet |