Bay City Blues / It's A Love Story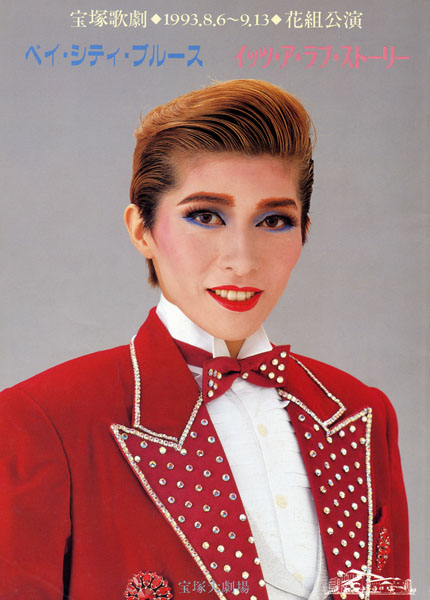 English Title:
Bay City Blues / It's A Love Story
Japanese Title:
ベイ・シティ・ブルース/イッツ・ア・ラブ・ストーリー
Romanized Title:
Bei Shiti Buruusu/Ittsu A Rabu Sutori
Troupe:
Hanagumi
Year:
1993
Performances:
Takarazuka, 8/6 - 9/13; Tokyo, 12/2 - 12/26
Bay City Blues
:
Based On:
Hamlet
Author:
Koike Shuuichirou
Director:
Koike Shuuichirou
Music Composed/Adapted By:
Yoshida Yuuko
,
Kai Masato
Choreography:
Shou Sumire
,
Maeda Kiyomi
It's A Love Story
:
Author:
Yokozawa Hideo
Director:
Yokozawa Hideo
Music Composed/Adapted By:
Nakamoto Kiyozumi
,
Odakane Bonpei
,
Kuratomi Shinichi
Choreography:
Hayama Kiyomi
,
Yamada Taku
,
Nakura Kayoko
Other Cast:
Kokonoe Haruka
,
Yumeno Chikoto
,
Moemi Serika
,
Shou Tsukasa
,
Morotori Ai
,
Asaki Yui
,
Himiya Reiko
,
Futaba Karen
,
Shihou Akeno
,
Aya Hiromi
,
Masono Arisu
,
Akiyoshi Akane
,
Iori Naoka
,
Mizuki Ai
,
Maio Tsubasa
,
Mariai Hitomi
,
Sachimi Anna
,
Yuuya Naho
,
Kazato Yuma
,
Sagami Rei
,
Ai Miyabi
,
Asakura Aoi
,
Otoki Mika
,
Suzukake Miyuki
,
Haruno Sumire
,
Masaoka Nao
,
Sakuragi Emi
,
Asami Hikaru
,
Nanase Kai
,
Yuuka Eri
,
Asazono Miki
,
Futaba Miki
,
Otowa Ryou
,
Ayana Mai
,
Sena Jun
,
Hiro Miyoshi
,
Mao Natsuki
,
Utahana Yumi
,
Mizuhono Seika
,
Amano Yuka
,
Chihiro Reika
Grand Theater only:
Asakaze Yuki
79th Class, Group A (Grand Theater):
Mirai Yuuki
,
Minashiro Hikari
,
Kitahara Rima
,
Mutsuki Mao
,
Kazaki Maya
,
Ayase Saki
,
Koshino Ryuu
,
Takase Yuu
,
Mizutani Shino
,
Kou Suzuka
,
Ayasaki Narumi
,
Saezuki Akira
,
Muko Ayumi
,
Kazaho Yuuri
WARNING!! MAY CONTAIN SPOILERS!!
Bay City Blues
The story takes place just after the end of World War II in San Angelo, the biggest city on the west coast. King Harvey the head of the Elcinoa Mafia family ruled the city. King had a magic touch with dice. He built up a huge fortune by gambling. When he was powerful enough he knocked out the gang that was his rival, the Brass family, and became King of San Angelo.
King Harvey was generous with bribes and the city police chief was in his pocket. Even though some of the Brass gang wanted revenge, King appeared invincible with his own might and with police protection.
One day Harvey's luck ran out. Someone, supposedly from the Brass family, shot and killed King Harvey. The killer escaped.
Harvey Junior, just back from the war, arrived home to find that his father had been gunned down the day before. The son had always hated Mafia life. Before the war he had been studying philosophy at graduate school. The war changed him and he had wanted to make peace with his father. He was too late.
Harvey Junior met all the people he knew before at the funeral, Eric his father's right hand man for twenty years, Holden a detective who used to be the son's best friend, cousin Clark, his old friend Leonard, Gloria his father's second wife, Clark's partner Perry, and Leonard's younger sister Olivia. Harvey has not seen Olivia since she was a child. She is a beautiful woman now and Harvey falls in love with her at first sight.
Gloria, King Harvey's widow, becomes the head of the Elcinoa mob. In fact, she is only a figurehead. The real chief is Clark. Eric and others who were King's top men are moved out of the central controlling group. Harvey Jr. is ordered to do the book keeping for a nightclub called Misty Swing. Actually, the real business is a casino hidden in the back. The police leave it alone because the Police Chief is one of the Casino's best customers.
When the young Harvey first steps into the Casino he sees the ghost of his father. The ghost tells the young man that he was murdered by Clark, Perry and Gloria. This is the first time father and son have ever had a heart to heart talk. The son decides to get revenge for his father's death. King Harvery gives his son his lucky golden dice that he used to make his fortune and build up the Elcinoa gang.
Every time Harvey rolls the golden dice he wins. Olivia soon realizes that every time Harvery has the golden dice in his hands he changes. He becomes someone else. He is not the dear old friend she has known since she was a little girl. Olivia runs out of the club. Some mobsters from the Brass gang bother her. Harvery comes to the rescue, Olivia and Harvey realize how much they love each other. They spend the night in each other's arms. Olivia' s brother, Leonard, finds out. He tells Harvey he had better ask Olivia's father for permission to marry his sister. Harvey refuses. Leonard is outraged. Olivia is thrown into despair by the shock that she was no more than a plaything for Harvey. They don't know that Harvey is trying to uncover the truth behind his father's death. If he married Olivia now it would put her in great danger.
A month later an extravagant birthday party is being held for Clark at the Elcinoa house. During the party Clark and Gloria's engagement is announced. Harvey is now certain that this pair were involved in his father's murder.
Harvey arranged a short comedy to entertain the guests. The play is about a man who killed the king and then took the king's wife. The play makes the three conspirators, Clark, Perry and Gloria, very nervous and they wonder if someone knows what they did. Gloria goes to her room. She feels sick and guilty. Harvey comes to see her. Gloria begins to confess. Perry bursts into the room. A fight breaks out between the two men. Somehow a gun fires. Perry falls to the floor, dead. Harvey flees.
Everyone is after the son of King Harvey. Clark and the whole Elcinoa family are out to kill him. Leonard wants revenge. Harvey disgraced his sister and murdered his father. The Brass family want to get rid of the son of their old rival. Holden, the detective, lets Harvey hide in prison. Olivia comes to Harvey. They clear up all their misunderstandings and pledge everlasting love. But Harvey's enemies are closing in.
Leonard arrives first and fires at Harvey. Olivia throws herself into the path of the bullet. She dies in her lover's arms. Leonard knows the truth now. Not only did he kill his beloved sister but he killed her for nothing. His father was in on the plan to kill King Harvey. He realizes Clark is the one he should have been after. He turns to shoot but Clark is faster. Leonard slumps to the floor. Harvey kills Clark. It is over.
The police write off the whole matter as Mafia infighting. Harvey has lost a father, close friends and his one true love. He leaves San Angelo.
---
It's A Love Story
Scene 1 A Picture of Spring Forest
A picture in a frame depicts a beautiful lady in a forest in springtime. The band strikes up the theme song of the show.
White Lady S ~
Anju Mira
White Girl S ~
Morina Miharu
The scene in the picture frame appears on stage. Fairies pop out from behind the trees and sing the theme song.
White Lady S ~
Anju Mira
White Girl S ~
Morina Miharu
The picture frame is now hanging on a wall over a counter in a large salon. A man, sitting at the counter, is telling a love story to the lady in the picture. Men in formal tailcoats dance in the salon. Their partners appear and the dance of love begins.
Gentleman S 1 ~
Anju Mira
Gentleman S 2 ~
Maya Miki
Gentleman S 3 ~
Misa Noeru
Lady S ~
Morina Miharu
Through the back of the counter a picture of a summer sea can be seen. The counter opens on both sides. Young people are dancing on the beach. Two men gaze with longing eyes at the scene. They wish the young girls in the picture would fall in love with them. They joke that they would even sell their souls to the devil to get their hearts' desire. A sudden rain storm hits.
Gentleman 1 ~
Anju Mira
Gentleman 2 ~
Maya Miki
Young Man S ~
Shibuki Jun
Young Woman S ~
Tsukikage Hitomi
Scene 6 Dreaming In the Rain
Rain drops drip from the forest picture. A summer night's fantasy is danced by young girls, their gentlemen, forest fairies and devils.
Gentleman 1 ~
Anju Mira
Gentleman 2 ~
Maya Miki
Young Woman S ~
Tsukikage Hitomi
The rain is still falling. The picture now shows an autumn forest. The picture reminds a lady, who is standing alone looking at it, of her past romances. Her past lovers appear one by one in the autumn forest. They sing the story of her past loves in chanson style.
Gerard ~
Anju Mira
Simone ~
Morina Miharu
Gentleman 2 ~
Maya Miki
Gentleman 3 ~
Misa Noeru
A lady on a sled glides through a snowy forest. A mysterious atmosphere prevails among the white trees.
Gentleman 1 ~
Kaikyou Hiroki
Gentleman 2 ~
Aika Mire
Snow Lady ~
Mitsuki Ayu
Ladies decorated with jewels of snow perform an elegant revue.
Gentleman S ~
Maya Miki
Snow flakes sparkle on the stage. The snow ladies strut out a chorus line.
The stars of the show, resplendent in bright red costumes, sing and dance to Bolero.
Latin S ~
Anju Mira
,
Maya Miki
,
Morina Miharu
Duet Dancer ~
Anju Mira
,
Morina Miharu
Red Jewel Singer ~
Maya Miki
The entire troupe, one by one, marches down the grand Takarazuka staircase to ring down the curtain with a farewell promenade.
Etoile ~
Tsukikage Hitomi
None yet.
| | | | |
| --- | --- | --- | --- |
| Poster | DVD | VHS | CD |
| None Yet | None Yet | None Yet | |