An Improvisatore / Mon Paris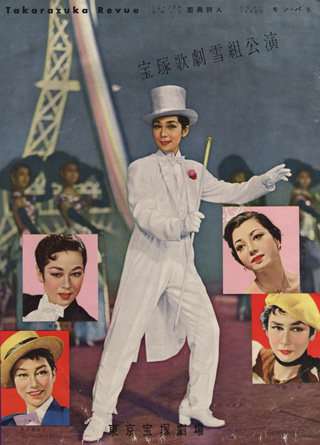 Picture Credit:
Zephy
/ Original Program
English Title:
An Improvisatore / Mon Paris
Japanese Title:
即興詩人 / モン・パリ
Romanized Title:
Sokkyoushijin / Mon Pari
Troupe:
Snow
Year:
1957
Performances:
Takarazuka Grand Theater, 08/01 - 08/30; Tokyo Takarazuka Theater, 11/01 - 11/25
Author:
Takasaki Kunisuke
Director:
Shirai Tetsuzou
Music:
Totoki Kazuo
,
Yamane Hisao
,
Takahashi Ren
,
Irie Kaoru
,
Nakamoto Kiyozumi
Choreography:
Tamada Yuzo
,
Watanabe Takeo
,
Ootaki Aiko
Based On:
The 1927 Takarazuka revue of the same name
Author / Director:
Shirai Tetsuzou
Music:
Kawasaki Ichirou
,
Nakai Mitsuharu
,
Nakamoto Kiyozumi
,
Kawasaki Tsuneo
,
Oono Tadao
Choreography:
Watanabe Takeo
,
Ootaki Aiko
,
Oka Masami
,
Yamada Taku
,
Saida George
Available on DVD:
No
WARNING!! MAY CONTAIN SPOILERS!!
(Original English summary from the program)
Musical Romance in 22 Scenes
AN IMPROVISATORE
Rome is in a festive mood, the day being set for the gay Flower Festival.
Aloof from the cheerful crowds, Antonio, an improvisatore, sinks in the painful reminiscences of his younger days long gone by.
One day during the festival, Antonio was introduced to Miss Anunziata - a singer and chosen queen of the Festival - by his friend Bernardo, officer of the Body guards.
At their first meeting, Antonio was enamored of her. Bernardo, too, entertained a deep affection to her. So it was arranged between them that the two good friends should always be in each other's company whenever they would call on her. It so happened one day, however, that Antonio, by chance, unaccompanied by his friend, visited Miss Anunziata in her dressing-room and found to their surprised that they had been friends as infants. Their intimacy grew rapidly. Bernardo, seeing and misunderstanding them, challenged Antonio to a duel by reason of the latter's breach of promise. In the ensuing quarrel, an accidental discharge of a pistol felled Bernardo, wounding him. Antonio was struck dub with the unexpected turn of affairs.
Seeing Anunziata weeping over the injured Bernardo, and not knowing what was in her heart, Antonio left Rome, avoiding the pursuit of police.
While roaming in the mountains, Antonio fell among a gang of bandits. At their dent, he met Miss Lara, a blind girl. He, however, left for Naples, acting on the divination given by a fortune-teller living with the bandits.
in Naples, he was given a rare opportunity to make his debut, instantly winning fame as improvisatore due to the kind favor of Madam Santa who gave her heart to him.
One day, Antonio found Bernardo flirting with girls in a hotel lobby, but he did not notice Anunziata who was also staying in the same hotel. Anunziata, however, found Antonio and sent a letter to him wishing to see him. Antonio tore the letter into pieces, thinking that it came from Madam Santa, leaving Naples to the great grief of Anunziata. She decided that his love to her was lost forever.
Antonio proceeded on his journey to Venice where he met with Poggio, his old painter friend who introduced Rosa, wife of the Mayor, and Maria, her niece, to Antonio.
Maria looked so much like the blind Lara he had met in the mountains. The truth was that it was the same Maria, for Maria had been cured of her eye disease by a doctor in Naples on the advice of that same fortuneteller. She had the good fortune to meet Rosa, her aunt. Antonio began to develop a brotherly affection towards Maria.
But the word spread that they were going to be married.
One night, Antonio was astonished to find the ruined Anunziata singing at a vaudeville in Venice. He lost no time in visiting her in her attic. But Anunziata refused his love feeling ashamed of the miserable situation into which she had been reduced.
Years later, receiving a letter telling that Anunziata was laid up in a convent with a serious illness, Antonio hurried to the convent only to hear that she had died.
He learned from her last letter, to his great grief, that her constant love had been for him - and his own love was solely for Anunziata.
So Antonio walks on aimlessly, alone and indulging in the dear image of Anunziata amidst the cheerful chorus of the festival
---
Musical Show in 6 Scenes
MON PARIS
30 years have passed since, in 1927, the revue was first brought to the Japanese stage at Takarazuka Grand Theater under the title
Mon Paris.
This 30th Anniversary Show bares the same
Mon Paris
title as the old show, but the show's contents are not quite the same. Many old hit songs and dances from famous Takarazuka revues staged during the past 30 years are represented in modern fashion. It may be called "A Bouquet of Takarazuka Songs."
Mon Pari - Song sung by silk hat singer; Dance by 18 white silk hat gentlemen
Line Dance by 50 Rockettes
Solo Singer (gentleman):
Yodo Kaoru
Scene 2 - Chanson de Paris
Rose Paris - Song by solo singer; Dance by 18 elegant girls
Parisettes - Song by 3 pariesettes; Dance by 8 parisettes
Fête de Paris
Paris Beguin
Mon Paris
Singer (woman):
Awaji Michiko
Singer (young man):
Maki Yayoi
Singer (gentleman):
Asadori Chiho
Chanson by 3 children
Scene 4 - Bouquet de Takarazuka
The Violet - Song by solo singer; Dance by 24 girls' violinists
Singer (solo):
Hama Yuuko
The Daised Hill - Song by 6 girls; Dance by 8 Elegants
The Wild Chamomile - Song by Solo Singer; Dance by 5 toe dancers
Toe Dancers:
Shijou Hideko
,
Oozora Midori
,
Mishima Setsuko
,
Waka Reiko
,
Yoshihara Haruto
Singer:
Kitashiro Yukiko
The Lily of the Valley - Song and tap dance by the young man; Dance by 24 lily girls
Young Man:
Asadori Chiho
The Blackish Rose - Song by solo singer; Dance by 16 men
Solo Singer:
Maki Katsumi
The White Camellia - Song by Solo Singer; Dance by white camellia dancer & 18 girls
Singer:
Mizuhara Setsuko
Dancer:
Shijou Hideko
The Carnation - Song by 3 singers; Dance by 24 carnation girls
Songs by babies, papa and mama
Papa:
Awaji Michiko
Mama:
Takada Kazumi
Baby 1:
Shigure Otowa
Baby 2:
Mizuho Youko
La Mer - Dance by tricolor dancers
Ca cest Paris
Line Dance
Birds' Dance
Red Bird:
Mitaka Keiko
Black bird
Tatsuki Noboru
Any other interesting or important stuff.
None yet.
| | | | |
| --- | --- | --- | --- |
| Poster | DVD | VHS | CD |
| None Yet | None Yet | None Yet | None Yet |