The Red and the Black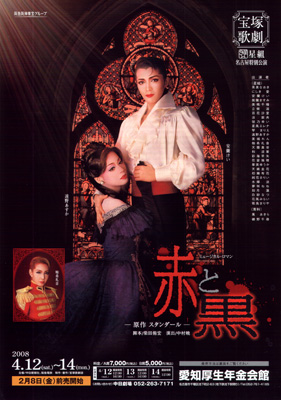 Picture Credit: Caithion / promotional flier
English Title:
The Red and the Black
Japanese Title:
赤と黒
Romanized Title:
Aka to Kuro
Troupe:
Star
Year:
2008
Performances:
Theater Drama City, 3/13 - 3/25; Nippon Seinenkan, 3/31 - 4/7; Aichi, 4/12 - 4/14
Based On:
Stendhal's
Le Rouge et le Noir
Adaptor:
Shibata Yukihiro
Director:
Nakamura Satoru
Music:
Terada Takio
,
Yoshida Yuuko
Choreography:
Hayama Kiyomi
,
ANJU
Available on DVD:
Yes (
release date 06/05/08
)
DVD Scene/Music Cut:
None
WARNING!! MAY CONTAIN SPOILERS!!
A dramatic stage production focusing on Julien Sorel's loves and aspirations. The 1975 Moon Troupe production of "Koi Koso Wa ga Inochi" staring
Dai Takiko
won great praise (re-titled "Aka to Kuro" for the Tokyo run), and a re-organized and lengthened Bow Hall version in 1989 stared
Suzukaze Mayo
. It will be remade once again for this Star Troupe production.
Takarazuka Precious: Sakakihara Kazuko's Takarazuka First Night & Event Revue article - The Red and the Black
None yet.
| | | | |
| --- | --- | --- | --- |
| Poster | DVD | VHS | CD |
| None Yet | None Yet | None Yet | None Yet |