Prince Hayabusawake's Rebellion / Love Message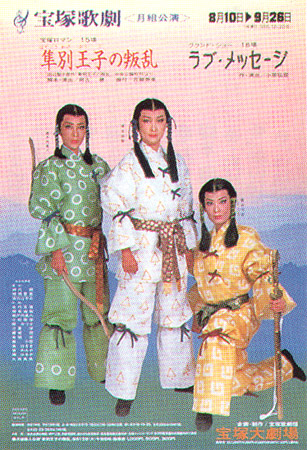 Picture Credit: Caithion
English Title:
Prince Hayabusawake's Rebellion / Love Message
Japanese Title:
隼別王子の叛乱 / ラブ・メセージ
Romanized Title:
Hayabusawake Ouji no Hanran / Rabu Meseeji
Troupe:
Moon
Year:
1978
Performances:
Takarazuka Grand Theater, 8/10 - 9/26; Tokyo Takarazuka Theater, 12/3 - 12/27
Shinjin Koen Performances:
Grand Theater, 9/12; Tokyo Theater, ?
Prince Hayabusawake's Rebellion:
Based On:
Prince Hayabusawake's Rebellion
by Tanabe Seiko
Author/Director:
Ako Ken
Music:
Terada Takio
Choreography:
Hanayagi Juraku
Takarazuka Conductor
:
Nomura Youji
Love Message:
Author/Director:
Ohara Hirotoshi
Music:
Yoshizaki Kenji
,
Nakamoto Kiyozumi
,
Minami Yasuo
,
Nakagawa Akira
Choreography:
Hanayagi Juraku
,
Oka Masami
,
Hayama Kiyomi
,
Yamada Taku
Available on DVD:
No
(1)
Sei Renka
from 9/1
(2)
Takashou Megumi
from 9/1
(3) ?? from 9/1
(4) ?? from 9/1
Other Cast:
Ruri Toyomi
(Senka),
Kiyokawa Hayami
(Senka)
WARNING!! MAY CONTAIN SPOILERS!!
Prince Hayabusawake's Rebellion
The first half of the 5th century. In the vast lands of Ishitsunohara in Kawachi the giant imperial tomb for Oosazaki no Ookimi is being constructed. He was a great king with powerful influence and many things in his control, but there was one thing that he was never able to do. That was to gain the love of the Princess Medori.
Previously, the king sent out his younger brother, Prince Hayabusawake, as a messenger to meet with Medori, but the two young people fell in love at first sight and Medori rejected the king. However, the king doesn't realize what his brother has done and sends to Medori his feelings. Iwanohime no Ookisaki also works to split the king from Medori.
Meanwhile, Hayabusa has two brothers from a different mother, Ojika and Yatsukaho. Their mother was a slave, but they are now Hayabusa's loyal subordinates and Ojika, who secretly loves Hayabusa, dreams of the day when he will accend to the throne.
At last, the king sent Hayabusa to Ki-no-Kuni, and during his absence carried off Medori. Medori had a lady servant, Yatsukaho's lover Tooko, who had followed after Hayabusa. As soon as she learns what has happened she feels that it was her responsibility, and cries in Yatsukaho's arms.
Hayabusa is angered by the king's foul play. "Now if the time for rebellion," he decides, and gathering hot-headed followers he quickly returns to the palace. Hayabusa regains Medori, but Yatsukaho is wounded in the battle.
Hayabusa and Medori flee deep into the moutnains, but the king sends his armies after them. Out of strength and options, Hayabusa holds Medori and they turn to watch the sun rise. "Now we are imose*," he swears. The two sing of love while their enemies' arrows fly towards them....
*A type of bird
---
Love Message
First Message
A dance themed on the joker card, over which hangs a sorrowful destiny.
Joker:
Jun Mitsuki
(
Sei Renka
after 9/1)
Second Message
Japanese-style dance themed on Harikuyo (Festival of Broken Needles).
Needle Spirit:
Haruna Yuri
Young Woman:
Komatsu Miho
Needles:
Enatsu Jun
,
Fujishiro Jun
,
Ariake Jun
,
Sei Renka
Third Message
A honey bee wages war against a human hand to protect the flower he loves.
Honey Bee:
Setouchi Miya
Flower Woman:
Mai Koyuki
Fourth Message
A scene embellished with the wings of Pegasus.
Jockey:
Haruna Yuri
Cowboy:
Daichi Mao
(
Ibuki Ai
from 9/1)
Girl:
Komatsu Miho
Thoroughbred:
Misushiro Tamamo
Last Message
Based on O. Henry's
The Last Leaf
, the love of a sick girl and a young man composes a dance.
Young Man:
Haruna Yuri
Girl:
Jun Mitsuki
(
Kazama Iriya
after 9/1)
Singer:
Setouchi Miya
Finale
A medley of love-themed songs.
Any other interesting or important stuff.
None yet.
| | | | |
| --- | --- | --- | --- |
| Poster | DVD | VHS | CD |
| None Yet | None Yet | None Yet | None Yet |