Yu the Beautiful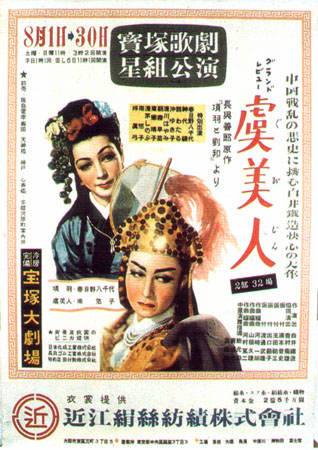 Picture Credit: Takarazuka Revue's 70 Years
English Title:
Yu the Beautiful (Official English Title:
Fair Lady
)
Japanese Title:
虞美人
Romanized Title:
Gu Bijin
Troupe:
Star
Year:
1951
Performances:
Takarazuka Grand Theater, 8/1 - 8/30
Based On:
Nagayo Yoshirou's play "Kouu and Ryuuhou"
Author/Director:
Shirai Tetsuzou
Director:
Koumura Kikuo
Composer:
Choreographer:
Conductor (Takarazuka):
Available on DVD:
No
Role
Cast
Kou'u (aka Xiang Yu; was a general of surpassing valour, but is suffering a loss of popularity)
Kasugano Yachiyo
Guki (aka Yu Ji; Kou'u's favorite concubine; a peerless beauty)
Minami Yuuko
Ryuuhou (aka Liu Bang, Emperor Gaozu)
Kamiyo Nishiki
Ryohi (aka Lü Zhi; Ryuuhou's empress)
Tougou Haruko
Kanshin (aka Han Xin; a famous commander under Ryuuhou)
Mizuhara Setsuko
In Toujou (aka Tao Niang; a princess of Gui Ji; after Kou'u kills her father, she works for Ryuuhou)
Azusa Mayumi
Ou Ryo (aka Wang Ling; a young man deeply in love with Guki)
Sumi Hanayo
WARNING!! MAY CONTAIN SPOILERS!!
Summary Information here.
The first of three "Gu Bijin" performances given in 1951; the show ran almost continuously for three months, making it an amazingly long-run show.
The performance included live horses on the stage, which Kouu and Ryuuhou rode.
It was the first full-length show produced by Takarazuka, instead of the previous two, three, or more shows in one performance.
The show's poster was the first to feature photos of the stars.
None yet.
| | | | |
| --- | --- | --- | --- |
| Poster | DVD | VHS | CD |
| None Yet | None Yet | None Yet | None Yet |